You only learn who has been swimming naked when the tide goes out. - Warren Buffett
So much for that.
Last week we commented that the latest rally stunk even more than the post-Bear Stearns one. It doesn't matter how cleverly CNBC and the talking heads spin these things, you cannot stage a bull market via interventions.
In the history of market regulators it has always been the market, not the regulators, that resolves financial issues. And credit contraction, worsening fundamentals, growing inflation, and shrinking corporate profits aren't what bull markets are made of.
However, despite all of this, I was expecting the market to stage some kind of rally this week. Stocks have rallied during the last five days of summer for four years straight now. It's a bad sign if traders aren't trying to push this during one of the market's thinnest trading weeks in terms of volume.
Instead, we got a whopper of a Monday with stocks plunging nearly 2%. A whole slew of bad news was announced, including:
The national median existing-home price fell 7% in July from the year before.
Goldman Sachs announced that half of the world's economy is in recession.
Commodities may have hit a bottom: see News Bulletin below.
Another bank going under, this time in Kansas.
At this point, even the most delusional perma-bulls are beginning to realize that the market is in serious trouble. The list of problems and issues is virtually endless.
Willem Buiter, policy maker at the Bank of England, tore Ben Bernanke and the Federal Reserve a new one at the bankers' meeting in Jackson Hole, Wyoming. Rumors are circulating that at least one central bank has banned the ownership of US agency debt. And no one, not even Sovereign Wealth Funds, has stepped in to help out Lehman Brothers (LEH). Meanwhile, Fannie Mae (FNM) and Freddie Mac (FRE) are inching closer and closer to an inevitable bailout: one that will kick the dollar in the face.
Stocks were in a critical spot last week, forming a rising wedge pattern between their 28-day moving average (DMA) and 55-DMA. At that time I commented that these patterns tend to break to the downside.
Yesterday it did.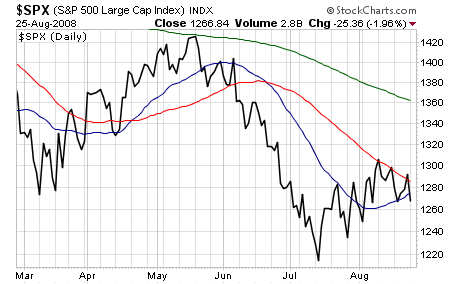 As you can see, stocks gave up Friday's rally and then some. And the S&P 500 breached a critical support line. I know this. And so do traders around the world. If we don't see a substantial turnaround today, the next leg down is here and it's time to establish some shorts.
Fortunately, going short is easier today than ever before. There are a whole slew of short or inverse ETFs that allow you to short sectors, or the market as a whole. You can see them here.