First Solar (OTC:FSLF) announced today that it signed a memorandum of understanding with PT. Pembangkitan Jawa Bali Services (PBJ Services) of Indonesia in an agreement to collaborate on the delivery of 100 megawatts of utility-scale solar power. The company is in the process of transitioning as a provider of turnkey utility-scale power plants. To date, investors appear to be seeking confidence in the new business model as I alluded to in a prior article.
The agreement with PBJ Services provides another positive outlook from a new geographical region for the company. To date, the company has largely found its success in the development of power plants within the United States and has aggressively been exploring the development of additional markets internationally. The most recent announcement comes on the heels of similar agreements within Australia and India. Altogether, these small progressive steps insinuate that the company is effectively gaining ground in its business model transition and that the demand in the international market is beginning to expand.
This bold expansion comes at a time in which the solar market as whole has suffered from vast overproduction and demand for projects has historically not grown as fast as its excess market supply. While First Solar has effectively retained its ability to earn a positive income due to its project pipeline based on lucrative margins, no other solar company has shared the same luxury. For example, as First Solar generated $111 million in net income last quarter, fellow market peer SunPower (NASDAQ:SPWR) endured a $84.2 million loss in the same time period. This can be seen in the following chart, along with Chinese competitors Yingli Green Energy (NYSE:YGE) and Trina Solar (NYSE:TSL).
Click to enlarge image.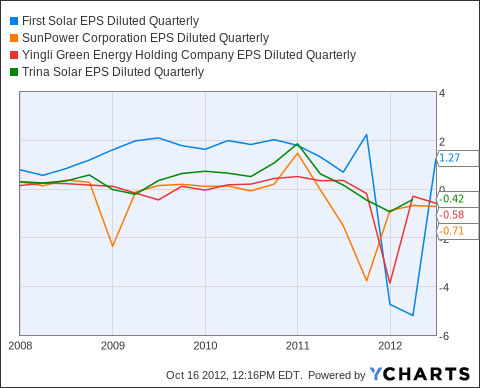 Yet while First Solar's current advantage may rest in its historical pricing of prior projects, fears over the company's future continue to exist going forward. The company has largely fallen behind in the development of its module efficiencies having formerly relied on its cheap production costs, and subsequently fell victim to the market's oversupply of cheap inputs. As a result, the company has recently sought external help by outsourcing part of the research and development through a company named Intermolecular (NASDAQ:IMI). Intermolecular largely serves as a R&D process accelerator, and more about the company can be found in a prior article.
However, even if the company continues to lag from a development point of view in the short run, the fact that it continues to expand its pipeline potential as seen through the agreement made today suggests that the overall outlook for the company remains positive. As it stands, First Solar currently has a market capitalization of $2.08 billion, but trades at a mere price-to-book ratio of 0.58, a low price-to-sales ratio of 0.62, and a severely undervalued PEG ratio (price/earnings to growth) of 0.20. The highly discounted future of the company continues to play a crucial catalyst in First Solar's short-term recovery as a positive outlook realigns the company's price closer to its book value. This is especially true as the company continues to announce its progressive relationships inside new international markets.
Additionally, an article published today by Bloomberg suggests another part of the picture that investors appear to be neglecting. As the solar market as whole falters and claims lives of many companies unable to compete in this volatile environment, consolidation becomes an very important part of expanding capabilities. As the leading public company now trading on the markets, First Solar's ongoing profitability allows for an increased advantage over the competition in claiming the technologies of struggling companies. The Bloomberg article cites GTM Research's claim that 180 solar manufacturers will probably fail by 2015. Among those expected to survive and succeed as a top manufacturer in 2015 is First Solar.
Disclosure: I am long FSLR. I wrote this article myself, and it expresses my own opinions. I am not receiving compensation for it (other than from Seeking Alpha). I have no business relationship with any company whose stock is mentioned in this article.