Industrial distributor Fastenal (NASDAQ:FAST) reported strong third quarter results last Thursday morning. Revenue grew 10% year-over-year to $802.5 million, roughly in-line with consensus estimates. Earnings per share ticked up 12% to $0.37, also meeting the consensus expectation. We think Fastenal has what Legg Mason's Michael J. Maubossin has described to be a "moat" in his 2002 paper, which can be available for download here (pdf). But does valuation matter to Fastenal's investors?
Fastenal, which provides a very detailed quarterly press release, indicated that it saw growth slowing slightly during the summer, but recovering in September. Asia and Europe remained weak, but the firm still managed to open 73 new stores and gain market share in the US, while growing at a healthy clip in Mexico. In the past, the company has relied mostly on opening stores to gain market share in the highly fragmented industrial distributor space, but in recent months management has focused on increasing profitability. Still, gross margins fell 30 basis points year-over-year to 51.6%. The firm continues to generate large amounts of cash, with it pulling in over $200 million in free cash flow year-to-date.
Overall, we're big fans of Fastenal's distributor business, specifically because the segment remains highly fragmented. We fully expect the firm to be able to capture additional market share over the next several years. Additionally, CEO Will Oberton is one of the better executives in the country, in our view, and we think he will continue to have an intense focus toward increasing profitability. However, we think shares of the industrial distributor are expensive at current levels.
Assuming Fastenal can grow revenue 12.6% during each of the next five years, post an EBIT margin of about 25% and grow earnings at 16% for each of the next five years, we think the company's intrinsic value based on a discounted cash-flow process is $35 per share. Though we think such forecasts are achievable, Fastenal would have to do a lot better than these forecasts to justify its current price. As such, we're not interested in adding the firm to the portfolio of our Best Ideas Newsletter at this time. We encourage investors to apply a robust discounted cash flow methodology in their decision-making process. For example, in the examples here and here, an extensive valuation process saved investors tons of money in Netflix (NASDAQ:NFLX) at over $300 per share and Chipotle (NYSE:CMG) at over $400 per share recently.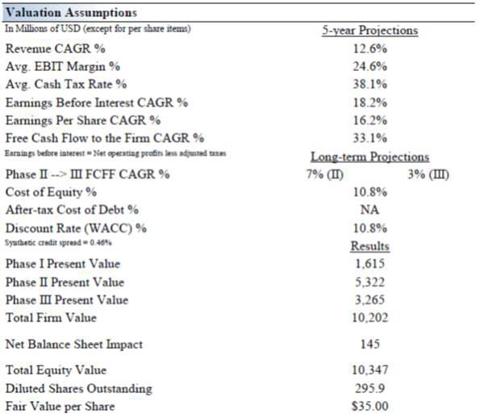 Click to enlarge
Disclosure: I have no positions in any stocks mentioned, and no plans to initiate any positions within the next 72 hours. I wrote this article myself, and it expresses my own opinions. I am not receiving compensation for it (other than from Seeking Alpha). I have no business relationship with any company whose stock is mentioned in this article.