The Baker Hughes (NYSE:BHI) rig report on Friday showed an interesting divergence with the commodity markets. While natural gas has jumped some 60% in the past few months, the amount of rigs drilling for natural gas has plunged to lows not seen since 1999. In the last week, the natural gas rig count dropped another 15 to only 422. Last year, the count was 936.
For investors expecting that exploration companies can quickly turn on the drilling spigot, one needs to note the most concerning part of the report is that the percentage of rigs drilling for natural gas is the lowest ever at 23%. The concern is that limited rigs and service personnel might exist for a rebound in demand.
This is the first part of a series focusing on the potential beneficiaries and losers of a pending spike in natural gas prices while most of the available drilling rigs are focused on oil.
Natural Gas Inventories
After a very hot summer, natural gas inventories are about to fall back into the 5-year average. It was just last year that it appeared inventories would forever exceed the 5-year average.
The below chart from the U.S. Energy Information Administration (EIA) shows how the reduction in drilling has brought the inventories back into a normal range:
(click images to enlarge)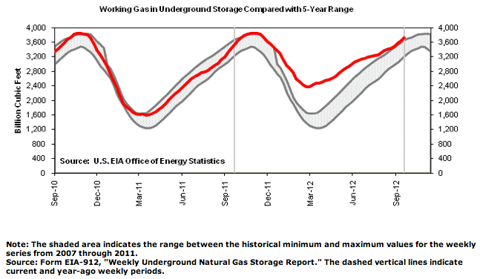 Baker Hughes Rig Count
Unfortunately, the oil services market is not prepared for high demand from both oil and gas drilling. According to Baker Hughes, natural gas drilling rigs continue to drop, even in the face of higher prices. The recent count shows only 422 rigs drilling for natural gas in the lower 48. The expectations would be that the rig count would increase now that prices are moving up. Unfortunately, not many exploration companies have announced plans for gas drilling recently.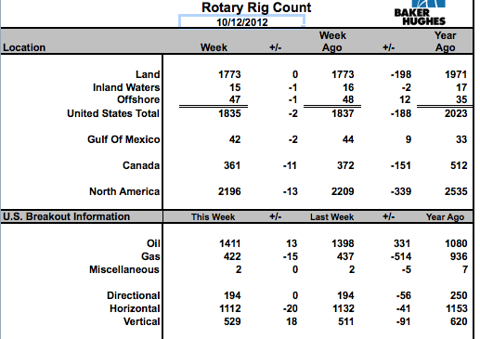 As the YChart below shows, the natural gas rig demand peaked at over 1,500 nearly four years ago. The oil rig demand peaked recently at over 1,400. If both markets were to be strong at the same time, the total rig demand would greatly exceed the peak rigs in the past at just over 2,000.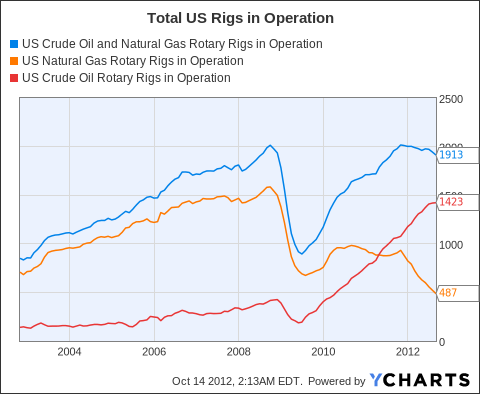 US Crude Oil and Natural Gas Rotary Rigs in Operation data by YCharts
Futures Prices
Most investors probably don't realize that the future prices for natural gas exceed $4. While the focus was on the spot prices in the $2s over the summer, the future prices on the NYMEX remained much higher. Currently, the out year prices range into the $5s.
Futures Chart - Yahoo Finance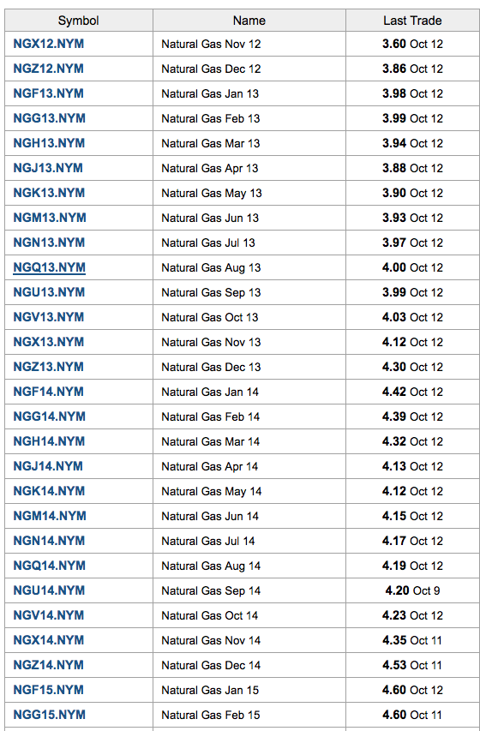 So why aren't the drilling rigs returning to drill for natural gas? Any company drilling a well now could easily lock in prices for a solid profit. As discussed last week, Continental Resources (NYSE:CLR) and SandRidge Energy (NYSE:SD) are companies increasing capex, while the industry has been cutting back. Both are focused on liquids though, with no desire to switch back to gas.
Horizontal Type Curve
The interesting part about the shift to horizontal drilling is the quick depletion in the production rates that occurs with horizontal drilling. These wells are depleted much faster than historical vertical wells. Within two years, daily production rates can drop in the 80-90% range. What will happen now that these wells are depleting while drilling is substantially reduced?
Despite all the discussions by industry experts, this winter will be the first period to test the theories on shale gas depletion rates. Will inventories decline below normal levels with limited drilling taking place?
Conclusion
Debates will continue to rage over the appropriate demand of drilling now that new shale discoveries provide substantial natural gas potential. New drilling techniques also improve the drilling efficiencies and turnaround time for drilling each well, further complicating the analysis.
Zeits Energy Analytics wrote a three part series arguing that the market only needs roughly 500 rigs to keep natural gas production at existing rates. Even in that baseline scenario, the market would require 100 more rigs drilling for natural gas right now.
With over 1,000 rigs drilling for natural gas back in 2004, it doesn't seem feasible that the market could keep production flat at half that rate of rigs. Not to mention that the burgeoning demand for higher supplies for chemical plants, fuel and exporting could dramatically boost demand for increasing production.
In those scenarios, it actually appears possible that a shortage of rigs could exist. Unlike when the domestic market needed to increase supplies in the early 2000s, it will now be focused on more profitable oil instead.
In Part II and Part III, the analysis will focus on the natural gas producers and oil service companies listed below that are likely to benefit from this scenario. In Part IV, the focus will be on the unfortunate scenario where the companies planning to use the expected, abundant supplies could become the ultimate losers.
Part II - Natural Gas Producers:
Chesapeake Energy (NYSE:CHK)
Newfield Exploration (NYSE:NFX)
QEP Resources (NYSE:QEP)
Range Resources (NYSE:RRC)
Southwestern Energy (NYSE:SWN)
Ultra Petroleum (UPL)
WPX Energy (NYSE:WPX)
Part III - Oil Services Providers:
C&J Energy Services (NYSE:CJES)
Halliburton (NYSE:HAL)
Heckmann (HEK)
Schlumberger (NYSE:SLB)
Weatherford (NYSE:WFT)
Part IV - Natural Gas Users:
Disclosure: I am long CJES, HEK, WFT. I wrote this article myself, and it expresses my own opinions. I am not receiving compensation for it (other than from Seeking Alpha). I have no business relationship with any company whose stock is mentioned in this article.
Additional disclosure: Please consult your financial advisor before making any investment decisions.