With adoption of its SPY imaging technologies growing in operating rooms across North America, Novadaq Technologies (OTC:NVDTF) has embarked on a long-term growth plan to image nerves and cancer cells with tissue-binding reagents that could represent a paradigm shift in the OR.
"The future of the installed base of SPY technologies will include providing surgeons with images of targeted tissues such as nerves and metastatic cancer cells," CEO Dr. Arun Menawat says in an interview with BioTuesdays.com.
"Before the start of a surgery, imagine a patient being painlessly injected with multiple imaging molecules, each of which will go to its own sweet spot, to light up nerves in one color, perfusion of blood vessels in another color and cancer cells in yet a third color," he adds.
"This would serve as a physiologically and anatomically enriched roadmap for a surgeon, who could then provide specific treatments for all of the disease processes afflicting a patient with the added confidence of image guidance. It would be like a GPS system inside a patient, telling a surgeon where to go and where not to go. This would be a game changer for surgery."
While Dr. Menawat stressed that this is a long-term program, he envisions the day when surgeons will use the company's SPY imaging technologies to deliver targeted treatments to specific diseases in specific areas and structures within the body.
Novadaq's SPY Imaging System has been cleared by the FDA for use in seven surgical specialties, including plastic and reconstructive, endoscopic and minimally invasive, robotic, gastrointestinal and cardiovascular surgery.
In addition, the company has marketing alliances with Intuitive Surgical (NASDAQ:ISRG), LifeCell Corp., Kinetic Concepts (NYSE:KCI) and MAQUET, all leaders within the markets they serve. Dr. Menawat reports that Novadaq is shipping about 100 of its imaging systems per quarter and that in three-to-five years, it should have an installed base of between 2,000 and 3,000 systems in North America.
"Our clinically relevant fluorescence imaging solutions have the potential to not only enhance the lives of patients, but also to reduce healthcare costs, by lowering rates of surgical complications that frequently require additional surgeries and prolonged hospital stays," he adds.
Later this year, the company plans to market directly an endoscopic version of SPY technology called PINPOINT, which combines the capabilities of SPY imaging with the high definition, visible light offered by conventional endoscopes.
PINPOINT will be launched in North America by a small Novadaq sales force whose initial strategically-focused marketing efforts will be in the gastrointestinal portion of the endoscopy market, specifically minimally invasive colorectal surgery where rates of complications in procedures without SPY technology have historically been high.
"The surgeon community is already aware of the benefits of our SPY technology in colorectal and other gastrointestinal surgeries, which should minimize the risk of adoption for PINPOINT," Dr. Menawat says.
Novadaq expects to complete two additional clinical trials utilizing PINPOINT in 2013, which Dr. Menawat anticipates will drive utilization of the device in 2014. "So far, we're pretty happy with the progress of the PINPOINT clinical program as we have key opinion leading surgeons in the specialty on board," he adds.
In its program to visualize cancer cells through the use of specific molecules, Novadaq recently entered its first development agreement with a company that is developing a fluorescent agent targeted to ovarian cancer. Using SPY technology in a Phase 1 study, "we demonstrated that our fluorescence imaging technology can be used in combination with targeted molecules to enable surgeons to clearly identify cancerous tissue during surgery," Dr. Menawat says.
Both companies are applying for regulatory approval to move into Phase 2 testing, which could begin in the first half next year. "We are also working with another company that has already done Phase 1 testing in pancreatic cancer and has applied to the FDA for a Phase 2 study, which also could start next year," he adds.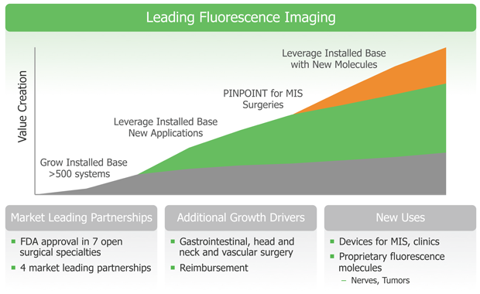 Click to enlarge
NVDQ: Executing on its Vision to Drive Growth
In a new research report, Piper Jaffray analyst Matt Miksic raised his price target on the stock to $14 from $10. He also gave Novadaq high marks for its first analyst day last month where it hosted a panel of leading surgeons and technology experts to showcase, in Mr. Miksic's words, "[the] clinical efficacy of its technology, emphasizing the significant market opportunities, superior clinical outcomes and ongoing clinical trials designed to demonstrate the benefits, and support further adoption, of SPY technology."
In pointing to Novadaq's next level of growth, Mr. Miksic wrote "[this] promising [tumor imaging] technology is an opportunity for the company to leverage its expanding installed base of [Intuitive Surgical's] Firefly sites to facilitate robotic tumor resection, which would significantly expand utilization of SPY technology."
RBC Capital Markets analyst Doug Miehm also hiked his price target to $12 (Canadian) from $7, saying the company is well positioned to grow its operations as it further penetrates current indications and expands into additional areas.
While noting that Novadaq is in the early stages of developing agents that could provide neurosurgeons with more comprehensive views of nerves, Mr. Miehm wrote "this could be another area of growth that could be layered on top of a well-established installed base."
Dr. Menawat says he can imagine the new technology being used to monitor the state of a patient's cancer every six months or once a year as part of a recurring maintenance treatment strategy. "I realize this may be a dream, but a part of this dream is going to come true, and we are the company that will bring it to the surgeon and patients."
Disclosure: I have no positions in any stocks mentioned, and no plans to initiate any positions within the next 72 hours. I wrote this article myself, and it expresses my own opinions. I am not receiving compensation for it. I have no business relationship with any company whose stock is mentioned in this article.