Intuitive Surgical's (NASDAQ:ISRG) stock traded higher on Monday following news from JPMorgan (NYSE:JPM), which had upgraded the stock to outperform with a price target of $625. JPM's analyst Tycho Peterson was quoted as saying, "There are clearly some headwinds to the story (the dVP decline and challenges from Europe), we find the risk/reward increasingly compelling, in light of the meaningful opportunities emerging in partial nephrectomy, cholecystectomy, colorectal surgery and other areas which, collectively, should more than offset the dVP softness and drive upside to Street estimates for the next several years."
Following the news, the stock rallied 18%. Although JPMorgan's analyst maintains that the upgrade has nothing to do with the upcoming earnings release, the timing of the upgrade has been called into question. We, however, continue to have a bullish stance on the stock and recommend it as a buy.
In addition, JPM also raised the forecast for FY2012 and FY2013 EPS to $14.85 and $17.56, respectively. Previously, the forecasts had been $11.57 and $16.61 for 2o12 and 2o13, respectively.
Consensus EPS estimates for the current quarter are $3.5, and $4.08 for the next. Revenue estimates stand at $534 million for the third quarter and $590 million for the last quarter of 2012. For the third quarter, analysts are estimating that revenues will grow by ~20%. Analyzing the last four quarter earnings releases reveal that the company has consistently beaten market estimates.
Table 1:
| | | | | |
| --- | --- | --- | --- | --- |
| | 3Q2011 | 4Q2011 | 1Q2012 | 2Q2012 |
| Earnings Surprise | 10.5 % | 12 % | 11.5 % | 5.3 % |
Source: Yahoo! Finance
Figure 1: Gross Margins for ISRG and MAKO Surgical Corp. (NASDAQ:MAKO)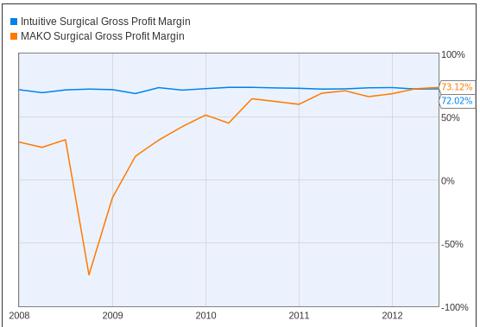 Click to enlarge
In our earlier article, we had discussed ISRG's lofty valuations and maintained that under the current scenario, these valuations seem justified. Currently, the stock trades at 29x its forward 2013 earnings and has provided a one-year return of ~30%. At the historical growth rates and P/E multiple (Chart 2), one cannot say the stock is expensive. We maintain a bullish stance as long as the company keeps increasing its geographical footprint and breaks into new procedures. The company has enjoyed double digit revenue growth for the past quarters, and posts respectable margins equal to the industry average (Figure 1).
Chart 2: PE Multiple and Price Performance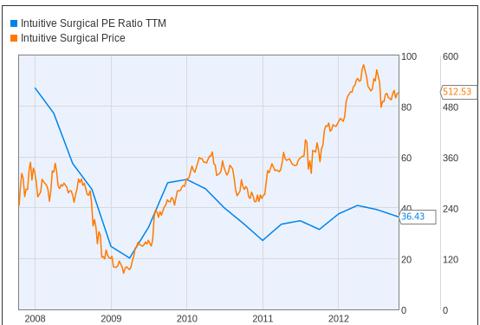 Click to enlarge
There seem to be several things going the company's way. Robotic surgery is the way forward, and more importantly, in this market, ISRG is the leader. With a market cap of $20+ billion as compared to MAKO's $607 million, the leadership is substantial. It exercises great leverage over its buyers because once the hospitals have bought the pricey equipment and trained their doctors, switching costs are high for buyers, and in the process, ISRG benefits from the loyalty. After selling these expensive equipments, the company benefits from the recurring revenue stream.
Hospitals continue to favor procedures made possible by da Vinci, which reduces the overall cost for them since patient recovery time and stay is substantially reduced. Total number of installed units worldwide is 1,840.
The company also has a strong balance sheet, with no debt and a current ratio of ~5x, highlighting its strong ability to meet its short-term liabilities. We continue to have a favorable outlook on the stock, and recommend it as a buy.
ISRG will report Q3 earnings today, after the market closes.
Disclosure: I have no positions in any stocks mentioned, and no plans to initiate any positions within the next 72 hours.
Business relationship disclosure: The article has been written by Qineqt's Healthcare Analyst. Qineqt is not receiving compensation for it (other than from Seeking Alpha). Qineqt has no business relationship with any company whose stock is mentioned in this article.