The dry bulk shipping stocks have gone through a horrific selloff during the past three years. Many trade at a fraction of their former highs and at a deep discount to book value. Are dry bulk shippers the buy of a lifetime? In this article, I will review the macro evidence to determine if the group is more likely to sink or swim from here. Suggestions for further research on individual stocks will provided at the end.
Smooth Sailing
The dry bulk shipping industry went through terrific growth period from 2006 through to 2008 when many stock prices increased dramatically. While there is not a shipping stock index or ETF that covers the last 6 years, I can point out the performance of some of the better known names. During that time period Teekay (NYSE:TK) increased over 70% from $30 to $52, Navios Marine (NYSE:NM) increased over 5 x from $3 to $16, Diana Shipping (NYSE:DSX) increased 5 x from $7 to $35 and Dry Bulk Shipping (NASDAQ:DRYS) performed the amazing feat of rising from $9 to $130. These spectacular increases in value were driven by an equally spectacular increase in the rate these shippers were able to charge for renting out their ships or space on those ships. The Baltic Dry Index [BDI] tracks the spot rate for a number of different sized ships and forms an index from that information. A long-term chart of the BDI can be seen here: http://stockcharts.com/h-sc/ui The BDI moved from 2,000 to 12,000 during those glory days. The shipping stocks boomed. New shares were issued, and banks were eagerly lending to the space. Shippers commissioned new builds and increased their fleet size to capture what appeared to be an un-ending growth of exports and imports with the new economic powerhouses: China and India.
Running Aground
A classic bubble formed, one to rival sub-prime and housing. Just like all bubbles, this one also ended in tears. The BDI plummeted to below where it began its 2006 rise. In fact, the BDI fell to its all-time low in the beginning of 2009 to a level of 650, shedding 95% of its peak value and dropping 67% below where it began its sensational run-up. And not surprisingly, those shipping stocks just mentioned suffered a similar fate. Since the mid-2008 peak, TK fell 80% to its bottom, NM fell 95%, DSX 83% and DRYS 98%. To have timed any one of those swings right would have made for the investment of a lifetime. Does the opportunity exist to do it again?
Is The Tide About to Turn?
Q3 saw the worst quarterly performance for the Baltic Dry Index in 14 years. But since September, that index has rallied nearly 40%, as shown in the chart below: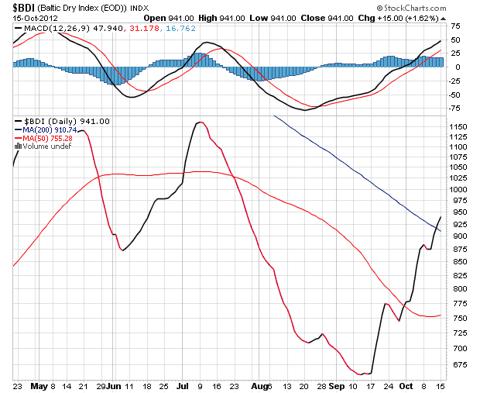 But the price of most shipping stocks, as revealed in the performance of the Guggenheim Shipping ETF (NYSEARCA:SEA) has not yet caught up to this resurgence, indicating a potential opportunity.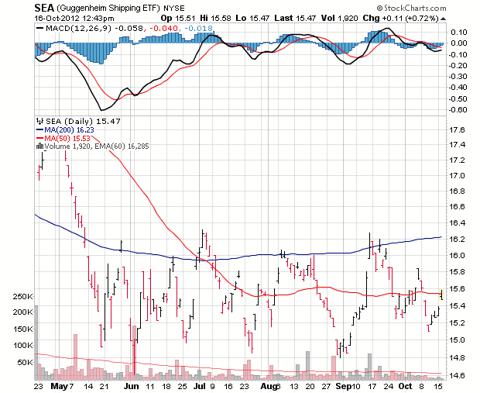 What Is The Engine That Drives The Shipping Industry?
Global trade, plain and simple. Container ships are used to carry raw materials from their place of origination to where they are manufactured into finished goods. Ships again are used to move those finished goods to export markets. A resurgence in China's economy, in steel production, in coal production and in resource markets generally would have a positive impact on the demand for dry bulk shippers.
The supply side has been what has really driven prices: during the peak, as prices climbed almost exponentially, new ship building also grew, putting a glut of ships on the market, leading to the precipitous decline in charter rates. During the last two years, a reduction in new builds and a significant increase in older vessels being scrapped has significantly altered this dynamic.
How Do We Navigate From Here?
There exist several signs that point the way toward a recovery in the price of dry bulk shipping stocks. Here are four of the most prominent:
1. Global Economic Stimulus. During the third quarter, many industrialized nations announced various plans to stimulate their economies. The following is a brief synopsis of a few of those plans.
Japan, with a stagnating economy, a rising yen and weaker export markets, had its central bank expand a program that injects more cash into their financial system. The plan, which involves buying government bonds from lending institutions, will grow by an additional ¥10-trillion ($124-billion) to ¥80-trillion.
China, has announced 60 infrastructure projects worth more than $150 billion, as it looks to stimulate its economy, after suffering its worst slowdown in three years.
Europe, through the ECB has announced a sovereign bond buying program as well as negotiating direct aid to some of the financially weaker nations such as Greece and Spain.
In the USA, the Fed's recently announced QE Infinity, which will see that central bank make purchases of up to $40 billion in mortgage-backed securities every month, without any limit as to duration of the program, until employment reaches "acceptable" levels and housing markets show a sustained recovery.
Together these measures are intended to create a more robust global economy and if they succeed in achieving their goal, this should create increased worldwide demand for basic materials, and those materials will need to be shipped from their place of origin to where they are used in manufacturing.
2. Coal and iron ore are showing signs of life. These two commodities are very significant to the dry bulk industry. China, the world's top iron ore consumer and buyer, imported 65.01 million tons of the raw material in September, rising 4.1 percent month-on-month and 7.3 percent from one year earlier, according to customs data. Prices of prominent coal stocks Arch Coal (ACI), James River Coal (JRCC), Alpha Natural Resources (ANR), Peabody Energy (BTU) have rallied significantly (gains of roughly 20%) during the last week, indicating a resurgence in that sector. China's coal imports through the first six months of 2012 have nearly doubled year over year.
3. New ship building declining significantly. New building orders through the first seven months of 2012 have decreased 54% year over year.
4. Ships being scrapped at a record rate. During 2011, a record 23.0 million dry weight tons of ships were scrapped. 2012 year-to-date is moving at a similar pace.
Conclusion
The appearance of a potential rally in shipping stocks has surfaced. The previously mentioned Guggenheim Shipping ETF is a diversified, unmanaged portfolio of shipping stocks that will give broad exposure to the space. Diana Shipping has a pristine balance sheet and 80% of its market cap is covered by cash on the balance sheet. Baltic Trading (NYSE:BALT) focuses on spot market charters and therefore has significant exposure to changes in the BDI, and should therefore be a prime beneficiary of any sustained improvement in the sector. Other names worthy of investigation are majors in the industry such as Teekay Tankers, Genco Shipping (NYSE:GNK) and Navios Maritime Partners. Further excellent research on individual shipping stocks is available on Seeking Alpha in several articles published by J. Mintzmeyer and by Lambros Papaeconomou.
Disclosure: I am long BALT, DSX. I wrote this article myself, and it expresses my own opinions. I am not receiving compensation for it (other than from Seeking Alpha). I have no business relationship with any company whose stock is mentioned in this article.