We read a great article by Vince Martin titled "Procter & Gamble Is Severely Overvalued" (found here). Martin went through a detailed analysis of the reasons why Procter & Gamble (NYSE:PG) should be considered an overvalued stock. Because Martin did not mention selling the stock (a cardinal sin of dividend investors), given such a strongly titled article, we thought we'd try to estimate what the downside risk for PG might be so that investors could prepare for when to buy the stock.
Keep in mind that as of October 12, 2012, Procter & Gamble has a price chart with the following activity since early 2007: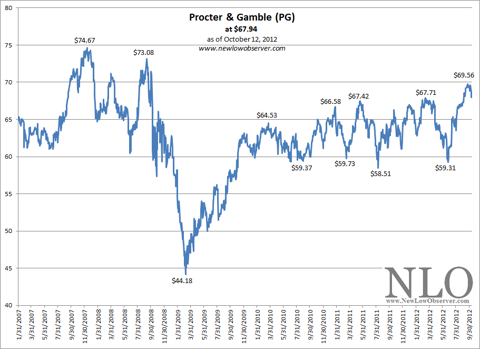 Click to enlarge
Overall, the price of PG has vacillated widely with a high of $74.67 and a low of $44.18. Dow Theory suggests that the midpoint of such a range is the dividing line between a stock that is bullish or bearish. In this case, the midpoint is $59.43. As can be seen by the rise from the 2009 low, PG has found significant support at or near the $59 level. This suggests that there is a bullish bias for this stock as accumulation seems to occur just below $60. Keep in mind that any significant decline below $59 is considered bearish and could be the beginning of a retest of the 2009 low.
Although the article noted above did not indicate that there was a specific downside target to "fair" valuation or undervaluation, we believe that such a point must exist. So far, Dow Theory and price activity since 2010 suggests that a fair or undervaluation sits around the $57-$59 level. However, when viewed from Edson Gould's Altimeter, PG seems to be trading at the equivalent of 1991 prices as seen in the chart below: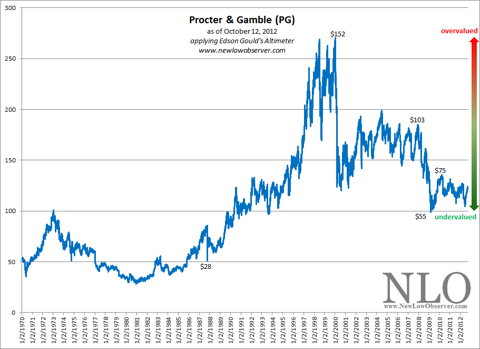 Click to enlarge
Gould's Altimeter indicates that based on the current dividend, provided there are no dividend increases going forward, PG is undervalued and has critical support at the $55 level. Any further increases in the dividend will only increase the undervaluation of the PG profile. For now, Edson Gould's Altimeter confirms what Dow Theory seems to indicate and that is that at the $55-$59 range, Procter & Gamble should be aggressively accumulated.
Another area of concern is the dividend payout ratio. According to the article mentioned above:
"Assuming that 2013 dividends are paid at 60 cents quarterly - a 6.7% raise, lower than any hike in the past decade - the dividend will have risen 50 percent from 2008 to 2013, a period over which earnings are expected to rise just 14 percent. That is simply not sustainable, and as a result, in fiscal 2013, PG's payout ratio will almost definitely surpass 60 percent. In fact, on a free cash flow basis, PG's payout ratio has already passed that level, jumping from 58 percent in FY2011 to nearly 66 percent in FY2012."
At some point, the dividend payout ratio can become the Achilles' heel for PG if earnings are not sustainable. However, we believe that the earnings profile of PG will evolve and remain sustainable over time. In fact, while Value Line Investment Survey confirms Martin's expectation for an annual decrease in earnings of -8% for 2013, PG is projected to increase their earnings by +53% in 2015-2017, bringing the fair value estimate of the stock to $97. This fair value estimate comes with a 100% "earnings predictability" rating from Value Line (dated 9/28/2012).
Obviously, anything can happen with a stock during such volatile times. However, we believe that Procter & Gamble, while not cheap, is a reasonable stock to accumulate if an investor is looking for a 4 to 6-year holding period. Aggressive accumulation of PG should take place if the stock declines to $59 and below.
Disclosure: I have no positions in any stocks mentioned, and no plans to initiate any positions within the next 72 hours. I wrote this article myself, and it expresses my own opinions. I am not receiving compensation for it. I have no business relationship with any company whose stock is mentioned in this article.