McDonald's (NYSE:MCD) reports Q3-2012 earnings on October 19th, 2012.
The stock is trading around $93.35 versus its 52-week range of $85.92-$102, up 7% in the last 1 year. McDonald's trades at a P/E multiple of 17 times versus its forward multiple of 16 times, and its 3-year range of 13-18x. A dividend yield of 3.3% on McDonald's stock provides an opportunity to get involved in the Quick Service Restaurant (NYSE:QSR) space. Consider Dunkin' Brands (NASDAQ:DNKN) yields 1.8% while YUM Brands (NYSE:YUM) yields 1.8%.
Factors to watch in earnings:
The most recent dividend increase to $0.77 from $0.70 has provided greater confidence to investors. First payment of the higher dividend is expected to be on December 17, and is payable to investors who own McDonald's shares as of December 3. This confidence boost from the company has also provided a floor for the stock. It will be interesting to hear the company's confidence in future comps to support this dividend increase.
An improvement in margins due to lower food costs for the second half of 2012, and going into 2013.
Europe will remain challenging due to macroeconomic conditions and a drop in European sales due to a drop in consumer spending. Contributing 37% to profits, a progress in top line growth and margins will be primary to recovery.
Although the balance sheet is not a concern, we will be curious to hear management's expectation of free cash flow going forward. A dividend increase boosts confidence but can the company fight the storm of lower margins, drop in top line growth in Europe, and the strong competition from Yum Brands and Dunkin' Brands?
Lastly, it will be helpful to hear about the company's plans for new menu items.
Risks related to investing in the name include austerity measures in Europe, which could continue to dampen consumer spending, a higher than expected increase n commodity prices, and continued weakness in the macro environment, which could have a negative impact on top line growth.
Conclusion: McDonald's is a value-oriented QSR, which pays investors to be patient for a future recovery.
The chart below compares share performance over the past year. "D"s mark dividends paid.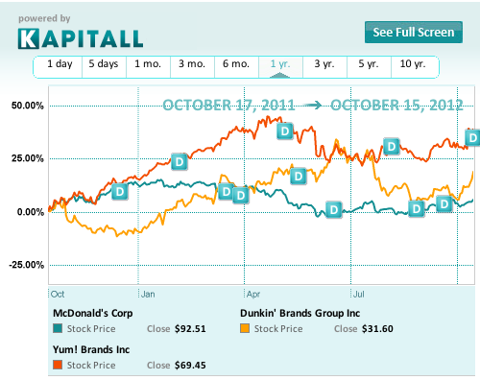 Looking for more on McDonald's? On September 12th, we wrote McDonald's: Still a value oriented play?
Written by Kapitall's Sabina Bhatia. Tool provided by Kapitall.
Disclosure: I have no positions in any stocks mentioned, and no plans to initiate any positions within the next 72 hours. I wrote this article myself, and it expresses my own opinions. I am not receiving compensation for it (other than from Seeking Alpha). I have no business relationship with any company whose stock is mentioned in this article.