Renewable oils specialist Solazyme (SZYM) crossed another barrier in early October 2012 when it filed a patent application named "Biomass-based Oil Field Chemicals." The patent application can be found here. The industrial biotechnology company has seemingly become the poster child of next generation green companies as it begins to commercialize its carbohydrate-to-oil technology. The first-of-its-kind platform allows for the production of customizable oils that are capable of replacing sources derived from petroleum, vegetables, and animal fats. More on the technology can be found here.
What makes this particular patent application worthy of mention is that it offers a fringe glance at the commercialization frontier now being explored by Solazyme. In doing so, the application offers investors a glimpse of the more comprehensive business model that is being formed by the company. More importantly, it offers an opportunity to help bridge together two often conflicting business groups (Green Energy & Big Oil) while simultaneously progressing the industries of each.
What is unique about this patent application?
A low-cost green solution to a drilling problem. Hydraulic fracturing is a drilling practice that is growing exponentially. It has been credited with the discovery of large pools of previously unreachable resources. It often involves the injection of large amounts of hazardous chemicals into the ground. As a result, it has led to widespread fear and accusation of environmental contamination to water reservoirs. Solazyme's application describes a cost-efficient, biodegradable additive that can be used in the production for greener alternatives.
An efficient use of Solazyme's byproduct. The core business of Solazyme revolves around the production of oil. Yet as described in the patent application, the process makes use of the company's primary byproduct as described by claim number 5. By making use of the lysed cells (oil-removed cell shell), Solazyme gains an additional channel of profitability. It can charge a premium on an otherwise waste material. The success of this model can be similarly found in the ethanol industry's co-product production of distillers grains for use in animal feed.
Hydraulic fracturing, or fracking, has often been heralded as a process that is ushering in a new era of energy production. Yet resistance to its previously unhindered progress is growing and the demand for greener alternatives in its use of chemicals remains high. It's for this reason that just two weeks ago Chesapeake Energy (CHK), the second largest natural gas producer in the United States, began testing "environmentally-benign" fracking fluids as seen in this article found here. Oil & gas service companies like Halliburton (HAL) and Baker Hughes (BHI) are also beginning to increase their product offerings with the introduction of some green fracking solutions. As Solazyme begins to bring their commercial production facilities online, it would be reasonable to expect that the company can easily venture into this market space as well.
As it stands, Solazyme remains no stranger to the likes of Big Oil. Established U.S. oil giant Chevron (CVX) was early in identifying opportunity in the company prior to its IPO in 2011. Chevron became an investor in Solazyme through its strategic investment arm of Chevron Technology Ventures in 2010. Solazyme also attracted the eye of Ecopetrol SA (EC), a $128 billion oil conglomerate based in Columbia. According to Solazyme's filed 10-Q found here, the company states that it previously signed a development agreement with Ecopetrol that would "evaluate manufacturing options based on Colombian sugarcane feedstock." This thought remains important as Solazyme has already established its technology and is now in the phase of constructing its production facilities and developing partnerships.
For a company that now has a market cap of $593 million as of October 15, one argument that is often cited against its current valuation is that the company maintains a price-to-book ratio of 2.76 despite a net loss of $19.2 million in the last quarter alone. Yet what is often overlooked is the fact that the company is currently constructing its commercial production facilities and has had little to no capacity online. Indeed, it's now establishing joint venture partnerships and leveraging the capital of its partners. To date, the company has largely taken in revenues from research grants and limited product production from contract manufacturers. As a result, those measuring the company against its assets, fail to account for the future production capability that is now in the process of being established.
Most importantly, the revenue growth that is soon to be experienced remains abundantly high. In a 2011 conference call found here, the company stated that it expected to have 550,000 metric tons of production capacity online by the end of 2015. This capacity is anticipated to support in excess of $1 billion in annual product revenue according to CFO Tyler Painter in the same conference call. With a mere $39 million in reported revenues for 2011, this represents a linear annual growth rate in excess of 225% through the end of 2015 were production capacity to come online in a linear fashion (which of course it does not).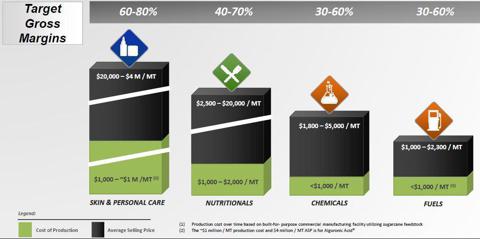 The company's projected gross margins are also shown in the graphic above for its numerous business segments. Most recently, these margins appear to be supported as seen through its other segment of skin care. Solazyme's product sales of Algenist, its high-end cosmetic brand, averaged around 70% gross margins. Sales for this luxury brand are on track to double for 2012, and it's steady margins remain indicative of the company's accuracy to predict margins across the board. The company's success in this field also illustrates their ability to adapt and implement where their technology takes them.
Altogether, Solazyme's latest patent application illustrates a point that energy investors appear to miss time and time again. In this age of political polarization, it seems that support or disdain for the green industry has often been drawn along party lines. Yet in the reality of the business world, green technologies are ever increasingly being adapted by the established elite. This has come not only as a means of environmental sensitivity but through the need to meet regulations, win over public support, and embrace cost-savings.
Whether it be through a direct fuel replacement, through additives & sweeteners, or through complementary chemicals such as fracking fluids, Solazyme's technology is allowing the world to build a bridge between environmental sustainability, cost efficiency, and energy practicality. As the world's first carbohydrate-to-oil platform armed with the unique ability to tailor the output, the company is readying to provide plug-in solutions today once its manufacturing facilities come online. The company is literally bridging biomass waste materials into essential materials used for everyday life.
Disclosure: I am long SZYM. I wrote this article myself, and it expresses my own opinions. I am not receiving compensation for it (other than from Seeking Alpha). I have no business relationship with any company whose stock is mentioned in this article.