Freeport-McMoRan Copper & Gold Inc. (NYSE:FCX) has proven to be a solid performer in 2012. Although volatile, the dividend yield of 3.1% and earnings per share of $3.33 demonstrate value in maintaining a long position. Freeport-McMoRan is tied to both the global infrastructure build out, and to a lesser extent, gold prices. Both of these catalysts have enjoyed a recent upswing, pushing share pricing up from a low of $31.08 to a high of $48.96. Freeport-McMoRan is trading today (Tuesday) around $41.34 and reports earnings on October 22.
Freeport-McMoRan Copper & Gold Inc. engages in the exploration, mining, and production of mineral resources. The company primarily explores for copper, gold, molybdenum, cobalt hydroxide, silver, and other metals, such as rhenium and magnetite.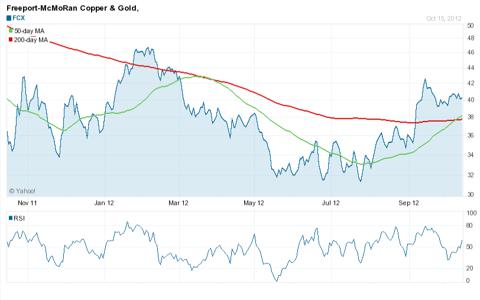 Click to enlarge
Using Covered Calls has proven to be a reliable tactic to replace or add income as a dividend replacement strategy. Freeport-McMoRan's quarterly dividends for 2012 annualize to $1.25.

Click to enlarge
The May 2013 Call option with a strike price of $48.00 is priced today at $1.53 and will provide income in case of share price decline. The strike price of $48.00 matches the 52-week high. By selling to open a Call, I will capture $1.53 and maintain my long exposure to Freeport-McMoRan. There are many uncertainties in the coming months both domestically and globally. Adding a Covered Call now will add income, capture the recent upswing in pricing, and buffer a potential downswing in pricing. The premium represents more than a year's worth of dividends. The risk to this trade is that if Freeport-McMoRan climbs over $48.00 I will have shares called away. My loss will be the difference between the price over $48 and my strike price.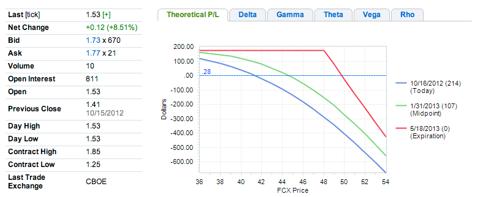 Click to enlarge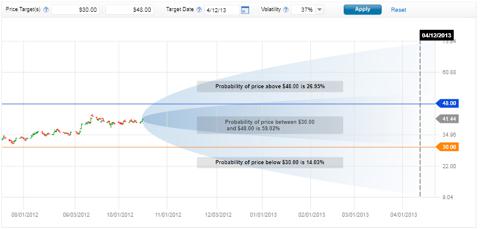 Click to enlarge
In the case of Freeport-McMoRan, the risk is worth the reward of matching the dividend income now, and waiting out the markets anticipated uncertainty.
Disclosure: I am long FCX. I wrote this article myself, and it expresses my own opinions. I am not receiving compensation for it (other than from Seeking Alpha). I have no business relationship with any company whose stock is mentioned in this article.