This article uses terms and concepts explained in A Ranking Protocol for the MLP Space. If you are an energy industry expert please forgive any of my gross oversimplifications intended to give a big picture view without getting completely down in the weeds.
No Attention Span Summary: The Upstream Master Limited Partnerships ("MLPs") ranked in order from highest/best score to lowest score on the 3 Year Forward Yield After Tax / Valuation Coverage Ratio ("3YR FYAT / VCR") metric are as follows: Memorial Production Partners, LP (NASDAQ:MEMP); QR Energy, LP (NYSE:QRE); LRR Energy, LP (NYSE:LRE); Eagle Rock Energy Partners, LP (NASDAQ:EROC); Atlas Resource Partners, LP (NYSE:ARP); Mid-Con Energy Partners, LP (NASDAQ:MCEP); BreitBurn Energy Partners LP (BBEP); Pioneer Southwest Energy Partners, LP (PSE); LinnCo, LLC (LNCO); Linn Energy, LLC (LINE); Legacy Reserves, LP (NASDAQ:LGCY); Vanguard Natural Resources, LLC (NYSE:VNR); EV Energy Partners, LP (NASDAQ:EVEP); Constellation Energy Partners, LLC (CEP).
Upstream MLPs
For the sake of simplicity all companies that provide K-1 tax forms are referred to as MLPs even if they are LLCs. The Upstream group is the part of the energy value chain that produces oil, natural gas and natural gas liquids from wellbores. For the Upstream segment, think of oil and natural gas producing companies that primarily have vertical "pipes," i.e. they have the wells that are drilled down into the ground (they are all going horizontal nowadays with their wells, but they all have to drill down vertically first).
Key attributes to look for are as follows:
Long lived shallow decline curve reserves, as typified by a high total proved reserves / production index (R/P). Generally a higher R/P index is better, as a lower average overall decline curve will mean that a company will have an easier time maintaining its production and cash flow.
Reasonable maintenance capital expenditure program. The term "Maintenance Capex" is a moving target for the upstream space due to the declining nature of producing wells and commodity price exposure, making it a different concept when compared to a pipeline. Is Maintenance Capex the amount of capex needed to maintain current production levels or to maintain current total reserves or to maintain total current distributable cash flow?
Disciplined hedging programs to reduce the exposure to volatile commodity prices. Crude oil and natural gas prices are easier to hedge over a longer period of time as those hedging markets have better depth and breadth. On the other hand natural gas liquids hedging markets are not as developed so upstream companies have a harder time hedging NGL production for more than 12 to 18 months.
Lower Incentive Distribution Right ("IDR") structures. Declining oil and natural gas reserve assets are less suited to the full IDR structure with the 50%/50% split at the top tier.
Generally higher distribution coverage ratios ("DCR") when compared to "pipeline" MLPs. Due to the inherent decline curves of oil and gas wells and associated commodity price risk, upstream assets are comparatively riskier than pipeline assets, so a higher DCR helps to cushion against that risk.
Segment Participants
Assumptions and Fundamentals

Click to enlarge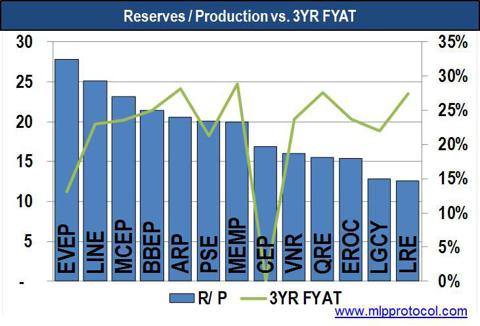 Click to enlarge

Click to enlarge
Note: The hedging percentages shown in the charts are based upon total estimated flat production including Natural Gas Liquids production where applicable.

Click to enlarge
Note: ADJ EBITDA = Trailing Twelve Month ("TTM") EBITDA - TTM General Partner Distributions (i.e. EBITDA available to the LP unit holders). Also some companies have made acquisitions and a pro forma TTM EBITDA number may not have been available so TTM EBITDA is understated (which makes EV / EBITDA multiples look higher).
Rankings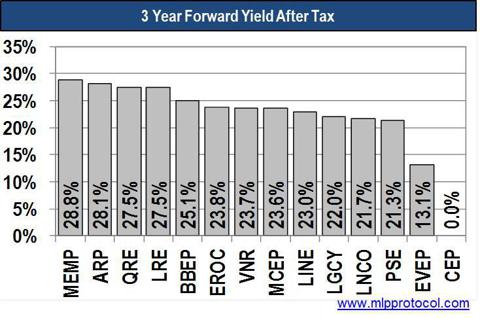 Click to enlarge
Note: 3YR FYAT is calculated based on projected distribution growth taking into account the estimated portion of the distributions that will be tax deferred and assuming a tax rate of 35% on the taxable portion of the distributions for K-1 entities. The pending expiration of the Bush tax cuts would increase that assumed tax rate to 43.4% but the change would be less impactful to the projected after tax yields than expected due to the tax deferred nature of MLP distributions.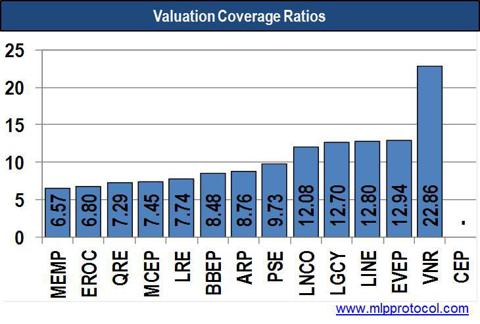 Click to enlarge
Note: For Valuation Coverage Ratio ("VCR") a lower number is better, VCR = (EV / ADJ EBITDA) / TTM Distribution Coverage Ratio ("DCR"). Additionally, the VCR calculation has been made slightly more onerous since the original article referenced above. It now uses the lesser of the TTM DCR or if the Most Recent Quarter "MRQ" DCR is less than 1.0x then it uses the MRQ DCR number. This adjustment makes the VCR penalize underperformance immediately when the quarterly DCR is less than 1.00x while still conservatively trailing during a rising DCR trend (i.e. if the MRQ DCR is 1.2x and the TTM DCR is 1.1x it will use the lower TTM DCR).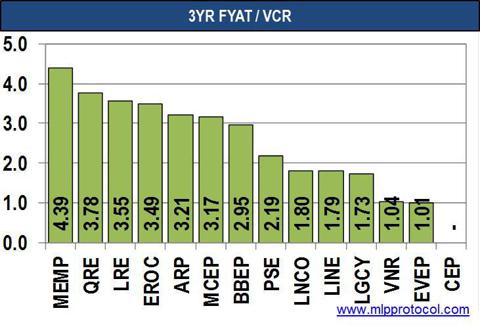 Click to enlarge
Note: For the 3YR FYAT / VCR ratio a higher number within a segment is better, representing more projected yield at comparatively better/lower Enterprise Valuations and better/higher Distribution Coverage Ratios. Due to the compound nature of the 3YR FYAT / VCR score it is not scalable, meaning a score of 3.00 is not "twice as good" as a score of 1.50. The results are most sensitive to the Distribution Coverage Ratio.
Observations
4 of 13 companies had a Distribution Coverage Ratio less than 1.00x for the second quarter of 2012 (LGCY, LINE, PSE, VNR) primarily due to impacts from low NGL prices (there's that commodity price risk), so their scores are lower as a result.
3 of the 13 have cut or suspended distributions in the past (BBEP, CEP, EROC) with CEP still not paying any current distributions.
8 of the 13 do not have IDR structures, 3 of 13 have a maximum IDR tier of around 25% (EVEP, LRE, MEMP), and only ARP has a full 50% IDR tier.

CEP has an effective top IDR tier of 17% but is not currently paying any distributions.
QRE has a Management Incentive Fee paid to the General Partner that is equal to 0.25% of the management incentive fee base (basically the present value at 10% of the reserves plus market value of all other assets, please see page 94 of Prospectus for more detail).

The first Upstream MLP in the group to go public was LINE. They continue to maintain their first mover advantage and their enterprise value represents roughly 45% of the total enterprise value for all the Upstream MLPs. Additionally they are a first mover yet again when considering the newly public LNCO structure.
EROC's business mix by operating income was roughly 55% upstream and 45% gathering & processing so the metrics are impacted/skewed as a result. Additionally EROC's recent acquisition of BP's Texas Panhandle gathering & processing assets will further shift the business mix and may result in the company moving to the Gathering & Processing MLP segment.
Larger MLPs will tend to have a lower 3YR FYAT / VCR score because the market tends to value those companies at a higher EV / EBITDA multiple based on the concept that larger companies have more diversified revenue streams, greater access to capital and are thus less risky.
Smaller MLPs that trade at lower Enterprise Valuations can score higher in these metrics assuming they have a decent Distribution Coverage Ratio but keep in mind that smaller does equate to riskier.
MLP Tax Considerations and IRA Disclaimer: Additionally all the Companies mentioned in this article provide K-1 tax forms, except for LNCO which will provide a 1099-DIV, so additional tax considerations and effort at tax time are required for investors. Please consult with your tax advisor before making any investments into any asset class that you do not currently own. If you are your own tax advisor, technically nothing prevents you from investing in MLPs using funds in an IRA (or funds in any U.S. based tax advantaged account); however, in order to avoid the risk of potential taxes in an IRA, any K-1 reporting investment that I own is held in a taxable account. Please feel free to ignore me though, it is after all, your money and your choice and nobody is more concerned about your money than you.
Some background on MLP/K-1 tax considerations can be found here:
Disclosure: I am long EROC, LRE, MEMP, QRE and LNCO. I wrote this article myself, and it expresses my own opinions. I am not receiving compensation for it (other than from Seeking Alpha). I have no business relationship with any company whose stock is mentioned in this article.
Disclaimer: I am also long LNCO. I may add, change or adjust any positions at any time and my ownership should not in any way be construed as a recommendation for anyone else to own the particular security discussed.