SanDisk (SNDK) the flash memory card maker, is scheduled to report their 3rd quarter, 2012 earnings after the bell on Thursday night, October 18th. Analyst consensus is looking for $0.34 in earnings per share on $1.2 billion in revenue for year-over-year declines of 72% and 15% respectively, but still better than the 2nd quarter's numbers which fell 25% and 82% respectively.
Earnings per share and revenue estimates have ticked slightly higher since the July '12 earnings update, when the company reported their worst quarter in years.
The guidance on the 1st quarter 2012 conference call was a killer and investors are still digging out of the hole created when gross margin fell 800 bp's and SNDK's operating margin fell 1100 bp's, thanks to both weak pricing and oversupply of NAND.
The semi sector hasn't been a pretty place to be in 2012, with SNDK down 9% this year versus the S&P 500's double-digit return although SNDK looked far worse three months ago.
With a full year 2012 estimate of $1.81 and 2013 and 2014 currently looking for $3.22 and $4.02, the stock is starting to trade off 2013 and 2014 recovery, which worries me more than a little bit, since 2012's expected full year earnings decline of 60% is as bad as 2001 and 2008 in terms of the financial results.
However it was the q1 '12 conference call where SNDK mentioned that they were supplying "all" smartphone makers, which tells us SNDK is now an Apple supplier, so we hope the trough is in for the foreseeable future.
The 2nd quarter's results and guidance were actually in line with what the Street was expecting so the stock has rallied $10 per share just on SNDK stabilizing their business.
Peak gross margin for SNDK was 49% in q4 '09, but some analysts think that SNDK will only be able to return to a 40% GM, given the increasing dominance of OEM's.
Here is a long-term chart of SNDK and you can see the stock maintaining its 50-week moving average, with the uptrend line off the '09 market lows still intact.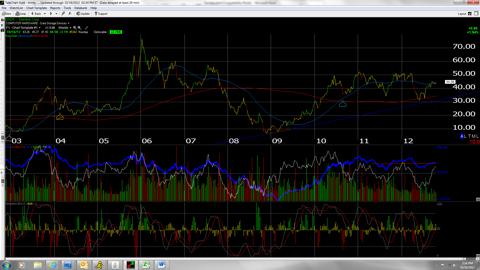 Click to enlarge
A number of brokers have commented on stabilizing NAND flash memory prices the last few months which is what is needed to restore margins and drive earnings growth. A note out of Jefferies thinks that Win8 could be a good catalyst for PC's as well as Ultrabooks / Tablets.
Sentiment around tech is horrible in general and for semi's it is worse, so we are staying long our SNDK position in client accounts pre-earnings. We think the stock hit a trough in Q2'12 and expect both the pricing for NAND and the demand to improve gradually as we move in 2013.
Disclosure: I am long SNDK, AAPL. I wrote this article myself, and it expresses my own opinions. I am not receiving compensation for it (other than from Seeking Alpha). I have no business relationship with any company whose stock is mentioned in this article.