Vikram Pandit's departure from Citigroup (NYSE:C) is the top story in the financial press today by a long shot. Dozens of pundits have offered up their view of the departure, why he left and what it means for Citigroup's future. The one thing that struck me is the multitude of comments stating one of the reasons that Pandit was forced out or left on his own accord was the consensus that the company was played masterfully by Morgan Stanley (NYSE:MS) in regards to their joint brokerage venture, which Morgan will now hold in full. This definitely caught my interest as I want the other side of that trade and bet on the winner of that negotiation. Morgan Stanley also looks like a good value play at these price levels.
Positives/Catalysts for Morgan Stanley:
Based on various commentators' comments on CNBC today, it looks like Morgan Stanley got Citigroup's portion of the brokerage joint venture for $4B to $5B less than what Pandit told Citi's board it was worth.
Since that transaction went through, consensus earnings estimates for FY2013 have moved up 3 cents a share.
4 additional reasons MS is a solid pick up for value investors at just under $18 a share:
The stock is still historically cheap at just 57% of book value. The company's earnings are expected to double next year to just under $2 a share.
Morgan Stanley has an A- credit rating and its stock is priced at 9x forward earnings.
The stock is selling near the bottom of its five year valuation based on P/B and P/CF. Credit Suisse has an "outperform" rating and has a $22 price target on MS. It expects the firm to make $2.60 a share in FY2014.
After bouncing off lows after the second quarter market selloff, the stock has gain momentum and is now above its 200 day moving average (See Chart).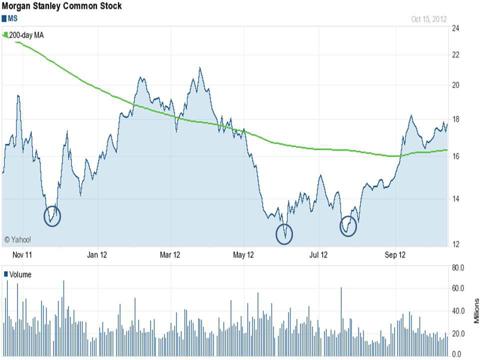 Click to enlarge
Disclosure: I am long GS, JPM, MS. I wrote this article myself, and it expresses my own opinions. I am not receiving compensation for it (other than from Seeking Alpha). I have no business relationship with any company whose stock is mentioned in this article.