Energy stocks usually hit their stride when the economy is in its mid- to late-cycle. With the uncertainty concerning overall economic growth in 2013, it is difficult to determine where in the cycle we are currently. Some may believe we are still in the early stages of an economic cycle; others have justification to believe we are near the end with a recession and economic contraction ahead. Due to this uncertainly, oil has recently sold off and natural gas is still hovering not too far above its 10-yr lows.
Many energy investors overlook the second tier companies in favor of one of the large-cap Seven Sisters. Two of the larger 2nd tier companies are ConocoPhillips (NYSE:COP) and Apache (NYSE:APA). The same market forces that will drive the Seven Sisters' share prices higher will also be positive for COP and APA.
After the spinoff of downstream assets in May, ConocoPhillips has redirected its efforts, and sizable capital expenditures, to oil and gas exploration and development. Production is estimated at 656,000 boe/d and operations include the US, Norway, the United Kingdom, Canada, Australia, offshore Timor-Leste in the Timor Sea, Indonesia, China, Libya, Nigeria, Algeria, Qatar and Russia. US accounted for about 45% of total oil and 36% of total natural gas production.
For ConocoPhillips, the highest profile US plays include San Juan Basin, Permian Basin, Lobo Trend, Eagle Ford, Williston Basin, panhandles of Texas and Oklahoma, Fort Worth Basin, Anadarko Basin and Bossier Trend. In the Eagle Ford, the company is drilling upwards of 180 new wells in this year and expects to achieve peak production in 2017 at 140,000 boe/d. In the Bakken, COP expects to drill 120 wells this year. In the Permian Basin, the firm plans on 300 new wells this year. COP has an interesting exposure to the Canadian oil sands. Worldwide, COP produces about 46% oil, 42% natural gas and 12% bitumen.
Management plans of spending upwards of $16 billion a year in capital expenditures. However, anticipated 2012 operating cash flow of $14.2 billion falls short of the combination of cap ex and dividend payments of $3.4 billion. The company has been aggressive in its share buyback program, reducing share count by 17% over the past two years. However, future buybacks will be sacrificed in favor of higher cap ex. It will take a few years until production rises sufficiently to cover these major expenses and until that happens, look for COP to increase debt to compensate for the shortfall.
A major attraction to COP is its dividend of $2.40 and a 4.70% yield. While dividend growth may be muted going forward as capital is funneled to expansion, the current yield is the highest among E&P firms and competes with utilities for high cash returns.
Apache is an aggressive 2nd tier oil company with a rich history of purchasing other oil company's cast-offs and turning them into prolific money-makers. Operations stretch from the North Sea to Alaska, Egypt to Australia, and The Gulf of Mexico to mid-America shale. In addition, APA is extending its downstream assets with a focus on LNG export terminals for natural gas in Alaska, British Columbia and Australia. Management plans to exploit the long-term LNG opportunities in the Asian Pacific Rim.
North America represents about 51% of current production and 68% of proved reserves. Production is split 46% oil and 54% natural gas.
Management generates about $9 billion in operating cash flow and is on target to spend about $9.5 billion in 2012 on cap ex, not counting acquisitions. Cap ex was $8 billion in 2011.
APA has been on a buying spree, completing $15 billion in acquisitions over the past 3 years. However, organic growth has been anemic at best with an overall organic growth rate of about -3% in 2011 and flat for ytd 2012. However, there are eight major projects coming on stream over the next two years that should add about 4% to 7% organic production growth. These are located in all their geographic areas, with the largest production gains anticipated in Australia.
Comparing ConocoPhillips fundamentals with Apache fundamentals would produce the following table. However, comparisons are somewhat skewed as COP historical data includes downstream assets divested in May 2012:
| | | |
| --- | --- | --- |
| As of 10/15/12 | COP | APA |
| Share Price | $56.79 | $85.44 |
| Beta | 1.13 | 1.31 |
| Dividend TTM | $2.64 | $0.68 |
| Current Yield | 4.70% | 0.80% |
| Average 5-yr Yield | 4.04% | 0.61% |
| 5-yr Divy Growth Rate | 12.50% | 3.90% |
| 2012 Payout Ratio | 46% | 6% |
| 2011 EPS | $8.76 | $11.83 |
| 2012 EPS | $5.74 | $9.79 |
| 2013 EPS | $6.05 | $10.59 |
| ROE TTM | 11.60% | 11.91% |
| 5-yr Average ROE | 6.80% | 11.78% |
| Long-term Debt to Equity | 0.55 | 0.31 |
| ROIC TTM | 7.50% | 9.60% |
| 5-yr Average ROIC | 4.50% | 9.10% |
| 2012 PE Ratio | 9.9 | 8.7 |
| 2013 PE Ratio | 9.4 | 8.1 |
| Long-Term EPS Growth Rate | 3% | 7% |
| 2013 PEG Ratio | 3.13 | 1.15 |
| Reserves BOE, proved billion | 8.40 | 3.00 |
| Est. 2012 Production mboe/d | 656 | 747 |
| Annualized Total Return 1-yr | 12.70% | -5.97% |
| +/- Sub-sector Return | -1.36% | -12.67% |
| Annualized Total Return 3-yr | 17.06% | -5.53% |
| +/- Sub-sector Return | 11.70% | -9.01% |
| Annualized Total Return 5-yr | 0.09% | -1.61% |
| +/- Sub-sector Return | 1.97% | -3.81% |
| Annualized Total Return 10-yr | 14.38% | 12.65% |
| +/- Sub-sector Return | 1.91% | -5.39% |
Sources: Morningstar.com, Reuters.com, Finance.Yahoo.com. COP sub-sector Oil & Gas Integrated, APA sub-sector Oil and Gas Exploration. COP TTM includes downstream operations divested in May 2012
5-yr Price Chart comparing COP, APA, and S&P Oil and Exploration ETF (NYSEARCA:XOP):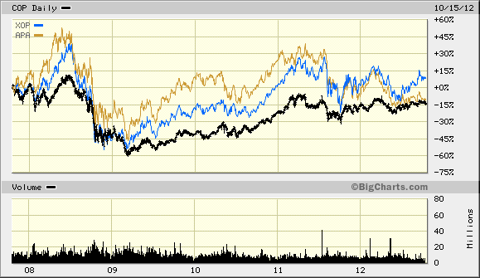 Since ConocoPhillips recently became a more concentrated E&P in May 2012, reviewing a 6-month chart may be more appropriate: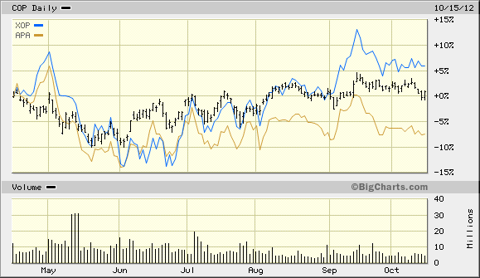 Investments in ConocoPhillips and Apache could be of interest for two different types of investors. Both stocks have underperformed their peers, partially due to their exposure to the depressed natural gas market. Each has considerable exposure to gas, and it is showing up in reduced earnings this year and into next.
COP has a substantial yield, but until cash flow minus cap ex becomes positive, debt will increase to cover the shortfall. This is unsustainable over the long-term and the viability of the dividend will be tied to management's ability to increase cash flow by upwards of 36% over the next 4 years to pay for both an aggressive cap ex program and a sizable dividend.
ConocoPhillips carries a higher current valuation and its growth prospects are lower than APA's. COP's TTM Return on Invested Capital is 22% lower than APA, mainly due to a higher debt to equity ratio.
Steve Ferris, long-time APA CEO is considered to be one of the best dealmakers in the oil business. His management team has earned an S&P Equity Ranking of A- for 10-yr consistency in earnings and dividend growth. COP is ranked B+, or Average.
Apache investors are seeking more capital gain exposure than COP may offer. Trading at 8 times 2013 eps and a 2013 forward PEG ratio of 1.15, APA offers a better current value, and potential for share gains. The 8 major international projects alone will account for 6% organic growth in each of the next two years, marking a turnaround that has plagued APA since early 2011. Finances seem to be conservatively managed with cap ex and cash flow about equal and increases in debt is used for acquisition growth. APA has generated consistent ROIC over the past 5-yrs, although its share price has lagged competitors.
Although a bit more volatile with a beta of 1.31, APA's share price should react more favorably to increases in oil and gas pricing.
For investors believing oil and gas will continue to increase in price over time, COP could be bought for its yield and APA for its capital gains potential.
Author Note: Please review important disclaimer in author's profile.
Disclosure: I am long APA. I wrote this article myself, and it expresses my own opinions. I am not receiving compensation for it (other than from Seeking Alpha). I have no business relationship with any company whose stock is mentioned in this article.