People and cities in the US are becoming more anti-smoking. Things have changed since the hard smoking 1960's Mad Men era so well portrayed in the AMC series. What would Don Draper do if he couldn't light up at the office? Public smoking bans would have been unheard of during those days. So it seems that, at least in the US, smoking is losing its appeal and fast. How has this affected perennial tobacco powerhouse, Altria (NYSE:MO), as an investment?
History is only partly relevant to Altria because this is a new company starting in 2008 in a new market. Most investors are aware of the Altria split off of Philip Morris International (NYSE:PM) and Kraft (KFT). I feel that as an investor trying to determine the future performance of Altria that I must evaluate them from the split off forward and ignore the impressive history of the combined companies.
Starting at the split off point let's evaluate Altria as a dividend growth company. The first dividend paid by Altria after the spins offs was on 6/11/2008 and it was $.29 per share. Today it is set at $.44 per share. That represents a 51% total increase in 5 increases, or if looked at on a yearly basis:
2008 - 6.3%
2009 - 2.9%
2010 - 8.6%
2011 - 7.9%
2012 - 7.3%
Average Dividend Growth Rate of 6.6%
Altria has set a payout ratio policy of 80% (see report here). Aside from the turmoil of 2008/9 they have managed to stay close to that level. The list below shows the last 10 years of Altria's payout ratio and remember that we are focusing on the time from 2008 and forward.
Altria Payout Ratio since 2002.
2002 - 46.8%
2003 - 58.4%
2004 - 61.7%
2005 - 60.0%
2006 - 58.1%
2007 - 70.4%
2008 - 113.5%
2009 - 85.7%
2010 - 78.1%
2011 - 96.3%
TTM - 75.5%
The higher payout ratio after the 2008 spin off event reflects an attitude of less growth and thus a smaller percent of re-invested profits for the new Altria.
Can Altria continue to hold the payout ratio around 80% and increase dividends by at least the inflation rate each year?
Earnings are growing, but most of the growth is from the smokeless segments of the company. So far these gains have at least colored over the flat-to-down trend for the much larger smokeable products segment. Information from Altria 2012 Q2 press release.
Altria Q2 Revenues for 2011 and 2012

Altria Q2 Operating Income for 2011 and 2012

So let's look at a chart of the percent growth in Dividends, Earnings Per Share, Margins, Revenue for Altria since June 1, 2008 to get an even better picture.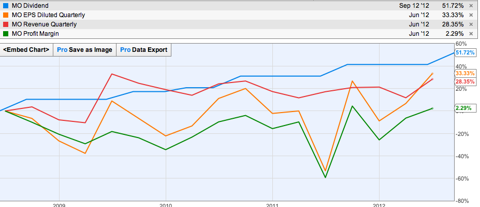 The dividend growth is out pacing the growth in earnings and revenue. With the dividend payout ratio up to the company policy stated goal of 80% that does not leave much room to grow the payout. Altria has very little growth in the bulk business of "smokeable" products. Margins can only be squeezed so much before the profit growth stops with out an increase sales volume and the sales volume is flat or down.
Below is "Table 5" from Altria's Q2 earning report: Shipment Volume of Cigarettes.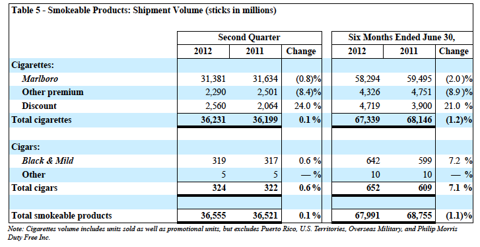 Conclusions
The segments of Altria showing some nice numbers of 8.1% and 15.8% yoy income growth are a very small portion of over all sales. The 3.6% income growth in smokeable products represents more than twice the actual dollar number of sales growth in 'smokeless' segments. Gains in the financial services sector are results of one time special lease agreements that effected earnings in 2011. The financial services segment has returned to it's base line earnings for 2012, this is not organic business growth.
All of Altria's measurable business growth (not special items) is coming from much smaller segments that sell wine and smokeless products. Also, on the negative side, long term debt has risen substantially. See the increase in debt to equity ratio below. Capital expenditures have been reduced, and the litigation threat is just still in the minds of investors.
Altria 10 Year Financial Health Ratio Chart from Morningstar:

I'm simply neutral on Altria, I do believe that the current dividend level is sustainable but I will need to see further debt reduction and need to evaluate the effects of the 27% stake of SAB Miller that has been acquired to decide if the dividend can out grow inflation.
I am long Altria in some legacy positions and will hold to collect a nice yield. Price appreciation and dividend growth are uncertain.
Disclosure: I am long MO. I wrote this article myself, and it expresses my own opinions. I am not receiving compensation for it (other than from Seeking Alpha). I have no business relationship with any company whose stock is mentioned in this article.