After two years of negotiating, Hertz (NYSE:HTZ) is finally making it official. In a merger that will give it a combined share of about 25% of U.S. car rental market sales, Hertz Global Holdings has agreed to buy Dollar Thrifty Automotive Group (NYSE:DTG) for $2.3 billion. Hertz expects at least $160 million of annual cost synergies from the transaction. Today, Enterprise Holdings is the market leader while Hertz Global Holdings, Avis Group, and Dollar Thrifty Automotive Group follow, respectively. How will the acquisition increase Hertz's share of online car rental traffic?
To answer that, Compete leveraged its site analytics and patented ability to track, normalize, and count unique visitors (UVs), which avoids double-counting consumers who perform the same activity more than once in a period. We first assessed current traffic to the brands' sites, then re-assessed based on how a combined Hertz/Dollar/Thrifty brand would track. To represent Dollar and Thrifty's common parent, we created a Dollar Thrifty aggregate to represent UVs across Dollar.com and Thrifty.com, again avoiding double-counting.
Today
Over the six months prior to the merger announcement, Hertz.com UVs grew to border 2 million UVs, while Dollar.com/Thrifty.com had fewer than 1.5 million. Hertz leading Dollar Thrifty site traffic is consistent with Hertz's revenue lead in the car rental market.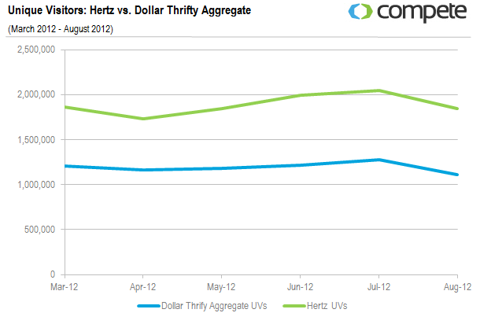 For context, we then looked at shares of total car rental supplier traffic (UVs across all car rental supplier sites). Hertz beat Dollar Thrifty, averaging 25% of segment traffic in the period. Dollar Thrifty averaged around 16%. While both gained and lost shares in parallel, Hertz maintained almost a 10-point advantage throughout the period.
Today with a New Lens
How much traffic would they have seen had the merger already occurred? To reveal that, Compete created another aggregate, this time for Hertz/Dollar Thrifty, again removing double-counts of consumers who visited both in a given month.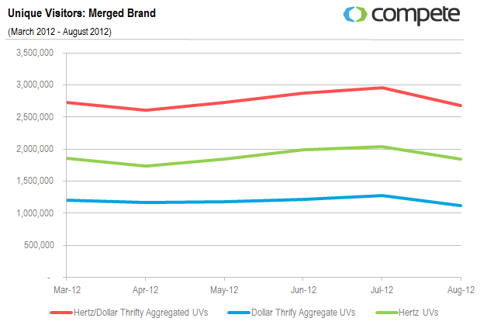 As expected, a merged Hertz/Dollar Thrifty would have significant digital market might, even after removing double-counting. Hertz/Dollar Thrifty would lead Avis (NASDAQ:CAR), though still trail privately held Enterprise's 50%-plus share. Note that shares can total over 100% because some consumers shop more than one car rental site.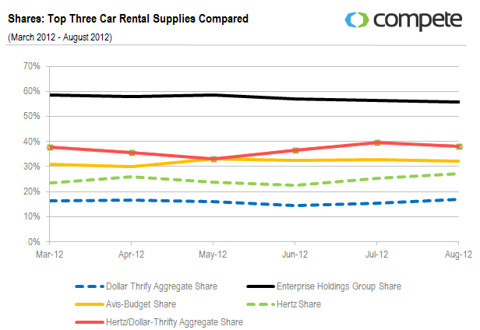 Enterprise Holdings is comprised of three brands (Alamo, Enterprise, and National) each with their own website. The acquisition of Dollar Thrifty gives Hertz an equal number of brand websites, so at least they're working with the same digital resources. But note that even before the merger, Hertz/ Dollar Thrifty combined was closing the gap to Enterprise.
Down the Road
While the merger will help Hertz close the digital gap to Enterprise, it's still a long way to #1. Additional suggestions for further analyses include:
Enhance the analysis of the value of the proposed merger by assessing the extent to which Hertz loses bookers to Dollar Thrifty and Dollar Thrifty loses bookers to Hertz.
If the merger can help keep otherwise lost bookers in the family, the financial benefits could be far more than just back-end economies of scale.
Assess additional traffic history to better understand each brand's seasonality.
Identify behavioral or other differences among current Hertz and Dollar Thrifty researchers and bookers that could help accelerate or hinder combining the two.
This can include leisure vs. business but also include insights on outside interests that could aid marketing efficiencies.
Disclosure: None