After the bell on Tuesday, chip giant Intel (NASDAQ:INTC) reported its fiscal third quarter results. Expectations were extremely low for the company, whose original guidance was below analyst estimates. Then, Intel lowered its revenue forecast even more during the quarter. When I previewed Intel's quarter recently, I noted that the stock would rise if the quarter and forward looking guidance was good. Well, we got half of that. Intel's Q3 wasn't as bad as expected, but Q4 guidance was a bit below street expectations. Let's look at Intel's report.
Overall Results:
Intel reported Q3 revenues of $13.457 billion, a bit above the $13.2 billion they guided to when they warned in September. The reported revenue figure represented a 5.45% decline over the prior year period. However, that beat street expectations for a 7.1% decline to $13.23 billion. Revenues weren't as bad as many had feared.
In terms of earnings per share, Intel came in at $0.58, above street expectations for $0.50. Intel did not provide earnings guidance for the quarter, during the Q2 report or with its quarterly warning.
Here are the financial highlight's from Intel's report:
PC Client Group revenue of $8.6 billion, flat sequentially and down 8 percent year-over-year.
Data Center Group revenue of $2.7 billion, down 5 percent sequentially and up 6 percent year-over-year.
Other Intel architecture group revenue of $1.2 billion, up 6 percent sequentially and down 14 percent year-over-year.
Gross margin of 63.3 percent, 1.3 percentage points above the midpoint of the company's updated expectation of 62 percent.
R&D plus MG&A spending $4.6 billion, unchanged.
Tax rate of 24 percent, below the company's expectation of approximately 28 percent.
Intel also provided the following comparison table to Q2: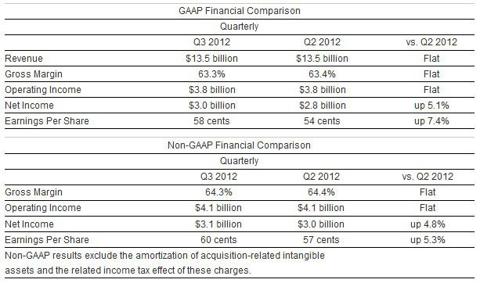 Click to enlarge
So let's break down the overall results, compared to previous Q3 results. The following table shows Intel Q3 margins over the past four years, and we'll use this to analyze the results.

As mentioned above, Intel revenues fell by 5.45%. However, the cost of goods sold only declined by 5.23%. When revenues fall at a faster rate than cost of goods sold, gross margins will decline. Gross margin dollars declined by 5.58%, or about $500 million, leading to an 8 basis point decline in Intel's gross margins. All of these numbers are GAAP.
In terms of R&D spending, Intel saw a 21.73% year over year rise, quite large given the decline in revenues. Marketing, general, and administrative expenses declined by 1.09%. Amortization expenses declined by 2.63%. Overall, operating expenses rose by nearly $440 million, a rise of 10.42%. That led to a decline in operating income of $944 million, or 19.73%. You can see that evident above, as operating margins fell by more than 5 full percentage points.
Intel's pre-tax income fell by 19.85% over the prior year period. However, as Intel noted, the tax rate was a bit below expectations. Intel's effective tax rate was 24.20%, compared to 29.11% in the prior year period. Thus, net income only declined by 14.3%, from $3.468 billion to $2.972 billion.
Earnings per share fell from $0.65 to $0.58, a decline of 10.77%. That wasn't as bad as the drop in net income, because Intel is buying back shares. The diluted share count, used for EPS calculations, declined from 5.340 billion in the prior year period to 5.153 billion this year.
Balance Sheet:
The following table shows some key balance sheet numbers, over the past two years, and in comparison to the end of Q2. All dollar values are in millions.

On the face of it, Intel's quarter did not look good as the current ratio and working capital dropped. However, the results are not as bad as they look. As you can see in the cash and investments number, Intel actually saw a rise in cash and investments (including long-term). The reason why the current ratio and working capital dropped is that Intel shifted some of its cash and short term investments into longer term investments. Cash and short term investments in the period declined from $13.648 billion to $10.465 billion, but long term investments increased from $1.167 billion to $4.393 billion. One other small note. Intel's inventory rose by more than $400 million in the quarter, and is up $1.36 billion over the past year.
During the quarter, the company generated approximately $5.1 billion in cash from operations, paid dividends of $1.1 billion and used $1.2 billion to repurchase stock. In Q3 of 2011, Intel reported cash from operations of $6.3 billion, paid $1.1 billion in dividends, and bought back $4 billion in stock. I've noted in past articles that the company would be buying back less stock due to a decline in cash from operations.
Guidance:
The following image was taken from Intel's Q3 report, giving the company's guidance for fiscal Q4.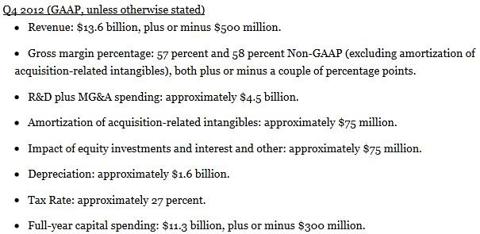 Click to enlarge
This is where things get interesting. Intel analysts were expecting Q4 revenues of $13.78 billion, so Intel's midpoint is below expectations. That's not good, especially since at the Q2 report, Q3 guidance was below expectations, and then they warned even more.
The gross margin forecast suggests a drop in Q4, maybe due to pricing weakness, something that has been discussed recently. Remember, Intel's GAAP gross margins for Q3 were 63.3%, so you are looking at a decline of approximately 6 full percentage points. GAAP gross margins in Q4 of 2011 were 62.5%.
Intel also lowered its full year capex forecast. Intel previously stated that capex would be at the low end of its $12.1 to $12.9 billion range. Now, they are looking at $11.3 billion.
Final Thoughts:
The good news for Intel was that Q3 was not as bad as feared. Intel came in about $250 million in revenues above the midpoint of its revenue warning, and a lower tax rate helped to fuel a nice beat on the earnings per share front.
The bad news is that Q4 looks weak as well, and revenue guidance was also below expectations. Given Intel's reported Q3 and the subsequent Q4 guidance, Intel is looking at 2012 yearly revenues of approximately $53.464 billion. That's slightly above the current analyst estimate for $53.40 billion, which makes sense given the Q3 beat. However, that still implies a 1% decline over 2011 revenues.
In the after-hours session, Intel shares were down more than 2.1%, trading below the $22 level. Shares had given up more than half of Tuesday's gains, not surprising given the guidance. But remember, this is a stock that was nearly $5 higher just two months ago. Just last Friday, Intel hit a 52-week low of $21.40.
Disclosure: I have no positions in any stocks mentioned, and no plans to initiate any positions within the next 72 hours. I wrote this article myself, and it expresses my own opinions. I am not receiving compensation for it (other than from Seeking Alpha). I have no business relationship with any company whose stock is mentioned in this article.