Arena Pharmaceuticals (NASDAQ:ARNA) has been on a pattern over the last three months. It runs up above $9 per share and the retraces towards $8 per share. It is almost as if this equity is on a set course and active traders have certainly benefited. What I see is an equity looking for, and then the street anticipating, the next catalyst. That catalyst is DEA scheduling.
As investors are aware, Arena's anti-obesity drug, Belviq, received FDA approval earlier this year. Prior to going onto the market the drug needs to receive a DEA schedule. The DEA schedules drugs with potential for abuse in a scale from 1 to 5 with a level 1 being the most restrictive and level 5 being the least. Once Belviq gets its assigned slot within the DEA scale, it will be available to bring to market.
The DEA process can take as little as 4 months, and waiting 6 months is not unheard of. The company submitted to the DEA in July, so the 4 month timeline is essentially happening now. That is likely the reason that this equity has continued to trade up and down. It appears that anticipation builds, then disappointment takes over with no news, and then the cycle repeats.
In looking at this behavior, it is pretty clear that when the DEA news is announced it will have a positive impact on Arena, and likely send it to levels above $10 for the first time in months. Fueling the speculation fire now is the fact that Vivus (NASDAQ:VVUS), a competitor in the anti-obesity market, launched its drug Qsymia last month. Certainly Arena investors are watching the Vivus news flow closely, as positives there should translate into positives for Arena as well.
With both Arena and Vivus, the term "blockbuster drug" has been used a lot. It is the potential that these drugs will re-write the record books that has so many speculating on success. With the size of the potential market, it is little wonder that investors and The Street see dollar signs when they hear the name of either company. In my opinion, that dynamic combined with DEA scheduling will be enough to bring between a 10% and 20% upside in a short period of time. Any measure of success and consumer acceptance of Belviq will allow those gains to hold and establish a foundation for continued momentum.
With the DEA clock passing the 4 month mark, the anticipation is palpable, and it is almost as if investors and The Street do not want to be on the sidelines. In my mind, this offers a proverbial safety net below that is getting higher with each cycle.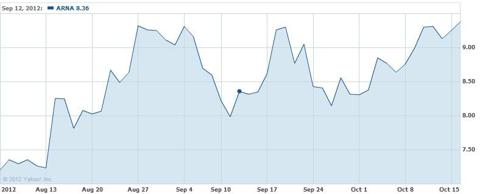 Notice that the equity is exhibiting higher highs and higher lows over the past few months. With the DEA literally an "any-day-now" situation for the next 2 months, it will, in my opinion, be difficult for this equity to fall below $8.50 while the potential upside is an equity that can hit $11 and build from there. At this point, it is a question of timing, DEA news, and developments of Vivus. These three factors are what will drive the stock and establish a new foundation.
While the semantics of the anti-obesity market share, the DEA schedule level, methods of prescription and efficacy of the products can all be debated, the driving force of the equity is investment success. Over the next several months, we will all finally get some data on whether or not these drugs can meet up to the potential we all envision today. I see at least $11 on DEA scheduling news!
Disclosure: I am long ARNA. I wrote this article myself, and it expresses my own opinions. I am not receiving compensation for it (other than from Seeking Alpha). I have no business relationship with any company whose stock is mentioned in this article. I have no position in Vivus VVUS.