Vanguard Natural Resources LLC (NYSE:VNR) is a nimble $1.5 B market cap exploration and development company specializing in oil and gas assets onshore in North America. VNR has an eye catching 8.24% distribution, which has increased an average of 7.14%/year since 2007. Aside from this impressive attribute, there is more that attracts me to this upstream MLP.
Unique Benefits:
VNR recently switched from a quarterly to a monthly distribution schedule, which allows interest to compound slightly faster when the distributions are reinvested. A monthly dividend schedule also offers a more stable share price, as dividend chasing investors will be less likely to buy before the ex-dividend date, and sell after the pay date to only capture these payouts. This should keep VNR's share price more steady and less volatile around these dividend qualification dates. In addition, VNR doesn't have a general partner. This is a positive, as investors can enjoy unfiltered distributions since these payouts won't be skimmed off by IDRs.
Assets: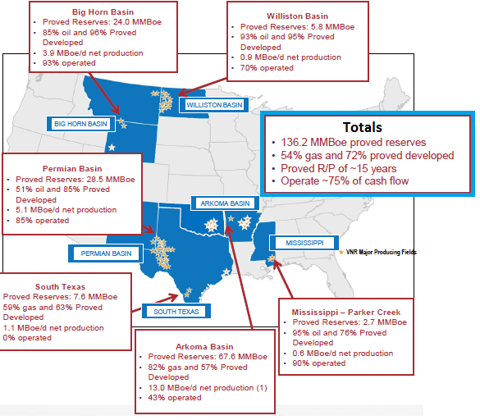 VNR offers a 100% on shore basket of assets, with a roughly even mixture of oil versus gas based assets.
Responsible Valuations:
In my opinion, VNR has some very compelling valuation qualities. In 2011, VNR boasted a 6.6x EBITDA/Capex ratio, and a 1.4x distribution coverage ratio. These 2011 metrics were impressive relative to peers:
| | | | | |
| --- | --- | --- | --- | --- |
| Upstream MLP: | Symbol: | EBITDA/Capex | Dist. Coverage Ratio | Current Yield |
| Vanguard Natural Resources | VNR | 6.6x | 1.4x | 8.2% |
| Breitburn Energy Partners | (BBEP) | 3.0x | 1.3x | 9.3% |
| Legacy Reserves | (NASDAQ:LGCY) | 2.8x | 1.1x | 7.7% |
| EV Energy Partners | (NASDAQ:EVEP) | 2.5x | 1.1x | 4.8% |
| Linn Energy | (LINE) | 1.8x | 1.2x | 7.2% |
Visual Aid: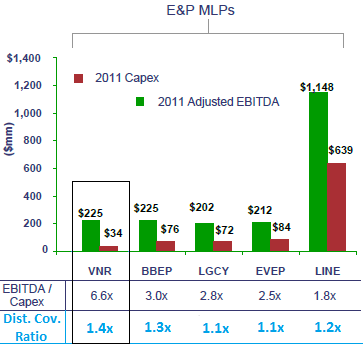 VNR estimates the EBITDA/Capex ratio will weaken very slightly through 2012, and should result in the 5x range, which is still very attractive. In this exercise, I was rather disappointed by LINE's seemingly poor 1.8x ratio. I suppose since LINE is so much larger, they can still operate with this weaker metric. Also, compared to BBEP, LGCY and EVEP, it seems VNR had much more funding available for operation expansion and future acquisitions. These ratios speak to management's responsible spending policies, which leads us to our next strong point.
Strong Leadership:
Scott W. Sm

ith, President and CEO. Prior to joining VNR, Mr. Smith served as the President of Ensource Energy Company, LLC from '04 to '06. Smith has over 25 years of experience in the industry. He was board member and principal investor in Wiser Investment Company LLC.. Mr. Smith was also co-manager of San Juan Partners, LLC, which established control of Burlington Resources Coal Seam Gas Trust which was eventually sold to Dominion Resources, Inc. (NYSE:D).
Richard A. Ro

bert, Executive VP, CFO, has been with VNR since 2007. Prior to VNR, Mr. Robert was VP of Finance for Enbridge US, Inc., a subsidiary of Enbridge Inc. (NYSE:ENB) after its acquisition of Midcoast Energy Resources, Inc. in 2001 where Mr. Robert was CFO and Treasurer. He is also a certified public accountant.

Britt Pence, SVP of Operations, joined VNR in May 2007 VP of

Engineering. Before VNR, Pence wa an Area Manager with Anadarko Petroleum Corporation (NYSE:APC).
Prior to joining Anadarko, Pence worked for Greenhill Petroleum Company, and Mobil.
Summary:
Considering VNR pays 8.24%/year in distributions on a monthly basis, shareholders could double their initial investment in roughly 8.5 years, assuming share price and distribution rate stay static. In fact, I feel investors could beat this static estimate, as share price and distribution payouts should increase with continued acquisitions, guided by VNR's experienced leadership. In addition, 85% of natural gas production is hedged through the first half of 2017, and 80% of oil production hedged through 2015. These hedges offer pricing stability, which ensure additional safety to VNR's already low risk asset portfolio. At an estimated 5.0x EBITDA/CapEx ratio for 2012, VNR's shares seem attractive relative to peers in the group. I am watching VNR for an entry point.
Data was obtained from VNR's investor presentations: October '12, and June '12.
Disclosure: I have no positions in any stocks mentioned, but may initiate a long position in VNR over the next 72 hours. I wrote this article myself, and it expresses my own opinions. I am not receiving compensation for it (other than from Seeking Alpha). I have no business relationship with any company whose stock is mentioned in this article.
Additional disclosure: I have owned QRE in the past 30 days.