NakedShorts' designated mutual fund manager John Hussman climbed the mast again this week, and is calling "Icebergs Ahead!" to the snoring narcoleptics on the bridge.
Among the factors that concern me here is the continued widening of credit spreads, which increasingly suggests that default risk may be starting to spread beyond the financial sector into the broader economy. Meanwhile, there is a relative complacency in the stock market because investors are still convinced that the extreme "tail risk" in the markets has been removed by the Federal Reserve and the US Treasury...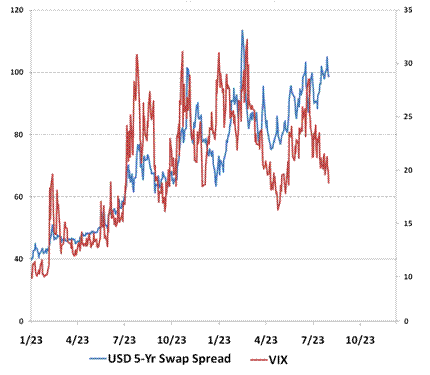 ...Years ago, Larry Williams used to look for a situation he called the "jaws of death" – noting that when bond prices were weakening but stock prices were strengthening, the two differing trends opened a set of "jaws" that tended to snap shut, usually due to abrupt weakness in stocks. On that note, Bill Hester sent a chart over the weekend noting "I thought this was an interesting graph. The blue line is the 5-Yr Swap Spread, and the red line is the VIX. Credit investors are getting very nervous while equity investors are mostly whistling Dixie. It looks like a variation on the jaws of death that you've mentioned to me before…."
None of which is particularly surprising given Hussman's long-standing defensive stance which, while protecting his investors from at least some of the gains of the post-Internet-bubble bubble, has produced a 5.5 per cent gain this year through Aug. 25.
But somewhat more ominously for the Bottom-Is-In-Values-Are-Compelling crowd, The Googles coughed up a past Hussman reference to the "jaws of death."
Market technician Larry Williams has a name for a market in which bond prices drop and stock prices rise, creating a wide gap. He calls it "the jaws of death" — largely because those jaws have a tendency to snap shut, usually by a downward adjustment in stock prices.
Hussman made that observation on Mar. 21 2002; from that date, the S&P 500 ETF (NYSEARCA:SPY) traded off  more than 30 percent from $115.04 to what turned out to be the bear market closing low of 78.10 on Oct. 9 2002 (although the intraday low, at 77.07, came on Oct. 10). Over the same period, Hussman's flagship Strategic Growth Fund was up 4.5 percent.
Credit Risk Spreading Beyond Financials
by John P. Hussman
Hussman Funds Aug. 25 2008

Special Hotline Update (Scroll down)
by John P. Hussman
Hussman Funds Mar. 21 2002

Disclosure: Long HSGFX, HSTRX