The fact we're harvesting far less crop this year may have investors wondering how Deere (NYSE:DE) can make bumper profits.
According to the USDA, the U.S. corn crop came in at 10.706 billion bushels this season, while the soybean harvest is estimated at 2.86 billion bushels.
Those are pretty poor numbers, particularly when we consider the USDA was estimating 12.97 billion bushels of corn and 3.05 billion bushels of soybeans back in July
Overall, U.S. farmers planted corn on over 96 million acres, the most in over 75 years.
But corn has been harvested from only 87.72 million acres -- 9.22 million fewer than were planted. This is well above the 7.2 million acre difference we averaged over the past five years, and can be explained by more farmers carrying crop insurance. After all, why bother harvesting a few bushels when you can plow it under and carry over your potash for next season?
This has created additional downward pressure on grain ending stocks, which fell to 117.27 million metric tons worldwide from 123.95 estimates last month. Here in the U.S., ending stocks are estimated at 619 million bushels, down from 733 a month ago.
The next two charts show just how tight supply is, both for corn and soybeans:
(click images to enlarge)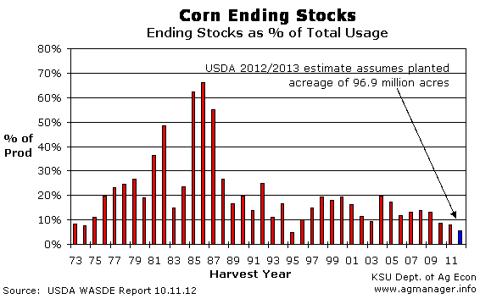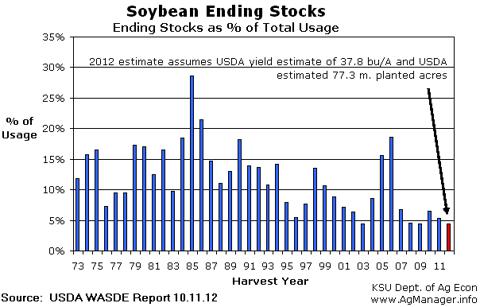 Absent insurance, farmers may have suffered a devastating season because of the drop in bushels per acre. But, crop insurance has become a best practice, and it's insulated many farmers who would otherwise be too strapped to buy equipment next year.
This is good news for Deere, because tight inventory is likely to support global grain prices. In turn, this will drive additional planted acreage worldwide, requiring more tractors and combines.
In Brazil, soybean acreage is expected to increase for a fifth consecutive year, rising 8-12% to 67-69 million acres as farmers shift acres away from cattle. Many of these farmers will also try to double crop their fields with corn come late February, further boosting farm revenue. The falling global supply helped Brazilian corn exports set a record for a second consecutive month in September.
More acres mean more growth for Deere.
In Deere's most recent sales update, the company indicated sales were brisk for 4WD tractors and combines, with units sold outpacing industry growth of 11% and 22% in September, respectively.
Across the entire industry, year-to-date U.S. farm tractor unit sales are 7.7% above 2011, led by 8.4% growth in more margin friendly 4WD models (Source: AEM).
This represents solid growth for the company, and suggests farmers aren't too worried.
Investment in equipment is a long-term affair, because unlike nitrogen, equipment doesn't evaporate. As a result, world demographics have a bigger impact on Deere's fortunes than any one season's weather.
Population growth and middle class growth/per capita income are being driven by Asia and Africa, and Deere expects this growth will drive a doubling of agriculture output by 2050. This projection suggests 3.4% annual production growth over the next decade.
The growth in the emerging markets middle class also means further urbanization, which is bullish for construction equipment. As per capita incomes climb, the number of people expected to live in cities may push up to 70% by 2050 from 50% today. This trend should boost infrastructure spending by 3.6% annually through 2020.
This backdrop helped Deere ink record sales per employee last year, surpassing the prior record set in 2008. It's also shifting Deere's revenue by geography. Sales outside the U.S. and Canada climbed to 40% of revenue in 2011.
In Brazil, where Deere picked up 4% market share in tractors in 2011, the company believes hectares for agriculture production will increase by roughly 20 million over the next decade, on top of the 13 million hectares added in the past 10 years. This will deliver 5% compounded annual growth in Brazil equipment sales alone.
As long as farm income remains strong, populations grow and emerging economies deliver GDP expansion, Deere's story remains intact. When investors consider this alongside the company's ongoing share buyback -- it bought back 15.6 million shares this year through June -- and its ever increasing dividend -- it has boosted it by 64% since 2010 -- it's hard not to like Deere shares over the coming year.
For those interested, I've also included the Q4 average monthly returns for Deere over the past decade (Source: Seasonal Investor).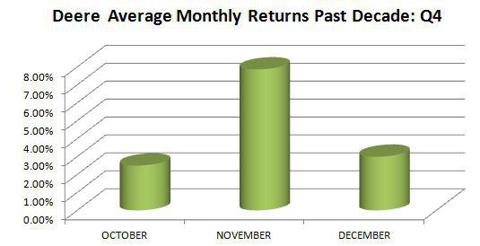 Disclosure: I have no positions in any stocks mentioned, and no plans to initiate any positions within the next 72 hours. I wrote this article myself, and it expresses my own opinions. I am not receiving compensation for it (other than from Seeking Alpha). I have no business relationship with any company whose stock is mentioned in this article.