We were taken aback by the departure of Citigroup's (NYSE:C) CEO Vikram Pandit, as well as his longtime friend and colleague, John Havens (Citigroup's President and COO). According to a company press release, Pandit had stepped down as CEO of Citigroup, and according to CNBC's David Faber, Pandit was fired. Although serving as CEO of a major banking organization like Citigroup has its challenges, we felt that Pandit had the fortune of coming into the position with very low expectations. We also felt that as long as Citigroup did not see any major blowups under Pandit's watch, its shares could catch up to JPMorgan Chase's (NYSE:JPM) and Wells Fargo's (NYSE:WFC).
While we would have preferred Jamie Dimon or someone from Wells Fargo instead of Pandit, we can see that Citigroup has made progress since its 2008 lows. Citigroup has even seen stronger deposit growth versus JPM and WFC, and that enabled Citigroup to stabilize its net interest margin in the most recent quarter, while JPM and WFC saw NIM declines.
(click images to enlarge)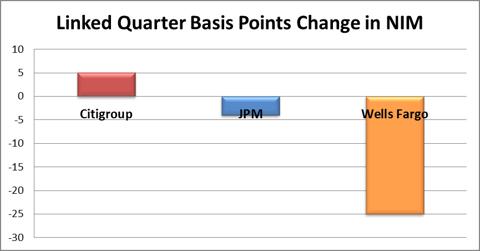 Source: Most Recent Earnings Releases forClick to enlarge Citi, JPM and Wells Fargo
We're not worried about the departure of Vikram Pandit and his friend John Havens because although Pandit and Havens were an upgrade from Charles Prince, we were more impressed with how JPMorgan Chase and Wells Fargo performed during the crisis and afterwards. Citigroup seemed to be in a "defensive mode" under Pandit's leadership. Pandit's performance at Citigroup reminded us of the performance of the Boston Red Sox baseball team when the Yawkey Family owned the team from 1933-2001. Despite the significant amount of resources devoted to the team by Tom Yawkey and his wife Jean, as well as the ability to sign talented players like Ted Williams, Carl Yastrzemski, Wade Boggs and Roger Clemens, the Red Sox never won a World Series during that time, and were a perennial runner-up to the New York Yankees. In our opinion, Citigroup was like the Red Sox of that era, while JPM and Wells Fargo reminded us of the New York Yankees during that time.
We have taken note of Citigroup's incremental competitive improvements versus JPM and Wells Fargo in 2012, however, because Citigroup was such a weak performer during the crisis, we were expecting its core business operations to show incremental competitive improvements versus its peers. If Citigroup had failed to register improvements in its operations, we would have had no choice but to sell it.
While we believe that Jamie Dimon is a better manager than Charlie Prince, Vikram Pandit and Sandy Weill, we believe that Citigroup currently offers a better risk-reward opportunity based on the stumbles that JPM has faced with the London Whale episode, as well as Citigroup's ability to gain ground on JPM and WFC with regards to deposits and loans. Because Citigroup's Tangible Common Equity Ratio is higher than JPM's, we expect Citigroup to be allowed to increase dividends and buy back stock. We have noted that Citigroup has been catching up to JPM and Wells Fargo with regard to deposits, which is the heart of any banking enterprise.
Both Citi and JPM are trading at significant discounts to book value. JPM is trading at a discount to book value of over 14%, and Citigroup is at 44.44% discount to book. The fact that Citigroup is at such a shockingly reduced price to book versus JPM is the key reason why if we were to pick between Citigroup and JPM, we would pick Citigroup. We also noted that Citigroup recently retook the Federal Reserve Stress Tests and passed the second time out. We are long Citigroup versus JPM because Citigroup exceeds JPM in the following metrics:
Tangible Common Equity Ratio: 7.93% for Citi versus 5.8% for JPM
Loan Loss Reserve: Citi's Loan Loss Reserve is 16% higher than JPM's
YTD Cumulative Loan Growth: Citigroup's YTD Cumulative Loan growth was $10.2B (1.6%) versus JPM's $7.6B (1.1%)
YTD Cumulative Deposit Growth: Citigroup's YTD Cumulative Deposit growth was $48.4B (5.65%) versus JPM's $12B decline (-1.06%)
Citigroup's Retail Banking business and Securities and (Wholesale) Banking business outperformed JPM's comparable business units.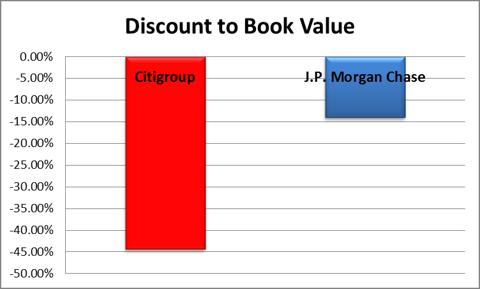 Click to enlarge
Source: FactSet Marquee
Disclosure: I am long C. I wrote this article myself, and it expresses my own opinions. I am not receiving compensation for it (other than from Seeking Alpha). I have no business relationship with any company whose stock is mentioned in this article.
Additional disclosure: This article was written by an analyst at Saibus Research. Saibus Research has not received compensation directly or indirectly for expressing the recommendation in this article. We have no business relationship with any company whose stock is mentioned in this article. Under no circumstances must this report be considered an offer to buy, sell, subscribe for or trade securities or other instruments.