In July, Washington Real Estate (NYSE:WRE) cut its dividend to $0.30 from $0.4375, triggered by weakness in the DC market. Here is a REIT that has cut its dividend for the first time in 50 years, but this only means that the company is being conservative and proactive. Washington Real Estate has become an interesting investment idea in the REIT space, despite its dividend cut.
The stock trades around $26.50 versus its 52-week range of $25.59-$31.25, and yields 4.52%. The chart below compares the share performance over the past year, and depicts the difference in earnings and dividends paid for the same period. D's mark dividends paid, and E's mark Earnings reported.
(click image to enlarge)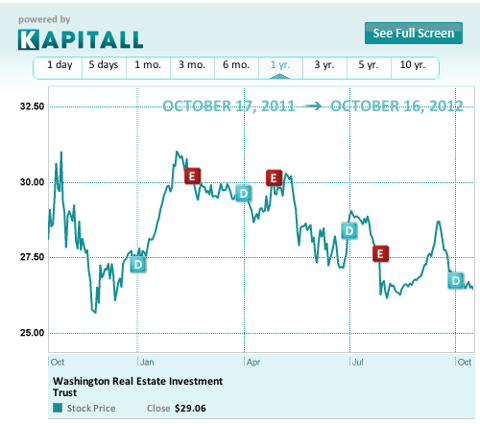 The company is expected to report Q3 2012 earnings on October 25, 2012.
Upside potential after a dividend cut:
1. The dividend cut puts the company in a much better position for further investing activities. The dividend cut increases cash availability by $30-$35 million annually
2. Washington Real Estate continues to make progress in extending its short-term maturities. In Q2 2012, the company extended the maturity of its $400 million Wells Fargo credit facility from 2014 to 2016. Unsecured debt due in the next year now amounts to only $60 million, which is not a concern.
3. The company's diversified portfolio between DC, Virginia, and Maryland provides downside protection if weakness continues in DC. We would like to note that the occupancy rate as of 6/30/2012 is 89.8%, versus 90.2% last year. Given the state of the economy, that is still a stable relative performance.
4. The company is not close to violating any of its balance sheet covenants
5. The positive fundamental steps taken by the company could attract more yield driven investors, who are now more comfortable with the company's fundamentals.
As of 6/30/2012, the top institutional holders of Washington Real Estate stock are The Vanguard Group (12%), BlackRock Fund (6.5%), RREEF America (5.65%), Thornburg Investment Management (5%), and Invesco Advisors (3.7%)
Conclusion:
A dividend cut in the case of Washington Real Estate is a long-term fundamental positive, and there is further upside expected as the markets recover.
Risks related to investing in Washington Real Estate consist of a delay in the recovery of DC markets, and a short-term volatility in earnings.
Written by Kapitall's Sabina Bhatia. Tool provided by Kapitall. We did not receive compensation for this article (other than from Seeking Alpha), and we have no business relationship with any company whose stock is mentioned in this article.
Disclosure: I have no positions in any stocks mentioned, and no plans to initiate any positions within the next 72 hours. I wrote this article myself, and it expresses my own opinions. I am not receiving compensation for it. I have no business relationship with any company whose stock is mentioned in this article.