Various businesses in various sectors make a mess of the world and Ecolab Inc. (NYSE:ECL) provides the solutions to clean things up. Ecolab has set its mission to make the world cleaner, safer, and healthier. The company strives to be the global leader in water, hygiene, and energy technologies and services. Its solutions are used in food processing, food service, food retail, healthcare, lodging, education, facility care, government, vehicle care, and the energy industry.
The company recently agreed to buy Champion Technologies for $2.2 billion in cash and stock. This will make Ecolab the largest oilfield chemicals supplier in North America. The acquisition is expected to close by the end of the year and begin contributing to earnings in 2013. This follows last year's acquisition of another energy-related chemicals company, Nalco Holdings, Co. These acquisitions give Ecolab a 40% market share in oil-field chemicals. This includes the North American shale plays.
Champion Technologies has addressed safety with regard to shale fracking. The company has deployed frack-water additives that exhibit low toxicity to aquatic life, low potential to bioaccumulate, and with acceptable rates of biodegradation. Champion has avoided using substances that are known or potential carcinogens, mutagens, or linked with reproductive toxicity. This sensitivity to safety falls right in-line with Ecolab's values, making Champion Technologies a good choice as an acquisition. The focus on safety should also make the fracking process more attractive to the industry's opposition.
Ecolab's new subsidiary, Nalco, provides on-site technology-driven chemical and service solutions to the natural gas, petroleum, and petrochemical industries on a global basis. It also provides water treatment services to floating production storage, offloading vessels, and refinery and petrochemical plants.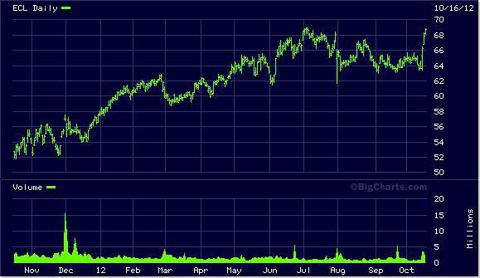 Although the trailing PE ratio is a bit high at 38.93, the forward PE of 19.31, the PEG of 1.32 and the price to book ratio of 3.45 give the stock a fair valuation. This is contingent upon higher earnings growth for the future. The company grew earnings at 10% annually for the past five years, but it is expected to grow at a robust 16.88% annually for the next five years. This growth should allow the stock to more than double in five years.
Ecolab does pay a modest dividend of 1.2%. If the company achieves its future earnings growth expectations and if dividends are reinvested, a $10,000 investment in the company today has the potential to be worth over $22,000 in five years.
Ecolab's strategic acquisitions will continue to diversify the company and allow it to grow at an above average pace for the future. The acquisitions expand operations into global markets. In addition to North America, Nalco also operates in Europe, Asia Pacific, Latin America, Africa, and the Middle East. Champion Technologies has operations in North America, Latin America, Canada, Africa, Asia Pacific, Europe, the Middle East, and Russia. Ecolab's acquisition of Champion will give the company a stronger global presence.
Overall, Ecolab looks like a promising investment for the future. As the company grows market share globally, its earnings growth will be above average, allowing the stock to outperform the S&P 500 over the long haul.
Disclosure: I have no positions in any stocks mentioned, and no plans to initiate any positions within the next 72 hours. I wrote this article myself, and it expresses my own opinions. I am not receiving compensation for it (other than from Seeking Alpha). I have no business relationship with any company whose stock is mentioned in this article.