Intel (NASDAQ:INTC) announced its Q3 2012 earnings results on 10/16/2012. The company had pre-announced that revenue would be in the range of $12.9B - $13.5B, gross margins at 61% - 63%, and withdrew its full-year guidance. PC sales were weaker than expected, especially in the emerging markets that were supposed to be major growth drivers.
So, of course, the company reported revenue of $13.5B, gross margin at 63.3%, beating its low-balled expectations. Intel then issued a very wide Q4 guidance of $13.1B - $14.1B on revenue and a gross margin decline into the 57% - 59% range (due to primarily to the company taking foundry capacity utilization charges). On the surface, this looks pretty bleak, right? Is it time to sell (or -- gasp! -- short) Intel?
Not quite. And here's why.
Mobile Competitiveness - Busting Some Myths
The major overhang on the stock and in the general investment public's perception of the company is that it is widely believed that its products are not competitive in the mobile space. The two major arguments that short-sellers and the sensationalistic journalists tend to lay out usually sound a little like this:
Intel can only design big, honking desktop chips, not low power, battery constrained ones

Intel will have a tough time running ARM-designed apps

Intel's low power products are not performance competitive with competing ARM processors
Well, okay. So it's true that Intel is effective at designing the world's fastest and most power efficient notebook, desktop, workstation, and server chips. However, it wasn't until earlier this year that Intel released its very first commercially viable smartphone product - the Atom Z2460 formerly codenamed "Medfield."
So, was this thing barely competitive with the existing ARM (NASDAQ:ARMH) based products? Did it consume too much power to be put in any modern smartphone? Nope. According to Anandtech's review of the Lava Xolo X900,
The Atom Z2460 in the X900 is a competent dual-core Cortex A9 competitor with competitive battery life and power draw, and no doubt [Atom] Z2580 (its dual core, SGX544MP2 high end counterpart clearly targeted at Windows 8 platforms) will be equally as competitive against quad core A9s.
All right, so this seems comfortably middle-of-the-road, right? Now, imagine my surprise when Anandtech published its review of the Apple (NASDAQ:AAPL) iPhone 5. Now, some background here. It was recently revealed that Apple had actually gone ahead and designed its own ARM-compatible CPU cores for its "A6" system-on-chip. Anandtech recently released its review of the device, and it was clear that Apple's design is generally faster and more power efficient than solutions from Qualcomm (NASDAQ:QCOM), Nvidia (NASDAQ:NVDA), and Texas Instruments (NYSE:TXN).
But the review also included the recently released Motorola "Droid Razr i" - an Intel-powered version of its high end, Qualcomm-based "Droid Razr M". Surprisingly enough, Anand had this to say about Intel's "Atom" chip,
Intel's Atom remains very competitive with the best of the ARM world. A single core Atom still ends up being the only CPU that can regularly outperform Apple's Swift, however it does so while seemingly consuming more power.
Of course, with a performance advantage over the entirety of the ARM world, it must do so whilst guzzling power, right? Wrong. From the review,
At least based on this data, it looks like Intel is the closest to offering a real competitor to Apple's own platform from a power efficiency standpoint.
Oh. Intel's 5-year-old Atom core built into a modern system-on-chip is extremely competitive in every relevant metric to the vaunted ARM-world on equivalent manufacturing processes and less cores. Lest investors forget, Intel is planning to move its Atom development to a "Tick-Tock" development model. That means that in any given year, Intel will either bring its existing micro-architectures to a new manufacturing process (tick) or it will release a brand new design on a proven process (tock).
This all implies that Intel will be very competitive in the smartphone space, and that going forward this segment will be a nontrivial revenue driver for the company. Secular growth of the smartphone/tablet segment, coupled with market share growth should lead to a nice, high-growth business segment for Intel over the next several years.
PC Decline Is Exaggerated By Macro And Windows 8 Launch
According to Intel's most recently filed 10-K, 66% of the company's revenue came from the "PC Client Group" in 2011. This was down from 69% in 2010 and 71% in 2009. As the company's server, tablet, and smartphone sales expand, this will become an even smaller percentage of the firm's revenue. Nevertheless, this will still be the company's "bread-and-butter" for the forseeable future.
So, is the PC dead? Well, no. However, it is showing signs of maturity in the developed world, and as the global macroeconomic situation continues to deteriorate, it is likely that growth will be subdued for at least a few quarters.
Further, while the PC has traditionally referred to desktops and standard notebooks, the release of Windows 8 will lead to a whole array of different, interesting, and hybrid form factors. Intel's "Atom" allows it to own the traditional Windows 8 low power tablet space, as the ARM competitors are limited to running the feature-gimped Windows RT, and the "Core" series will allow it to own the notebook, ultrabook, high-end tablet, and hybrid spaces.
Finally, a point that nobody likes to really mention is the notion of "good enough." In the early days of the Windows/Intel PC, and during the initial growth in smartphones and tablets, there was always a need for more processing power. However, software has failed to catch up with hardware, so people - especially in a bad macro - find it hard to justify a new device unless their current ones are broken or unusably slow. Additionally, everybody knows that the Windows 8 refresh, along with all of the touch goodies and new and exciting form factors, is coming soon. Why buy a Windows 7 PC when it's guaranteed to be obsolete within a few months?
Of course, there's not a lot of clarity here - even Intel's management was hesitant to give any information on the general trend of PCs on a longer-term basis. Even the Q4 guide was fairly broad, coming in at $13.1B - $14.1B. However, CEO Paul Otellini explicitly noted on the call that the guidance given for Q4 is conservative as it is as of yet unclear how Windows 8 will perform and whether OEMs will continue to run on lean inventories.
Servers - Aggressiveness Across The Spectrum
Intel's data center group did quite well, up 6% year-over-year. More importantly, the buzzword "cloud" segment of the data center business grew by "over 50%" y/y and the storage segment grew by 27% y/y, with growth expected to continue.
The average selling prices were also up on server chips. As competition in the high end from AMD (NYSE:AMD) as well as the former big iron players such as Oracle (NASDAQ:ORCL) and IBM (NYSE:IBM) has all but faded, Intel's pricing power is fairly robust: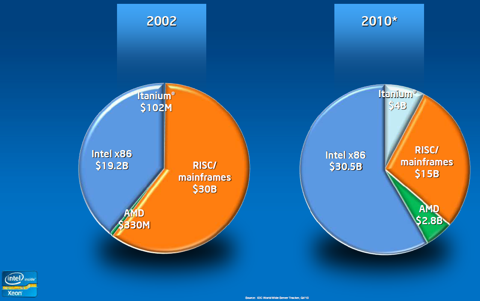 Click to enlarge
There is a threat though, and that's potentially from the ARM space. These chips from ARM wouldn't go after the big, high performance Xeons, but would instead aim for a new category called "micro-servers." The idea here is that for less compute intensive tasks, an array of smaller, less power hungry, and less powerful chips could be better from a TCO standpoint than the high end, high performance chips.
Now, when asked about the ARM threat, CEO Paul Otellini seemed to be quite dismissive of it, stating that the available ARM chips do not have key features such as ECC and 64 bit support. The former, unfortunately, is not true: Marvell's (NASDAQ:MRVL) "Armada XP" ARM-based server chip actually does come with an ECC option. The latter problem will be addressed with chips based on the latest "ARMv8" instruction set.
But Intel's management - and the analyst community - does not really dismiss the ARM threat in the micro-server space. So on the call, Otellini noted that in addition to currently sampling its 22nm micro-server Atom it will "push Atom as hard as possible in the space and have a better offering for [its] customers than having to switch all their software and worry about all the reliability features".
Given Intel's ability to marginalize all previous competing architecture players with a combination of cost effectiveness, performance, and software support, it would be hard to take the ARM server threat seriously should Intel very seriously devote its efforts to this space.
Shareholder Friendliness - Now Yielding 4.16%
Another reason to not give up on shares of Intel quite yet is its incredibly shareholder friendly policy. At the most recent after-hours price of $21.59, shares of Intel now yield 4.16%. Further, the company's commitment to share buybacks has been excellent. During the quarter, the company spent $1.2B to buy back ~46M shares. The company's buyback authorization still has a cool $6.3B left, and it's nice to know that "Uncle Intel" will come in and buy back shares when they get cheap.
Of course, no discussion of shareholder friendliness would be complete without the obligatory float count over time graph: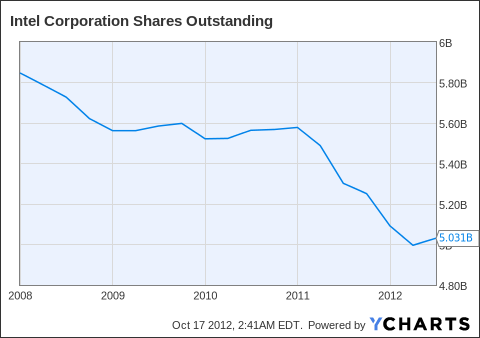 INTC Shares Outstanding data by YCharts
Conclusion - Short-Term Pain, Long-Term Gain
In the short term, Intel will probably see some pain. The earnings report was not as bad as expected, but the Q4 guide isn't all that great (albeit very conservative). Will the stock see $21? $20? It's likely. However, Intel is a solid company with strong management, top notch R&D, the best fabs in the world, and some of the best chips in power and performance. At a 4.16% yield, and with the aggressive share buybacks, it is a pretty attractive long-term investment.
Disclosure: I am long INTC, AMD, NVDA, MRVL, QCOM. I wrote this article myself, and it expresses my own opinions. I am not receiving compensation for it (other than from Seeking Alpha). I have no business relationship with any company whose stock is mentioned in this article.
Additional disclosure: I may close my QCOM position within the next 72 hours.