I am always on the hunt for great low-priced high-risk biotech opportunities. With just over two months to go, I think this biotech will be the next Sarepta (NASDAQ:SRPT). Others may disagree, but I'm willing to put my fundamental and technical view out there for others to read.
Like Sarepta, there are obviously day-traders buying and selling Acadia Pharmaceuticals (NASDAQ:ACAD). Acadia's share price has been swinging like a yo-yo since the company announced on 5 September 2012:
ACADIA Pharmaceuticals Inc. (ACAD), a biopharmaceutical company focused on innovative treatments that address unmet medical needs in neurological and related central nervous system disorders, today announced the completion of enrollment in its ongoing pivotal Phase III trial with pimavanserin in patients with Parkinson's disease psychosis (NASDAQ:PDP). Top-line results from this trial are expected to be announced by the end of November 2012.
There's no question that day-traders have bought and sold shares between the $2.30's and $3.00's range. So why is Acadia a 'Strong Buy' despite the volatility and wild share price swings?
Fundamental Reason
The first answer is a fundamental answer. I lean towards positive phase III clinical results for Pimavanserin. I could be wrong. Yet as I previously wrote about Pimavanserin's phase III clinical trial:
In summary, this article has documented (in reverse order):

Pimavanserin's potential sales may exceed a billion dollars.
I argue that the -020 clinical trial design is excellent for what it is designed to prove or disprove.
I argue that Pimavanserin's safety profile is well above average and I think a good safety report from the -020 clinical trial is very probable though that is yet to be proved.
I argue that 40 mg. dose of Pimavanserin versus placebo in the -020 clinical trial is better than probable to return positive results. Meaning, it will meet the primary end-point.
For a very basic fundamental reason, I sold Catalyst Pharmaceuticals (NASDAQ:CPRX) yet I am holding my ground in Acadia. Catalyst operates out of "Suite 1500" in a Florida high-rise with 6 employees and everything about it reeks of high risk while Acadia operates with 24 employees and has done everything right to design the current phase III clinical trial to succeed. Admittedly, I was drawn in by the Catalyst story, but additional investigation caused me to change my mind. Plus, the scientific credibility of Acadia's Pimavanserin is not without warrant as these most recent articles testify:
Meltzer HY, et al.: "Pimavanserin, a serotonin 2A receptor inverse agonist for the treatment of Parkinson's disease psychosis." Neuropsychopharmacology, 35, 881-892 (2010).
Meltzer HY, et al.: "Pimavanserin, a selective serotonin (5-HT)2A-inverse agonist, enhances the efficacy and safety of risperidone, 2 mg/day, but does not enhance efficacy of haloperidol, 2 mg/day: Comparison with reference dose risperidone, 6 mg/day." Schizophrenia Research, e-pub (2012).
Ancoli-Israel S., et al.: "Pimavanserin tartrate, a 5-HT2A receptor inverse agonist, increases slow wave sleep as measured by polysomnography in healthy adult volunteers." Sleep Medicine, 12, 134-141 (2011).
I've done a good amount of reading on Catalyst and most investors seem more bullish about CPP-115 than CPP-109. That means Catalyst shareholders could get caught with their pants down when the postponed results on CPP-109 are reported as I suspect CPP-115 may be the real game-changer. In contrast, Acadia's Pimavanserin's phase III clinical trial is based on the hard evidence of previous clinical work. I do realize the risk that Pimavanserin could fail, but its potential triple application (e.g. Alzheimer's, Parkinson's, and schizophrenia) suggests to me that Acadia is far from down with Pimavanserin. With the results yet to be reported in November 2012, astute investors are being given a fortuitous opportunity to get in before the market takes the share price higher. That is, if your own conclusion is that Pimavanserin will succeed in phase III testing.
Technical Reason
The second reason for Acadia being a great buy is a technical one. Right now Acadia is trading at the lower end of its price range. As the chart demonstrates, Acadia has drifted into the lower end of its trading range. That means a savvy investor who thinks the fundamental story is correct is being given a great entry point.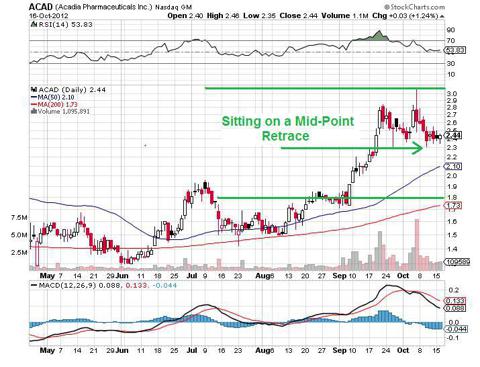 A 40-50% retrace is a great indicator and buy-in opportunity. Investors can look at the lower chart and observe that Acadia has been trading on low volume. That means while the drift may be lower, the substantial upside is very probably on high volume. Put another way, on technical grounds Acadia is in buyer's territory irrespective of what you think about the company's fundamental position.
It's A Wrap!
At the low end of a volatile trading pattern, Acadia represents a 'Strong Buy.' Some will hold through clinical results while others will sell, but either way, the current share price at $2.44 per share offers a good entry point. Given that the stock soared over $3.00 per share on no news, one may wonder how high it could go on positive news. Of course, there's always the risk that Pimavanserin could fail and in that case the share price will probably be cut in half. To date as nervous as I can be, I am yet to be bearish about Pimanvanserin's upcoming phase III clinical results. I openly state: that is entirely my opinion and I could be right or wrong.
Nevertheless, at $2.44 per share, on fundamental and technical reasons, I suggest that Acadia is a 'Strong Buy.' Of late it's been extremely difficult to find a low-priced high-risk biotech to buy, hold, and/or to sell. I'd suggest that Acadia should be on every investors' radar screen. Right now, I'd suggest that because Acadia is on the low-end of the trading range, it's worth a studied look.
Disclosure: I am long ACAD. I wrote this article myself, and it expresses my own opinions. I am not receiving compensation for it (other than from Seeking Alpha). I have no business relationship with any company whose stock is mentioned in this article.
Additional disclosure: Investors buy and/or sell at their own risk. I declare that I may trade any stock at any time mentioned in this article. For me "long" is until I sell. I do not "short" stocks. This article is for entertainment purposes only. You are duly warned not to use this article for individual investor advice and you should seek the advice of a market professional.