Since bottoming at $1.90/mmbtu on April 16th, front month (November) natural gas futures have nearly doubled:
click to enlarge images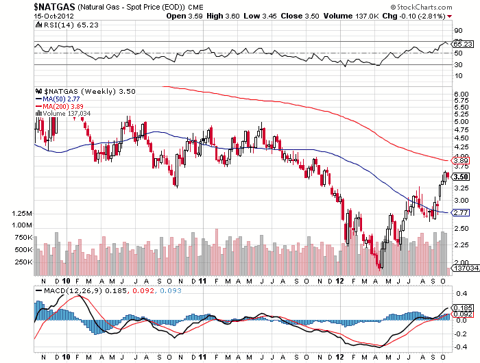 Click to enlarge
The key drivers of this move are as follows:
Expectations for a Colder Winter - While the NOAA expects this winter to be 2% warmer than the 30 year average, it also projects temperatures to be 20-27% colder than the 2011-2012 winter. As a result, the EIA expects consumer expenditures for natural gas to be 15% higher YoY.
Continued Utilities Switching to Natural Gas Power Generation - The prevailing sentiment seems to be that last year's decade-low natural gas prices, in conjunction with continued pressure from the EPA to move away from coal, will contribute to heavy natural gas usage this winter. Over time, assuming recently passed legislation that will require between 32 and 68% of the nation's heaviest polluting power plants to shut down remains intact, it's difficult to imagine a scenario where natural gas doesn't benefit. On the other hand, the next several months are unlikely to provide much upside for natural gas prices, and therefore equities tied to the underlying commodity value (more on this dynamic below).
Potential Supply Tightness - With the market clearly bullish on the demand side of the equation, speculators have also begun to promulgate the fact that the rig count is at a thirteen year low, and that the crippling supply glut of last year is likely to be far smaller this winter. As a result, the January natural gas contract is trading at a $.40 premium near $3.90, reflecting expectations of substantially tighter supply and increased demand relative to the 2011-2012 winter.
Attacking The Overstated Bull Case
Gas Traders Are Focusing On The Wrong Indicators Of Supply - Even Seeking Alpha noted the apparent correlation between declining rig counts and the surge in natural gas prices. However, ultimate production is stronger than ever, with production expected to average 68.85 billion cubic feet per day in 2012, a 4% increase over 2011. Traders appear to be ignoring the better economics of drilling in the Marcellus Shale, where the estimated breakeven for producers is $1.90. Technological advances and the profitability of Marcellus operations has allowed producers to bring more gas to market.
Gas Supply Is At Record Highs - As a direct consequence of focusing on the wrong indicators, traders are failing to adequately price in the fact that gas stocks are projected to be a record high 3.9 trillion cubic feet at the end of October, 2.6% higher than last year. This overhang is substantially lower than the 61% figure seen at the end of March, but with production at record levels and later-dated futures trading near $4, most production is meaningfully profitable which incentivizes major suppliers to bring more gas to market. Here is a supply graphic courtesy of Reuters: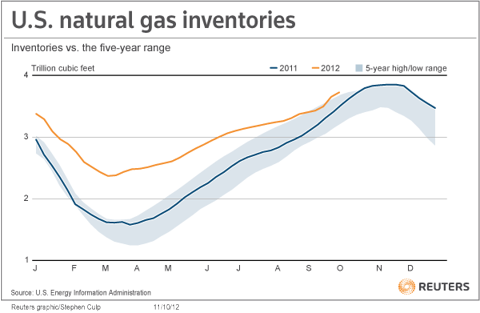 Click to enlarge
Expected Coal To Natural Gas Switching Is Exaggerated - While Coal to Nat Gas switching was exceptionally prevalent last winter and spring, Bank of America believes gas prices well above $3 will spark utlities to switch back to coal. With the futures market (and natural gas equities) pricing in $4 gas for January, and coal commodity costs hovering around generational lows, utilities are likely to use far more coal than the market is pricing in.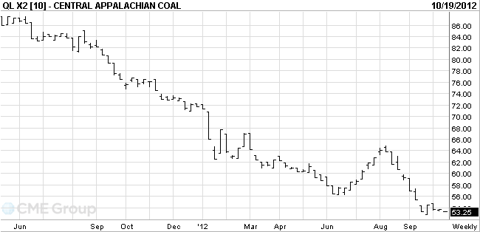 Click to enlarge
Natural Gas Equities Follow Commodity Costs In The Medium-Term
Natural Gas November Futures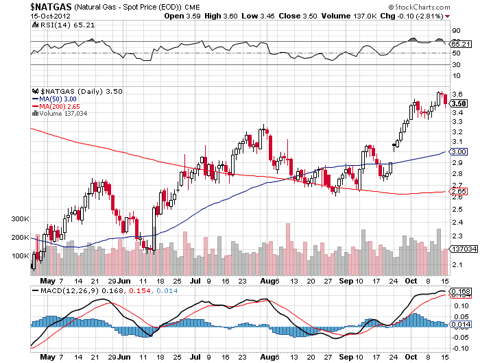 Click to enlarge
Natural Gas Equity Index (NYSEARCA:FCG)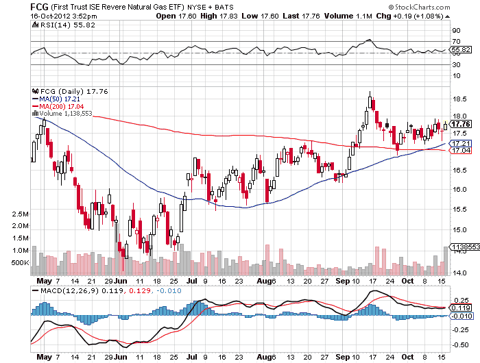 Click to enlarge
Conclusions
Coal prices at record lows and Jan Nat Gas contracts trading near $4 results in very little upside for natural gas commodity prices over the intermediate term. The prevalence of coal to natural gas switching is likely to disappoint this winter given coal's relative cheapness. Furthermore, productivity has improved drastically; this is most evident given the fact that the active rig count has declined by nearly 50% yet daily production is at record highs. With the Marcellus and other shale plays generating exceptional economics ($1.90 breakeven price), output is unlikely to drop nearly as much as expected. Bank of America also notes that major producers such as Chesapeake and Range Resources reported significant output increases in the second quarter.
In the medium term, with the exception of company specific news, natural gas producers' stock prices follow the underlying commodity value. Given the above framework for thinking about supply and demand relative to the natural gas futures chain, both natural gas prices and natural gas equities have significant downside over the next several months.
Owners of equities that have rallied along with the futures such as Southwestern Energy (NYSE:SWN), EOG Resources (NYSE:EOG), and Range Resources (NYSE:RRC) may want to consider taking profits if they have an a shorter time horizon.
Traders may also want to consider selling short front month (November) contracts. The joint account I co-manage entered a short position with an average cost basis around $3.60; we feel natural gas prices have a strong floor at $3.00, but continued supply overhang and below forecast stock drawdowns as a result of a warmer than expected October make a compelling case for a sell-off in November futures.
Disclosure: A joint account I co-manage is short November natural gas futures (NGX12). I have no positions in any stocks mentioned, and no plans to initiate any positions within the next 72 hours. I wrote this article myself, and it expresses my own opinions. I am not receiving compensation for it (other than from Seeking Alpha). I have no business relationship with any company whose stock is mentioned in this article.