Earnings momentum for Phillips 66 (NYSE:PSX) has been trending sharply higher for months now. This Zacks #1 Rank (Strong Buy) downstream energy operator easily surpassed the Zacks Consensus Estimate in its second quarter; its first quarter as a stand-alone company. It will report again later this month.
In addition to all this, Phillips 66 is a true value pick with price-to-book (P/B) and price-to-sales (P/S) ratios of just 1.46 and 0.14, respectively.
Second Quarter Recap
Phillips 66 is scheduled to report its third quarter on October 31. The Zacks Consensus Estimate is at $2.14 per share, which is up nearly 14% in 30 days and a little more than 2% in 7 days.
On August 1, 2012, Phillips 66 reported second quarter adjusted earnings of $2.23 per share, topping the Zacks Consensus Estimate by nearly 25%, mainly on the back of strong performances at its refining and chemicals segments.
Operationally, Phillips 66's refining portfolio ran at an impressive 93% of capacity during the second quarter.
On October 3, the company hiked its quarterly dividend to 25 cents per share ($1.00 per share annualized). This puts the dividend yield at 2.30% and also represents a 25% increase form the previous payout of 20 cents per share (80 cents per share annualized).
Earnings Momentum on the Move
Over the past 30 days, the Zacks Consensus Estimate for 2012 is up nearly 9% to $6.91, as 7 of 13 estimates were revised upward. Given the $6.37 per share earned in 2011, the projected growth rate stands at 8.5% for 2012.
Impressive Valuation
The company has a price-to-book (P/B) ratio of 1.46 and a price-to-sales (P/S) ratio of just 0.14, well under the cut off of 3.0 and 1.0, respectively, for a value stock. The PEG ratio comes in at 0.71, a 29% discount to the benchmark of 1 for a fairly priced stock. Going forward, there is an untapped potential locked in the stock.
Since late July, shares of Phillips 66 have been trading in an upward channel above the simple moving average for 50 days or SMA (50). This downstream operator has also been comfortably outperforming the S&P 500 since the start of trading in the market, except for a few earlier hiccups. The year-to-date return for the stock is 35.46% compared with the S&P 500 return of just 2.43%.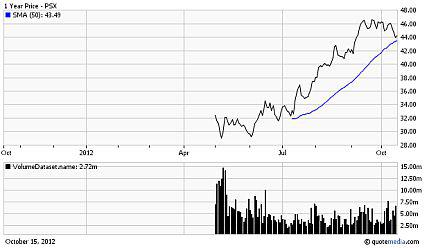 Phillips 66 was spun off from ConocoPhillips (NYSE:COP) on May 1, 2012. With respect to market capitalization, Phillips 66 enjoys the mantle of the largest independent refining and marketing company in the U.S. Headquartered in Houston, this refiner operates across 15 refineries and has net crude oil capacity of 2.2 million barrels per day. Its operation also includes 10,000 branded marketing outlets as well as 15,000 miles of pipeline systems.