On Wednesday, August 20 after-hours, JDS Uniphase Corp. (JDSU) reported a Q4 loss of $0.13 per share or $29.8 million vs. a loss of $.08 per share or $17.9 million (see earnings call transcript). Revenue increased 11% to $390.3 million from $350.7 million a year ago. Analysts were expecting earnings of $0.10 per share on $395.8 million in revenue. Excluding items, JDSU would have earned $0.07 per share or $15.5 million, missing both analysts' earnings estimates and the revenue targets. Shares gapped down from yesterday's close of $11.90, fell over 12% or $1.48, to close at $10.42 on 22 million shares traded. 
For the quarter, JDSU's net income was $15.5 million or $0.07 per share. However, JDSU wrote down $45.4 million of goodwill and intangibles due to two acquisitions, $20.8 million in patent and litigation charges, and a $61.6 million in cash and securities from a litigation settlement. These items lowered net income by $4.6 million. Also, JDSU held $903 million in cash, reduced short-term debt by $75 million and bought back $113.2 million worth of stock. JDSU also announced that the company is free cash flow positive $9 million. To date, JDSU has not released the most current cash flow statement.
For the full fiscal 2008 year, JDSU lost $0.10 per share or $21.7 million on $1.53 billion in revenue vs. a loss of $0.12 per share or $26.3 million in fiscal 2007. Revenue was driven by growth in the optical communications unit (6%), communications test & measurement (12%), and advanced optical technologies (21%). However, the commercial laser unit's revenue declined by 9%. By geography, The America's represented 50% of total net revenue, European customers accounted for 29%, and Asian customers accounted for 21%.
Key Figures for Fiscal 2008 (%):
Sales Growth: 9.5%
EPS Growth: -22%
Gross Margins: 42.1%
Operating Margin: -8.7%
The industry outlook remains neutral due to a high level of competition and a decline in capital investment. U.S. customers have delayed spending and remain conservative with future purchases. However, due to continued explosive demand in internet media, I expect service providers and telecom carriers to increase network upgrades for the long-term.
Currently 12 analysts publish recommendations on JDSU, which include 6 "Buy" ratings and 6 "Hold" ratings. On August 26, Deutsche Bank Securities reiterated their "Buy" rating, but reduced their target price to $13.50 from $17. On august, 21, RBC Capital Markets reiterated their "Sector Perform" rating, but reduced their target price to $12 from $13. On the same day, Morgan Keegan reiterated their "Market Perform" rating.
For the past 12 months, insiders purchased 0 shares and sold 31,295 shares. Also comparing Q to Q3, there has been a net -27.5% change in institutional ownership, or 35.44 million shares.
For Q1 2009, JDSU expects revenue to be in the range of $378 million - $394 million, which also missed analysts' expectations of $399.5 million.
Technically, JDSU formed a breakaway gap following Q4 earnings. The stock is threatening to hit a new multi-year low, but I expect a pullback to the $10.50 level as well as a continuation downward for the short-term. JDSU remains in a downtrend since the beginning of 2006 for the long-term and unless JDSU makes a higher low and breaks above $15, long positions should be avoided.
Short, Intermediate-Term Chart: 1 year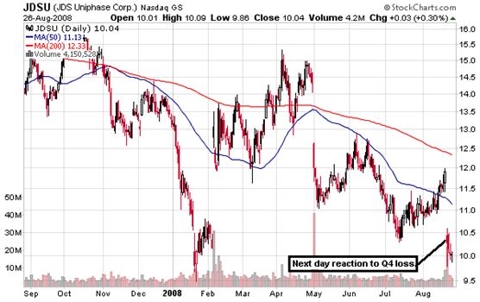 Long-Term Chart: 3 years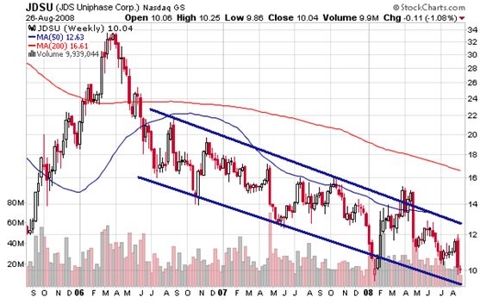 Disclosure: none