I was sent this link yesterday by A.N. Other with the message "what do you think?" Well, the answer is that I think it's just another waste of bandwidth talking about a trade that somebody uses as evidence for an 'it's not fair' pet theory. Part of the report had this chart...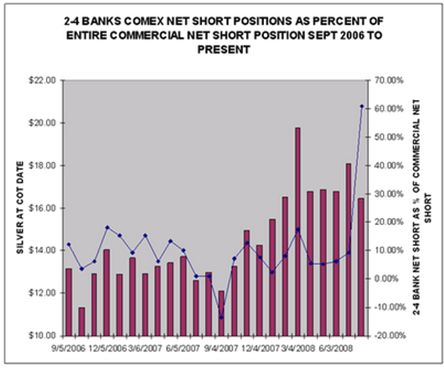 ...which supposedly shows the so-called "commitment of traders" in the silver market (aka "COT silver") and how there was a recent spike in shorting the metal that comes from two major banks, and how that short position coincided with silver's drop from $18 or so to $13 or so.
Yes it does coincide, but the same kind of COT silver open interest chart, when looked at from a longer time span, shows that there isn't really much you can read into a short-term position. I've scribbled on this chart underneath.......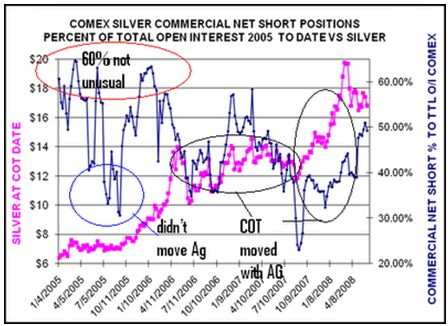 ...that shows COT silver in relation to the price of silver since 2005. We can see that:
60% short position in COT is not that unusual
In 2005, short interest dropped hard, but it didn't affect the price of silver in the slightest
For a long time through 2006, 2007 and 2008, short interest moved in conjunction with the price of silver. That means that when there were more shorts on board, the price of silver ignored the commercial traders and just moved on up (and vice versa).
You can't have your cake and eat it, I'm afraid. The worst chart-watchers in the world and the ones that give the discipline its bad name (which is largely deserved, by the way, though there are some shining exceptions) are the ones that decide what they want to read into a chart before looking at it, and use the chart to confirm their own prejudices.
This is not some massive plot. This is people speculating, winning and losing. It's normal market stuff. One thing to note is when the "big players" bet on something to go up and it does, people rush to say "oh how clever, oh how wise". But if they bet on something to go down and it does, they're called manipulators, frauds, inside traders and every name under the sun.
This is especially true in the gold and silver markets, which are populated by tinfoil hat permabull gold and silver bugs that just can't understand why gold isn't already at five zillion dollars an ounce. These people WANT the US economy to completely crash just so they can say "I told you so" while civilization collapses around us. Just a thought; if Armageddon does come around, I'd rather be holding a 50kg sack of rice than an ounce of gold.
I own gold and silver bullion, but I don't delude myself. They are there to anchor my portfolio solidly, not to be the cutting edge of my alpha gains. Capital preservation is still the order of the day in this market.