Part I of this series focused on the continual reduction of rigs exploring for natural gas in the domestic U.S. lower 48. All the while, commodity prices continue to surge upward with futures prices even higher. This second part will focus on the natural gas producers that will benefit from the surging prices and the potential that a great majority of the rigs needed to increase production are tied up with oil drilling.
As mentioned in Part I, the Baker Hughes (NYSE:BHI) rig report on Friday showed an interesting divergence with the commodity markets. While natural gas has jumped some 60% in the past few months, the amount of rigs drilling for natural gas has plunged to lows not seen since 1999. In the last week, the natural gas rig count dropped another 15 to only 422. Last year, the count was 936.
Recently Forbes released an article describing the depletion curve in the Eagle Ford as higher than expected. Not only does this change the investment thesis on some of the shale plays, but it also dramatically changes the production rates and hence future inventory levels. In fact, Forbes is forecasting $8 gas this winter due to these factors.
Natural Gas Producers
As mentioned in Part I, natural gas producers stand to benefit from the higher gas prices due to reduced drilling. In a recent investor presentation, Chesapeake Energy provided this recent chart of the top natural gas producers in the U.S.: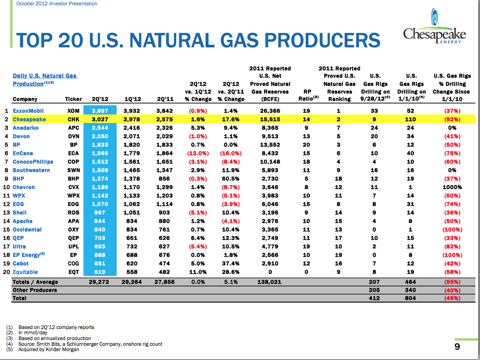 Below is a list of the companies that stand to greatly benefit from higher prices:
Chesapeake Energy (NYSE:CHK) - the company is the second-largest producer of natural gas, a Top 15 producer of oil and natural gas liquids and the most active driller of new wells in the U.S. The company's operations are focused on the Eagle Ford, Utica, Anadarko Basin, Mississippi Lime, Marcellus, Haynesville, Niobrara and Barnett shale plays.
While the company has shifted drilling efforts towards liquids plays, it still derives 79% of production from natural gas. The company is the poster child for the drilling switch towards liquids. In just under three years, Chesapeake has gone from operating 122 rigs with 100 focused on natural gas to operating 106 rigs with only 9 drilling for natural gas. What happens if Chesapeake wants to ramp up natural gas again? A return to only 25 rigs focused on gas would equal the previous totals.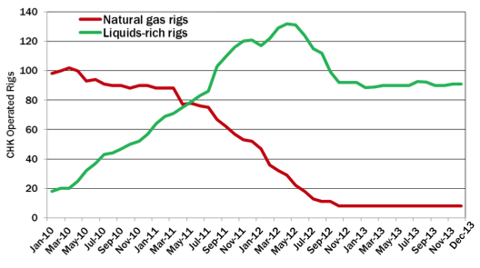 In the October investor presentation, the company only forecast 8% of 2013 capex for dry gas. Even as the fundamentals of the market have shifted, a leading producer has yet to change plans. For 2013, the company is forecasting a roughly 100 bcf decrease in production from the peak in 2012. That shift by a leading producer to a substantial decline in production will have a profound effect on the market.
Secondary Selections
QEP Resources (NYSE:QEP) - the company reported only 20% of production from liquids in Q2 2102, compared to 12% in Q2 2011. Total production increased 23% over last year due to increased oil and NGL volumes that more than doubled compared to 2011. Notably, the company released the last drilling rig from the Haynesville Shale play during Q2 while also deferring completion of several wells until 2013.
Back in August, QEP bought oil development properties in the Williston Basin for a purchase price of $1.4B. The asset's current net production is approximately 10,500 Boe/d. This substantially moves the company more towards oil in Q4 2012.
Range Resources (NYSE:RRC) - this company continues to report substantial volume increases with production of 790 Mmcfe/d in Q3 2012, up 10% from just Q2 2012. The company continues to be successful in the Marcellus shale leading to production focused at 79% natural gas and only 6% oil. Range did announce a decision to not drill in the remaining Barnett undeveloped leasehold, so even the more aggressive company has pulled back some drilling.
Southwestern Energy (NYSE:SWN) - for Q2, the company reported a 12% increase over 2011 in gas and oil production. The company is mainly focused on the Fayetteville Shale play that produced 107.4 Bcf of the 137.4 Bcfe produced in the quarter. The Marcellus Shale has the most growth potential, nearly doubling year-over-year to 9.9 Bcf.
Ultra Petroleum (UPL) - the company derives substantially all of its production from natural gas. Ultra is focused on production in the Marcellus Shale and the Wyoming Lance play. The Marcellus production saw an 86% increase over last year at 198 MMcfe/d.
While the company expects a rebound in natural gas prices next year, it also hopes to see a reduction in production for full year 2013.
WPX Energy (NYSE:WPX) - the company is shifting to oil with volumes up 57% in Q2 compared to 2011. The Bakken Shale production is up 83% compared to last year. While the growth in oil production is impressive, the company still maintains a majority of production via natural gas.
The Piceance and Powder River Basins are the primary area of production currently, though the Marcellus continues to show significant growth and potential. With only 1% quarterly sequential natural gas production growth, the company has successfully stalled growth. WPX recently increased 2012 capital spending to $1.4B from $1.2B in order to purchase more Bakken land and increase drilling and completion efforts in that area.
Conclusion
All of these leading natural gas producers continue to stall production growth, whether via reduced drilling budgets or delayed completion efforts. As a leading producer under substantial financial strain, Chesapeake could be the ultimate investment for a scenario where natural gas heads higher based on not only a reduction in production, but an unexpected shortage in rigs to ramp production back up.
The other stocks such as Southwestern Energy or Ultra Petroleum remain more conservative pure plays on natural gas. These stocks also provide less risk for investors wanting to avoid the funding issues with Chesapeake.
All of these stocks have moved higher recently, but most of them remain below even 52-week highs, while the S&P 500 approaches all time highs. The sector is worth a look, especially now that inventories are under control and consumer and industrial demand around the world continues to grow.
Disclosure: I have no positions in any stocks mentioned, and no plans to initiate any positions within the next 72 hours. I wrote this article myself, and it expresses my own opinions. I am not receiving compensation for it (other than from Seeking Alpha). I have no business relationship with any company whose stock is mentioned in this article.
Additional disclosure: Please consult your financial advisor before making any investment decisions.