Are you looking for fast moving stocks that still have room to run? Market Beating Stocks has created a proprietary stock screen called "MARP": Momentum At Reasonable Prices. We use the MARP screen to search for stocks that have shown strong price momentum over the past three and six month periods. These are stocks that are showing strong investor demand. From that starting point, we narrow our selections down to only those stocks that remain reasonably priced. We use a number of criteria to evaluate "reasonableness" including PE multiples, price to sales ratios, relative industry comparisons, and growth rates. Finally, we review each stock chart to ensure recent price movements represent good "buying" opportunities.
What stocks does our MARP strategy currently show? NN Inc. (NASDAQ:NNBR), Thermadyne Holdings (THMD), DXP Enterprises (NASDAQ:DXPE) are all currently on our buy list. Let's review each one briefly.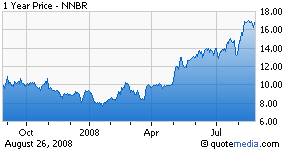 NN Inc. operates in three segments: the metal bearing components segment, the plastic and rubber components segment, and the precision metal components segment. Within the metal bearing components segment, the company manufactures and supplies high-precision bearing components for manufacturers on a global basis. Within the plastic and rubber components segment, it manufactures high-precision rubber seals and plastic retainers for bearing manufacturers on a global basis, as well as specialized plastic products. The precision metal components segment serves customers in the air conditioning, appliance, automotive, commercial refrigeration and diesel engine industries. NNBR's PE ratio and Price/Sales ratio are both very low at 13.7 and .6 respectively. On the other hand both earnings and sales are growing at rates much faster than industry competitors. The stock has been trading in a narrow range over the past two weeks, which we view as a very good buying opportunity. A global slowdown would put pressure on sales and earnings, and the company anticipates weakening demand for its products from the Auto industry, but barring an economic meltdown, the stock should still do well.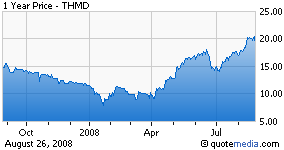 Thermadyne Holdings  designs, manufactures and sells products in five categories, gas equipment; arc accessories including torches, guns, related consumable parts and accessories; plasma power supplies, torches and related consumable parts; welding equipment and filler materials. Earnings growth over the past 12 months has been outstanding at 55%, yet their PE remains only 14. In addition, the company's Price to Sales ratio at .51 is better than 60% of their competitors and the stock carries strong analyst support. This one has already moved up 14% in price since it first showed on our screen. Investors should wait for a consolidation period at current levels or take advantage of a pullback if the opportunity arises.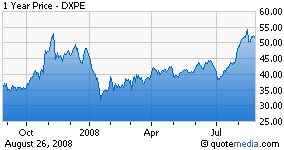 DXP Enterprises, Inc.  is engaged in the business of distributing maintenance, repair and operating [MRO] products, equipment and service to industrial customers. The Company is organized into two segments: MRO and Electrical Contractor. The MRO segment provides MRO products, equipment and integrated services, including technical design expertise and logistics capabilities, to industrial customers. The Electrical Contractor segment sells a range of electrical products. The company's PE ratio is currently 16 and that's quite attractive in light of the exceptional sales and earnings growth over the past twelve months of 99% and 37.7% respectively. Sure, the company may feel pressure from a slowing economy, but their growth rates should still hold up well relative to the current stock price valuation. The stock has been consolidating over the last three weeks in the $50-52 range, so now may be a good buying opportunity. The stock is a bit thinly traded with only 3.9 mm floating shares, with institutional ownership only accounting for 55% of the outstanding stock. However, on the upside, the stock could rocket higher if one or more of the big traders moves in over the near term.
All three stocks have shown strong investor demand, yet in our view have much more room to grow. We would expect to see significant price appreciation in all three stocks over the next six months.
Disclosure: none