The US Department of Energy has been very good at doing nothing to cool the overheating debate about whether or not to export natural gas to non-FTA countries. The DOE's latest decision not to announce a decision concerns the Sabine Pass' permit to export LNG to countries without US free trade agreements.
The list of non-FTA countries includes Japan, Argentina and the largest potential market, China. All of these countries are currently importing gas at more than 3 times the Henry Hub spot price. The decision to export at least some of America's vast bounty of cheap natural gas should be an easy one. Unfortunately for the US natural gas industry, this is an election year.
The Sabine Pass Liquefaction project is a wholly owned subsidiary of Cheniere Energy (NYSEMKT:LNG) that is scrambling to convert from a LNG import terminal to an export terminal. It is currently adding General Electric (NYSE:GE) built gas compression trains and a slew of very expensive infrastructure upgrades. Sadly, Cheniere's chances of paying for those upgrades is on shaky ground.
click to enlarge images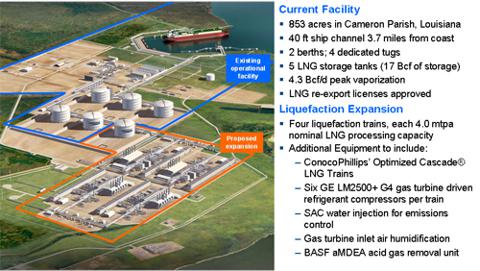 Cheniere's plans for expanding existing Sabine Pass import terminal to an LNG export terminal
To date the Sabine Pass Liquefaction project is the only facility with an approved permit to export natural gas to countries without US free trade agreements. The Sierra Club is doing its best to have that permit revoked. On September 6th the Sierra Club asked the DOE to halt the Sabine Pass' permit to export to non-FTA countries on the basis of an inadequate environmental review. The DOE has recently announced that instead of ignoring the Sierra Club request, it will take some more time to consider it.
Cheniere isn't the only company that would like to export LNG at a profit to non-FTA countries. Current projects to export LNG awaiting DOE permits include Freeport's Quintana Island terminal in Texas, Sempra Energy's (NYSE:SRE) Cameron terminal in Louisiana and Jordan Cove's Coos Bay project in Oregon, and a second terminal from Cheniere near Corpus Christi, Texas. Furthermore, a $45-$65 billion natural gas pipeline in Alaska to be built by Exxon Mobil Corp. (NYSE:XOM), ConocoPhillips Co. (NYSE:COP), BP PLC (NYSE:BP), and TransCanada Corp. (NYSE:TRP) is in the planning stages. The Pipeline's purpose is to bring natural gas trapped on the North Slope to export facilities on the southern coast.
All of those projects and others like them are likely to be stalled or completely halted until the DOE can decide exactly how much LNG it will allow to be exported. According to ClearView Energy Partners, exporters can expect an limit of between 6-7.4 Bcf/d. These numbers aren't official statements from the DOE. They are based largely on rumors and information from sources close to the investigations, because the DOE refuses to define their export policy.
Imagine you're the CEO of Sempra Energy and about to invest in a $6 billion natural gas liquefaction export facility. At the moment you don't even know if you'll be able to take advantage of the largest market for LNG, China. The best indication that you will be able to sell the project's 1.7 billion cubic feet per day of LNG to the juiciest worldwide markets is a rumor. It's no wonder the energy industry is so frustrated with the Obama administration.
The DOE needs to swiftly define a modest limit for natural gas exports and a schedule for raising or maintaining that limit. The number of active natural gas drilling rigs is near an 5 year low while production and storage are near all time highs. I'm confident that US natural gas producers like Chesapeake (NYSE:CHK) and Exxon Mobil could increase production to meet a defined increase in demand from exporters, provided the DOE tells the industry how much of an increase to prepare for and when.
Disclosure: I am long CHK. I wrote this article myself, and it expresses my own opinions. I am not receiving compensation for it (other than from Seeking Alpha). I have no business relationship with any company whose stock is mentioned in this article.