Back in July I noted that for-profit education stocks were not nearly as cheap as they looked. Despite a slew of single-digit P/Es in the sector, a series of regulatory and economic headwinds were battering the industry, making the seemingly cheap valuations far less attractive than they appeared at first glance.
Over the past twelve weeks, for-profit stocks have actually risen slightly; the Bloomberg U.S. For-Profit Education Companies Index (ticker USEDU), comprised of 13 stocks, is up about 3 percent. But two pieces of news released Tuesday shows that the challenges facing for-profit education companies show no sign of abating.
Tuesday afternoon, Apollo Group (NASDAQ:APOL), operator of the University of Phoenix -- the nation's largest private university -- released disappointing fiscal fourth quarter earnings. The stock fell nearly 9% in after-hours trading to $25.05, its lowest level in more than a decade. According to Barron's, the company actually beat on the bottom line, but Q4 revenue was below estimates, while the midpoint of FY13 revenue guidance came in 8 percent below Wall Street consensus.
That consensus wasn't all that optimistic to begin with; analysts had already forecast a small decline in revenue in fiscal 2013 as compared to fiscal 2012. But in fact, fiscal 2013 guidance shows a company in disarray. At the midpoint of revenue guidance, APOL will see a top-line drop of 12.4%, after a 9.7% drop this year. Operating income guidance of $525-$575 million would represent a 17.4% fall year-over-year, after a 29.2% decline from FY11 to FY12. All told, in two years, Apollo will see revenue fall nearly 21%, and operating income decline over 42%. That bottom-line figure is made worse by the fact that FY11 saw a significant number of one-time costs -- notably a goodwill impairment charge of $188 million -- meaning the decline in core earnings power has been even more marked.
What caused the declines? Lower enrollment hurt top-line growth, as total enrollment was down nearly 14% in Q4 from the year-prior period. And yet, operating expenses were flat, excluding restructuring charges and impairment of goodwill and intangibles. Most notably, instructional and marketing costs increased from 51.3% of revenue in 2011 to 57.9% in 2012. Simply put, Apollo is paying the same amount to educate fewer students.
That increase is not a short-term blip. With regulatory pressure increasing, and competition tightening, for-profit educators are going to have to invest in better teachers and smaller class sizes. While that might be good for this nation's students, it is definitely not good for shareholders. Yes, APOL is valued at just 7.3x trailing earnings; but with earnings set to decline next year, and margin pressures continuing, there are very good reasons for the low multiple. Those investors waiting for a turnaround might want to heed the lesson of none other than Apollo's management, which has repurchased over $1.5 billion in stock over the last two years at a weighted average price around $42 per share, a 67% premium to Tuesday's after-hours close.
Apollo's miss seems likely to drop other for-profit education stocks in trading Wednesday, as DeVry's Q4 miss in July did. Several stocks in the sector already took a hit on Tuesday, as Bridgepoint Education (NYSE:BPI) revealed it was the target of a U.S. Department of Justice investigation. The DOJ is investigating compensation for admissions officers at Bridgepoint.
Bridgepoint is already reeling after its flagship school Ashford University saw its accreditation application denied by the Western Association of Schools and Colleges earlier this summer, dropping the stock some 60 percent in just a week. Despite those fears, BPI was the only sector stock I recommended this summer -- though only for a short-term trade -- as its enterprise value had fallen to a paltry $12 million.
BPI did gain, and even after Tuesday's 10% decline, has still seen some moderate improvement from its levels immediately after the accreditation issues came to light. Indeed, its enterprise value has climbed all the way to about $47 million. Considering that BPI generated over $61 million in free cash flow in the first six months of 2012, the market is clearly pricing in a substantial possibility that not only will Ashford be shuttered, but Bridgepoint will be forced to pay some sort of material fine or penalty to federal and/or state governments.
Even given the tremendous regulatory pressure, Tuesday's close of $9.85 seems far too low given BPI's $8.37 per share in cash and historical earnings power. The potential reward, if the company can navigate its current challenges, more than justifies the company's risks. Even a closure of Ashford would leave some left-over assets for shareholders (which would have about $5 per share in cash after accounting for student deposits). If the recently announced investigation does find evidence that Bridgepoint broke the law, a fine could be certainly material. But given the federal government's propensity for wrist-slapping when it comes to corporate malfeasance, it's hard to believe BPI would be run out of business without epic, widespread, intentional fraud.
Still, beyond BPI, it's hard to see any reason to invest in the sector; and Bridgepoint's travails seem unlikely to remain company-specific. The industry is simply in the political crosshairs. There was an 800-page report issued by a Senate committee in July, criticizing the industry's aim to "serve shareholders over students," according to The Washington Post. That committee already goaded the Department of Education into passing stricter regulations on recruiting and student performance back in July, with failing colleges facing the potential loss of federally subsidized loans and grants. (One component of the regulation has been stayed by a federal judge; the DOE plans to re-design its system to adhere to the ruling.) There is a multi-state investigation led by state attorneys general; and an executive order from President Obama limiting recruitment of veterans.
Credit Suisse argued last week that a Romney victory might ease some of the pressure on the industry, but that seems unlikely. While Republicans might take a more laissez-faire approach toward the industry, the budget-cutting VP nominee Paul Ryan might take aim at the industry's lifeblood: federal aid to education. The Ryan budget would cut Pell Grants by $200 billion, according to one study. And even if the GOP is more inclined toward for-profit colleges, it seems highly unlikely that a President Romney would spend any political capital to protect an industry with such a poor public profile.
In short, the single-digit P/Es across the sector are well-deserved, and seem likely to continue. Revenues and earnings on an industry-wide basis look set to decline going forward, as restrictions on marketing and an emphasis on quality pressure the top and bottom lines. For those investors looking at the sector based on its seemingly sterling fundamentals, or hoping for a bottom in the industry, they should realize just how long the for-profit education sector itself has been waiting: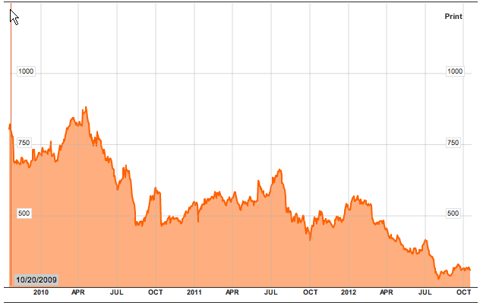 chart courtesy Bloomberg
The USEDU index -- a market cap-weighted index -- is down over 60 percent over the past three years. At many points on the way the down, the industry has appeared undervalued based on trailing earnings, or the admittedly strong balance sheets in the sector. It's always been a mirage. There are simply too many challenges, and too much pressure, facing the sector from too many directions. Tuesday's news shows that the pressure is still not letting up.
Disclosure: I have no positions in any stocks mentioned, and no plans to initiate any positions within the next 72 hours. I wrote this article myself, and it expresses my own opinions. I am not receiving compensation for it (other than from Seeking Alpha). I have no business relationship with any company whose stock is mentioned in this article.