Be careful how you define "neglected."
The most common adage amongst investing commentators and pundits is to go "against the crowd" or be "contrarian" with your investments. On the surface, this is great advice. To produce truly outstanding investment results, you need to invest in a particular investment or sector before that idea catches on. And if your reason for buying something is because it's already up triple digits… you're probably too late.
However, it's important to define the concept of "against the crowd."
For most people, the concept of being a contrarian involves buying investments that have little if any coverage from the mainstream financial media. After all, if the Wall Street Journal or Financial Times isn't writing about it, few people should know about it, right?
Wrong.
Large publications like the Wall Street Journal and Financial Times are typically very, very late to the game when it comes to a new idea. Think about it … these are two of the most widely circulated publications on the planet. When they publish an idea, it's already at a critical mass.
Consider oil, for instance.
Oil prices nearly tripled from 1998 to 2004. Yet it wasn't until the latter year that the notion of oil as a great investment really caught on in the mainstream financial press. In fact, throughout the period of 1999-2003, both analysts AND oil management continually forecast a fall in oil prices. The first 100% in gains was thought to be some kind of fluke. By the time oil hit the headlines it had already tripled and was on its way to $70 a barrel.
So I'm very wary when investments are touted because they're don't get a lot of press. Consider Tech stocks today. Sure they get little press, but they've been outperforming most sectors for more than two years. In fact, the Nasdaq has outperformed both the S&P 500 AND the Dow Jones Industrial Average since the fall of 2006.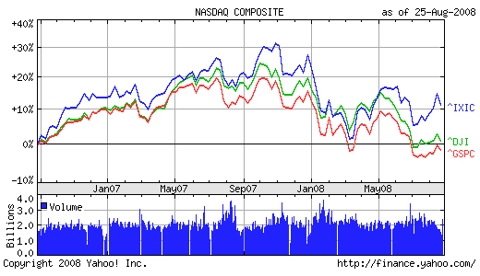 So is Tech a true contrarian play today?
I doubt it.
According to the latest Institutional Investor's Survey, 62% of money managers are overweight tech stocks. Last week it was 52%. At this rate, Tech's got a limited upside. After all, if more than half of the institutional planet is heavily invested in a sector, there aren't exactly droves and droves of future buyers waiting in the wings.
For institutions, the Tech play has largely been driven by two items:
A dollar hedge (most of the growth has come from overseas sales).
Safety (unlike Financials, Homebuilders, and others Tech's balance sheets are somewhat transparent).
However, with the dollar rallying and a worldwide inflationary recession looming — according to Goldman Sachs and Newsweek half the world's economy is already in recession and faces double-digit inflation — neither of these trends is going to play out for long.
And I find it very difficult to believe emerging market consumers will continue to buy cell phones and iPods while their food and energy expenses soar and recessionary forces result in large-scale unemployment.
No, to me Tech looks like a more likely candidate for a short-sale. The Nasdaq's outperformance was largely driven by four companies — Google (NASDAQ:GOOG), Apple (NASDAQ:AAPL), Research In Motion (RIMM), and Amazon (NASDAQ:AMZN). And even these four horsemen are finding things getting worse rather than better from an earnings perspective.
Heck, let's take the words right out of Apple's 2Q08 10-Q filing:
The Company's operations and performance depend significantly on worldwide economic conditions and their impact on levels of consumer spending, which have recently deteriorated significantly in many countries and regions, including without limitation the United States, and may remain depressed for the foreseeable future...
My advice? Steer clear of Tech. Even that safe harbor is going to be hit by the coming economic storm.