Hersha Hospitality Trust (NYSE:HT) is trading around $4.84 versus its 52-week range of $3.74-$5.91, up 30% in the last 1 year. The stock yields 4.9% versus the peer median of 2%. Its competitor Ashford Hospitality Trust (NYSE:AHT) yields 5.29%, and Host Hotels & Resorts (NYSE:HST) yields 2%
As of 6/29/2012, the top institutional holders of Hersha Hospitality Trust stock are Jennison Associates (4%), Columbia Partners (4%) BlackRock Institutional (3%), Nuveen Asset Management (3%), and State Street Corporation (3%).
For those of you looking for additional stocks with institutional interest, please read here.
Fundamentals that support institutional support:
Hersha has a conservative balance sheet with $33 million in cash & cash equivalents, and $220 million available borrowings under its revolving credit facility issued by TD Bank. The credit facility has various covenants, and the company is in compliance with each of the covenants as of June 30, 2012.
The company's recent acquisition of the remaining 50% interest in the Courtyard Ewing further simplifies the company's structure considering most of the hotels were already consolidated.
Hersha continues to have one of the fastest growing portfolios given its focus on strong urban markets.
NYC provides a significant growth opportunity for the company. Both the Hyatt in Union square, and the Hampton Inn on Pearl Street will add significantly to the EBITDA.
Hersha recently closed a sale of 18 non-core properties resulting in higher EBITDA margins and lower leverage for the entire portfolio. Net proceeds from the sale were $55 million, and consolidated mortgage debt reduction was $61 million.
The chart below compares share performance over the past year. "D"s mark dividends paid.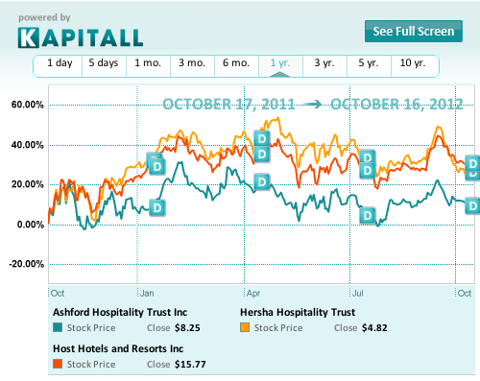 Conclusion: The yield on the stock seems attractive for a REIT with a small concentrated portfolio in a growing market.
Risk associated with investing in the name remains the EBITDA concentration in the NY market.
Written by Kapitall's Sabina Bhatia. Tool provided by Kapitall.
Disclosure: I have no positions in any stocks mentioned, and no plans to initiate any positions within the next 72 hours.
Business relationship disclosure: Business relationship disclosure: Kapitall is a team of analysts. This article was written by Sabina Bhatia, one of our writers. We did not receive compensation for this article (other than from Seeking Alpha), and we have no business relationship with any company whose stock is mentioned in this article.