Facebook (NASDAQ:FB) reports Q3 results on October 23rd.
The Street expects:
Revenue: $1.23 billion
EPS: $0.11 per share
Q4 revenue guidance: $1.43 billion
Heading into the earnings, additional color on mobile monetization will once again be in focus.
Over the past six months, Facebook's desktop usage in the US has fallen dramatically while mobile usage continues to grow at mid-high single digit percentage, indicating that Facebook's mobile migration is happening faster than previously expected.
click to enlarge images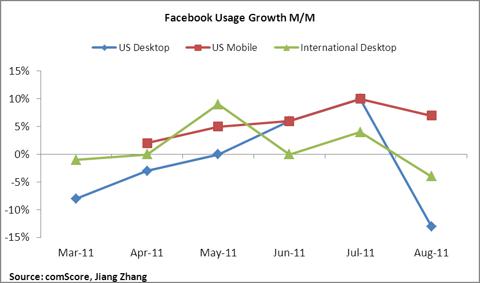 Despite the mobile headwind, there were a couple of encouraging takeaways from the AdAge Digital Conference last month, namely:
Facebook will place increasing emphasis on cross-platform analytics to deliver consistency and accurate measurements for marketers. This will allow Facebook to leverage its massive database of user information to explore advertising opportunities outside of the Facebook platform
Standardized and broad analytics that focus on quality, reach and accuracy will improve pricing and result in a better ad product for marketers
Aside from online advertising, investors should not forget that ecommerce could potentially become a bigger revenue contribution for Facebook in the future. Recently, Facebook introduced Gifts, a service that allows users to purchase and send various products to their friends via Facebook. This feature was acquired from Karma, a social-gift application that Facebook bought on its IPO day.

Unlike the original e-gifts that earlier users purchase for $1 and send to other users, the current Gift includes hundreds of products from merchants such as Starbucks, Magnolia Bakery, GUND Teddy Bear, and others. While this is still in its early stage of development (initial rollout for US PC users and gradually to Android and iOS users), Gift can potentially become one of many ecommerce monetization opportunities for Facebook. Unlike mobile online advertising, which is still unproven and not a significant monetization platform, mobile ecommerce is proven and could become a significant revenue contributor to Facebook.
I maintain my $25 price target and Equal-weight rating on Facebook shares. To see my model and assumptions, please see my August 1st note titled "Facebook Model Update."
Disclosure: I have no positions in any stocks mentioned, and no plans to initiate any positions within the next 72 hours. I wrote this article myself, and it expresses my own opinions. I am not receiving compensation for it (other than from Seeking Alpha). I have no business relationship with any company whose stock is mentioned in this article.