We can see why Warren Buffett bought $85M of Lee Enterprises' (NYSE:LEE) debt for Berkshire Hathaway (BRK.B, BRK.A) from Goldman Sachs. While we have no illusions that Lee is in a challenging environment, we believe that Berkshire's investment in Lee is playing off Buffett's adage of being greedy when others are being fearful. We don't blame other people for taking a long position in Lee's stock over the last 4 months because Berkshire disclosed a 6% stake in the company, especially since Buffett tried to keep it secret. We believe that if an investor wanted to put 2% of a portfolio in the Berkshire Hathaway Media newspaper strategy and just wanted direct exposure to the newspaper industry and only the newspaper industry, Lee Enterprises would be the best bet with regards to trying to replicate Berkshire Media's operations since its newspaper related revenues are declining at a slower rate versus the rest of Berkshire Media's newspaper holdings. This is reinforced by the fact that although we were displeased with Lee Enterprises only harvesting $11.95M in cash for the sale of the North County Times, at least this was 25% more than the gross price Media General (NYSE:MEG) harvested from the sale of The Tampa Tribune.
Sources: Lee's Press Release and the Tampa Bay Times
After taking a second look at Lee's sale of the North County Times, we are somewhat assuaged with regards to what Lee was able to salvage from the paper. We consider it to be a "community-oriented newspaper" rather than a large metro-area broadsheet publication. We can see that the North County Times was one of Lee's weaker papers even though it was a "community-oriented newspaper" rather than a large metro area boring broadsheet. According to Gabelli & Company, the paper's revenue has dropped from $60M around 2007 to $27.6M in the last twelve months. Despite the fact that the paper accounted for 5.7% of Lee's average paid daily circulation and 5% of its Sunday circulation, the paper only accounted for 3.76% of its LTM revenue and 1% of its LTM operating cash flow. Lee got a fair deal in that the $12M for the sale of the paper represented 15X TTM operating cash flows and 1.3% of its outstanding debt. Lee sold the paper to Manchester Freedom LLC, which is owned by San Diego real estate developer Douglas "Papa Doug" Manchester to sell the Escondido, CA, area North County Times to Papa Doug for $12M. We agree with Lee's CEO Mary Junck that the paper would be better served by becoming part of Papa Doug's San Diego regional media operations. We were pleased that Lee sold it while it still had value. Lee acquired ownership of the North County Times in 2002 when it acquired Howard Publications for $750M. Under Lee's ownership, average daily circulation for the North County Times declined from 92,490 in 2002 to 75,727 in 2011. Now that Papa Doug is the owner of the North County Times, he has announced plans to lay off one-third of the paper's staff.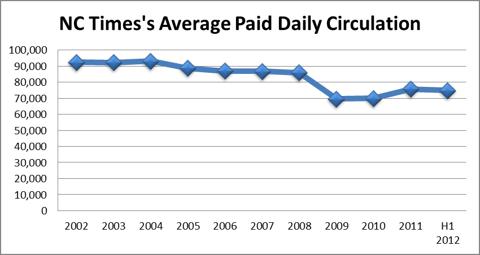 Sources: Lee's 2002-2011 Annual Reports and NCTimes.com
Unfortunately for Media General, its sale of The Tampa Tribune was not as fruitful as Lee's sale of the North County Times. When it was getting its bailout from Warren Buffett, it sold all but one of its papers to Berkshire Hathaway for $142M. The only paper that it wasn't able to sell Berkshire was The Tampa Tribune. We saw that this presented a combination of good news, bad news and ugly news for MEG. The good news for MEG was that it was able to reach an agreement to sell the paper for $9.5M (subject to working capital adjustments) to Revolution Capital Group, a Los Angeles private equity firm. The bad news is that the land, building and equipment at the Tribune's headquarters have values estimated at a combined $10.7 million. The ugly news was that the net proceeds of the sale to Media General are estimated to be about $2 million before expenses, MEG has to shoulder the pension liabilities of the paper and that Lee harvested a higher share price relative to circulation for the sale of its paper.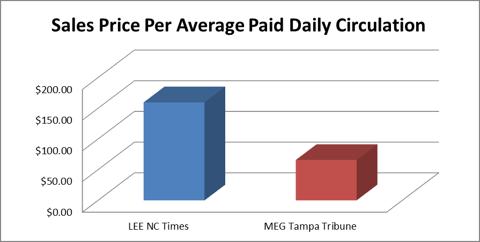 Sources: Lee's Press Release and the Tampa Bay Times
Lee also announced at the Deutsche Bank 2012 Leveraged Finance Conference that it is a year ahead of schedule with regards to reducing debt. Lee repaid more than $60M of debt in its fiscal year ended September 30, 2012 and has since repaid another $15.3 million after the end of FY 2012. This has reduced the balance to $930.6M, below the level originally anticipated to be reached a year from now. For fiscal 2013, Lee expects cash costs to decrease another 3% to 4%. Lee previously announced that it expected cost reduction of 3.5% to 4.5% in 2012 on a comparable 52-week basis. Since 2007 Lee has permanently eliminated one-third of its cash costs, totaling nearly $280 million. Because the weighted average interest cost on its debt increased from 5.1% to 9.2% as part of the prepackaged bankruptcy, it is important for Lee's management to continue to focus on reducing costs, stabilizing revenue and paying down debt in order to accommodate the increased interest expenses.
Despite our previous criticism of Lee Enterprises's management, we concede that Lee's advertising revenue performance has outpaced the industry average for 36 straight quarters. We maintain our previous criticism because Lee's management still overpaid for Pulitzer and that debt financed acquisition helped lead the company into bankruptcy as well as seeing its annual interest expense rate increase by nearly 80% and its stock diluted by 13% in order to exit bankruptcy. We previously discussed that Lee had shifted its Vice President of Publishing Mike Gulledge to Vice President of Sales and Marketing. In his new position, Gulledge will be pushing to expand Lee's revenues from digital sources. We like that he has led Lee's successful introduction of paid digital content and we expect this initiative to be completed in nearly all of Lee's markets within a few months. Replacing Mike Gulledge at Vice President of Publishing will be Bill Masterson Jr., publisher of The Times Media Company of Northwest Indiana and a group publisher for Lee. Lee also shifted Greg Schermer from vice president of interactive media to a new position of vice president of strategy.
In addition to generating a narrower revenue decline than Berkshire Hathaway's other newspaper holdings, it has had a comparable revenue trend to Gatehouse Media (OTC:GHSE). Gatehouse Media is a company that specializes in community-oriented newspapers, including 6 local community papers in our local Boston suburbs. Fortress Group owns nearly 40% of the shares. We can see that both companies grew by debt-funded acquisitions in the 2000s and have suffered billion-dollar asset impairments in 2008. Despite the fact that Gatehouse is a pure-play community newspaper chain while Lee has interests in four big metro area broadsheets, Gatehouse's revenue decline is comparable to Lee's. Lee also has a higher absolute level of revenue and free cash flow in comparison to Gatehouse even though Lee has less total debt outstanding versus Gatehouse. Gatehouse Media's shares have been delisted from the NYSE since 2008 and in short we can say that although Lee Enterprises isn't Berkshire Hathaway, at least it isn't Gatehouse Media.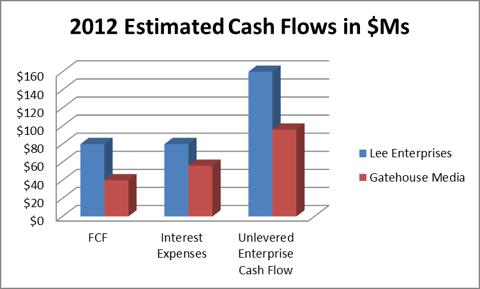 Source: Morningstar Direct and Our Estimates
In conclusion we can see why Buffett invested in Lee Enterprises. We can see that although it made a strategic error in borrowing $2.2B to acquire two competing news chains, the company has been chastened by that error and won't be doing it again for kicks. Based on this comparison of Lee Enterprises, we can see that it is a "relatively clean dirty shirt," to paraphrase Bill Gross. We agree with Gabelli that Lee should see its revenue declines ease up in 2013 and its revenues stabilize in 2014. Lee has been able to consistently generate $160M in unlevered cash flow since 2009 in spite of the weak economic environment and the negative secular headwinds associate with the decline of the newspaper industry. We were impressed that the company was able to sell its San Diego suburban area operations for 15X its TTM operating cash flows, though we are aware that those operations were seeing a challenging economic environment resulting in negative headwinds to revenues and cash flows. While we don't anticipate Lee fetching a similar multiple for the rest of its papers or even selling additional paper publication operations, we believe that there is potential value to be unlocked by potential revenue stability and deleveraging.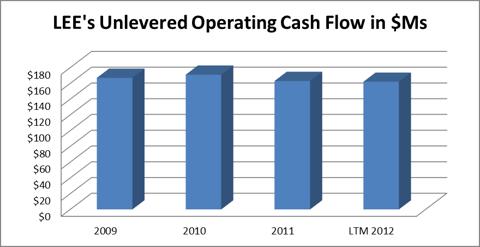 Source: Lee Enterprise's Presentation (pdf)

Disclosure: I am long BRK.B, LEE. I wrote this article myself, and it expresses my own opinions. I am not receiving compensation for it (other than from Seeking Alpha). I have no business relationship with any company whose stock is mentioned in this article.
Additional disclosure: This article was written by an analyst at Saibus Research. Saibus Research has not received compensation directly or indirectly for expressing the recommendation in this article. We have no business relationship with any company whose stock is mentioned in this article. Under no circumstances must this report be considered an offer to buy, sell, subscribe for or trade securities or other instruments.