Intel (NASDAQ:INTC) is the largest semiconductor chipmaker in the world by revenue. While other players come and go, Intel has been the number one chipmaker for almost 10 years. As the following table shows, it was almost twice the size of its next competitor Samsung (OTC:SSNLF) last year.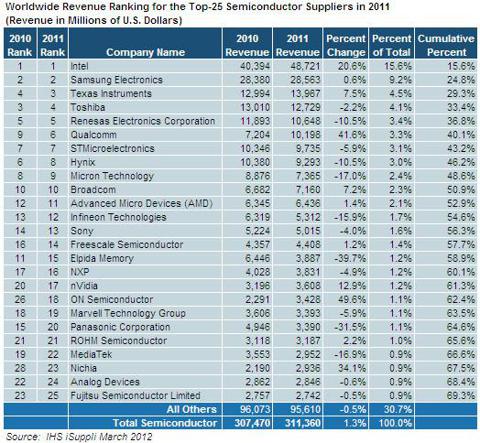 Click to enlarge
However, this is old news. In the last two years, PC sales have dwindled as the mobile computing industry got a jumpstart on the back of the Apple (NASDAQ:AAPL) iPhone,the iPad, Samsung's Galaxy series of smartphones and tablet Pcs, and other players like HTC and even Nokia (NYSE:NOK). This is a new industry compared to the PC, but it has already shown that it is the technology of the future.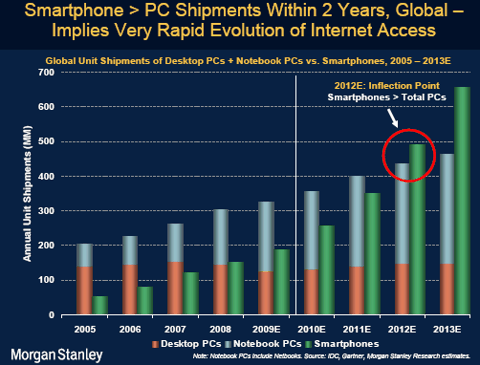 Click to enlarge
Source: www.future-ink.com
As the above graph shows, the PC market has been relatively stable for years; however, the smartphone industry has grown by leaps and bounds, and has finally caught up and surpassed the PC (plus notebook) industry this year. The notebook industry is the only component in the PC space that has seen moderate growth; however, that is nothing compared to the smartphone industry which is expected to grow even further away from the PC sales/revenue margin next year.
Now, coming back to Intel, it is the largest chipmaker for the PC market. However, it still has low market share in the mobile/smartphone market, as you can see from the chart in this Seeking Alpha article below.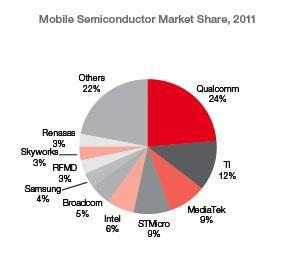 Here, the principle companies are Qualcomm (NASDAQ:QCOM) with 24% and Texas Instruments (NYSE:TXN) with 12% market share last year; INTC is a distant competitor with only 6% of the market share.
So, there is a legitimate question about Intel: what does it plan to do about this situation?
Intel's Business Segments
To answer that, let's take a look at Intel's business segments. According to its corporate website, Intel had the following business segments last year:
| | |
| --- | --- |
| Business Segment | Operations |
| PC Client Group | Delivering microprocessors and related chipsets and motherboards designed for the notebook and desktop (including high-end enthusiast PCs) market segments; and wireless connectivity products. |
| Data Center Group | Delivering microprocessors and related chipsets and motherboards designed for the server, workstation, and storage computing market segments; and wired network connectivity products. |
| Other Intel Architecture Group | |
| Intel Mobile Communications | Delivering mobile phone components such as baseband processors, radio frequency transceivers, and power management chips. |
| Embedded and Communications Group | Delivering microprocessors and related chipsets for embedded applications. |
| Netbook and Tablet Group | Delivering microprocessors and related chipsets for the netbook and tablet market segments. |
| Digital Home Group | Delivering Intel architecture-based products for next-generation consumer electronics devices. |
| Ultra-Mobility Group | Delivering low-power Intel architecture-based products in the next-generation handheld market segment. |
| Software and Services Group | |
| McAfee | A wholly owned subsidiary delivering software products for endpoint security, system security, consumer security, network security, and risk and compliance. |
| Wind River Software Group | A wholly owned subsidiary delivering device software optimization products to the embedded and handheld market segments, serving a variety of hardware architectures. |
| Non-Volatile Memory Solutions Group | Delivering advanced NAND flash memory products for use in a variety of devices. |
The core business segment for Intel is PC Client Group or PCG. See the segment share by revenue as components of Intel's total revenue: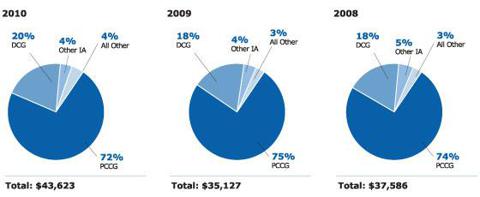 Click to enlarge
According to this, the PCG group comprised 72% of Intel revenue, while the Data Center Group or DCG had another 20%. These two together had a 92% share in INTC revenue. The Other IA (Intel Architecture) Group had a meager 4% of the total, of which our focus areas, the mobile/smartphone/tablet sector, comprised a small part.
In its most recent 10-Q filing, Intel provided actual figures for these segments.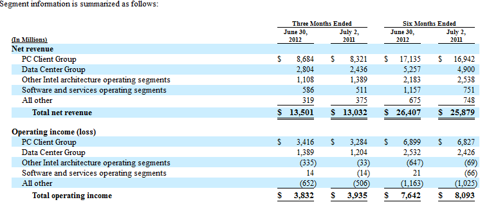 Click to enlarge
In the filing, Intel distinguished between reportable and non-reportable operating segments according to certain quantitative thresholds. It did not divulge what the thresholds were; however, since the matter being reported was revenue, we may assume that the non-reportable segments did not meet minimum revenue thresholds:
Our PC Client Group and our Data Center Group are reportable operating segments. We also aggregate and disclose the financial results of our non-reportable operating segments within "other Intel architecture operating segments" and "software and services operating segments" as shown in the above operating segments list. Each of these aggregated operating segments does not meet the quantitative thresholds to qualify as reportable operating segments; however, we have elected to disclose the aggregation of these non-reportable operating segments.
Data also shows that there was a net loss of a quarter billion dollars during the reporting period for the OIAG group.
Some Changes in Business Segmentation
According to the same 10-Q filing, Intel undertook certain important changes in its business segmentation this year. In order to garner more efficiency, better collaboration and ultimately greater market share, they organized their smartphone, tablet and mobile communication businesses within the OIAG (Other Intel Architecture). The effect is best seen in the erstwhile Netbook and Tablet Group, which has been separated into the Netbook Group, the Tablet Group, and the Service Provider Group. Also, the old Ultra-Mobility Group has become the Phone Group.
So, the OIAG looks like the following since June, 2012:
Other Intel architecture operating segments
Intelligent Systems Group
Netbook Group
Intel Mobile Communications
Tablet Group
Phone Group
Service Provider Group
The inference from this is simple: Intel has woken up to the potential of the mobile/smartphone/tablet segments as the technology of the future, and is taking steps to give these segments core importance in the coming years.
Overview of Mobile and Tablet Chipmaking for Lay Investors (like myself)
The brain behind a computer is a central processing unit, or CPU, commonly called a chip (there is some technical difference that needn't concern investors). This chip, or a chipset, is used in every electronic item that performs computing functions - a calculator, a microwave, and of course, PCs, notebooks, tablets and smartphones.
Before the days of smartphones and tablets, almost every chip produced was used for desktops or PCs; a very small part went into making supercomputers and a few odds and ends. A hypothetical large chipmaker company with 100,000 people working in it could devote 99,000 of them to the PC segment and cater to the rest of them with the other 1000. That was the story until about 10-15 years ago.
Around that time, developments took place in the mobile (smartphone and tablet) world that completely changed the scenario. Starting with a small fraction of the market share, this technology consumed the world and as of 2012 has become the largest consumer of chips. Qualcomm is the largest chipmaker in the smartphone segment, while NVIDIA (NASDAQ:NVDA) is in the tablet market; this is besides Apple with its A5 processors which is also a very large market shareholder. Somehow, Intel just fell out of the competition in the beginning. Either it did not see the future of the smartphone/tablet market (which is absurd), or, being a behemoth company with a core expertise in the PC chips business, it just took some time to switch its focus.
Current Mobile Chipmakers and Intel's Foray
The technology that is most widely used in the smartphone space is ARM, which is a microprocessor instruction architecture developed by the British company ARM Holdings Plc (ADR) (NASDAQ:ARMH) since 1983. Other companies that use the ARM technology simply manufacture the SoC (system on chips, which is a chipset holding the processor, the graphics, and even memory) using the ARM technology.
The ARM Cortex-A8 processor can be found inside SoCs such as Texas Instrument's TI OMAP3 series and Samsung's SP5C series (Hummingbird/Exynos 3xxx). The advanced Cortex-A9 is found in the TI OMAP4 series (HTC Droid Razr), Samsung Exynos 4xxx series, NVIDIA's Tegra 2/3 and the Apple A5 (I am indebted to this excellent article for the above discussion). QCOM's Snapdragon, one of the most widely used mobile processors, however doesn't use the ARM technology directly but builds on it. NVDA's Tegra lineup is the first dual and quad-core processor system for smartphones.
There are some problems with this technology ecosystem. Most important is the fact that while ARM creates the background technology, it does not actually manufacture the SoC. Almost all other manufacturers except QCOM develop the hardware based on ARM licenses, so there is a significant delay (counted in years) between the technology and its market initiation.
Another problem is that almost all these chips are essentially the same technology; they have similar battery consumption, similar graphics capability, similar camera and sound output etc - because they are all mostly based on the same technology.
Intel jumped into this space with its Medfield chip. This was developed on its proprietary x86 processor technology and did not depend on the ARM instruction set - which tells me that Intel can bring its products to the market faster than its competition. As for performance, according to reports quoted below, Intel's Medfield chip performs as well as ARM Cortex A9. Although the market hasn't yet become saturated with Intel's chips, Medfield has a possibility to grasp more market share for Intel, as this analysis shows how well the Lava XOLO X900, the first Medfield-powered smartphone, performed vis-a-vis competition. Although this was not a blockbuster product, there is potential for innovation because of the new competition dynamics. Intel simply needs one blockbuster product for the market to appreciate its offering.
Intel's Technology Lineup
As early as June last year, Intel presented its roadmap for chip technology in the mobile and smartphone sector. The lineup is:
Medfield: first half 2012, single core, 32-nanometer
Clover Trail: second half 2012, dual-core, 32-nanometer
Silvermont: 2013, new Atom architecture, 22-nanometer
Airmont: 2014, 14-nanometer
According to this Morningstar report, with the development of post-Medfield chips like Clover Trail et al, Intel can have a good opportunity to compete on an equal footing with ARM and Qualcomm in the mobile space. Especially with the launch of the Windows 8 platform, where Intel has an advantage over ARM in the enterprise space, it may prove to be a market leader.
Investment Analysis
2012-13 are the years we will be watching Intel, a giant industry leader of one segment, switch gears and try to emerge as the leader in another segment. Intel has many things going for it - immense experience in chipmaking, integrated R&D, software and hardware manufacturing and a long history of market performance. The company has good cash at hand, a good team of experts and a large patent portfolio in the space, especially after buying out Infineon and stakes in ASML Holdings. The competition in the mobile chipmaking industry may be fierce, but already there are problems associated with the virtual duopoly of ARM and QCOM.
If Intel can get into that space, however slowly, it can erode competition market share and grab some of that for itself. Considering that no one is going to take away its leadership in the PC market for years to come, Intel will become even more of an industry leader if it can grab decent revenue and see decent sales in the mobile space. I would say that if it can do so, it can easily outperform its competition.
Disclosure: I have no positions in any stocks mentioned, and no plans to initiate any positions within the next 72 hours. I wrote this article myself, and it expresses my own opinions. I am not receiving compensation for it (other than from Seeking Alpha). I have no business relationship with any company whose stock is mentioned in this article.