CSX Corp. (NYSE:CSX) has missed its revenue and marginally beat the earnings estimates. The stock is down 3%. The nervous railroad investors should be happy with the company positing better-than-expected earnings, in light of the current economic situation and the declining coal demand. With strong increases in the shipments of coal exports and automotives, and with intermodal segment growth, the company is expected to respond well to the moderating economic conditions in the U.S.


It is evident that railroads on the whole are facing declining sales due to declining coal demand. The company has, however, been able to meet its EPS estimates given the strong favorable pricing that has helped the railroad industry to post impressive margins. Many stocks in the industry are trading near their 52-week highs. However, improvement in pricing is not sustainable given the expected stringent regulations. Earlier, after the massive decline in coal demand, the regulators allowed railroads to charge more in order to maintain their earnings levels.
However, bears still believe that despite favorable margins, earnings will get hurt as a result of a cascading effect from declining revenues. This can also be justified by the fact that net profit of CSX declined in the current quarter by 2%, from $464 million to $455 million, on a year-over-year basis. The year-over-year rise in EPS shown by the table is because of a decrease in the outstanding shares of the company over the year.
As far as volumes are concerned, the overall volumes of the shipments declined by 1.2% year over year. However, excluding coal from the calculation gives a rise of 3.5%, which is encouraging for railroad investors.
Click to enlarge images.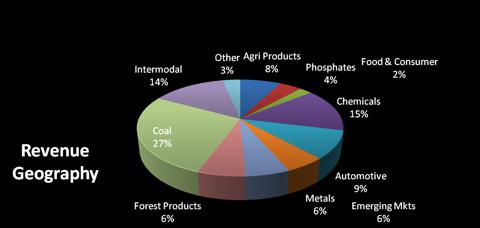 Coal
Coal shipments declined by 16%. Revenues from coal shipments declined 17% on a year-over-year basis. The company gets around 27% and 20% of its overall revenues and shipments from coal, respectively. The shipments of utility coal have declined because of low natural gas prices caused by consumers shifting to cheaper and more environment friendly sources of power. The shipments have also been affected by the large stockpiles that have accumulated at the coal-powered fire stations.
A positive signal has been provided by coal exports. The company, through its Total Service Integration, is making an effort to increase its exports in order to offset the weakness in local coal demand. Also, the demand for coal in developing countries is on a rise as coal is used in electric power generation and steel production. The company not only enjoys ready access to most of the ports in the U.S., but also continues to make efforts to improve its export coal network. The coal export shipments were up 25% year over year.
Intermodal
Intermodal remains the key to growth. The improvement was brought by both macro and micro factors. Overall, railroads are preferred to truckers given the fact that they are greener and cheaper. Therefore, wherever there is access, rail transportation is always preferred. Also, CSX has been adding its service lanes and partners for the intermodal. Pacer International is a good example of that. Hence the reason for the year-over-year revenue increase of 10% from the intermodal segment becomes apparent.
Merchandise
The table below shows the decline in shipments: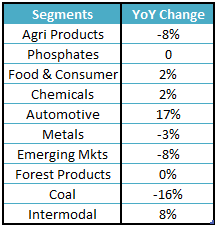 Agricultural Products: Reduction in corn and ethanol shipments. Corn's harvest was poor because of the drought. Ethanol's demand was hit because of lower demand for gasoline.
Phosphates/Fertilizers: High domestic shipments were offset by low export volumes. Domestic shipments rose after some business shifted from barge to rail transportation given the low river levels. High domestic demand did not leave much to be exported.
Food/Consumer: Higher potato crop and more transportation of apples than before in Midwest.
Chemicals: Increased plastic shipments. More of frac sand and petroleum oil shipments were made from the shale gas regions.
Automotives: increased demand for automotive due to pent up demand and easier availability of credit.
Metals: Lower steel mill utilization rates due to decreased demand and falling scrap prices.
Emerging markets: Reduced shipment of salt, which is required as raw material for housing and construction. Work on road applications remained subdued, which meant higher salt inventories.
Forest Products: Recovery in housing sector means more transportation of lumber. However this was offset by weak demand for paper products.
Conclusion
The company targets an operating ratio of 65% by 2015. The current OR of 70.5% was slightly higher than last year's OR of 70.4%. The company, through cost reduction, expects to expand its margins and earnings growth. The stock is currently trading at a forward multiple of 11 times. With a solid dividend yield of 2.6%, and growth expected from different segments that will help it in fighting the declining coal volumes, the stock is recommended as a buy.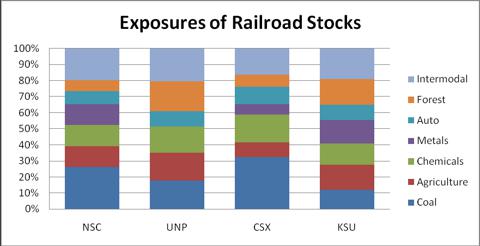 We have been bullish on railroads rather than truckers, as already mentioned. With upcoming earnings release of some major players in the railroad industry like Norfolk Southern (NYSE:NSC) and United Pacific (NYSE:UNP), it is important to predict the result of these earnings releases. Since UBS downgraded railroads last month, all the railroad stocks are down. NSC has been hit the most with a -9.34% decline in stock price. However, investors can look at Kansas City Southern (NYSE:KSU) as it seems to be a growth story with the least exposure in coal and an opportunity to benefit from the growing carloads in automotive.
Disclosure: I have no positions in any stocks mentioned, and no plans to initiate any positions within the next 72 hours.
Business relationship disclosure: The article has been written by Qineqt's Industrial Analyst. Qineqt is not receiving compensation for it (other than from Seeking Alpha). Qineqt has no business relationship with any company whose stock is mentioned in this article.