Regular readers of my columns know that I try to have a least one article a week dedicated to $5 stocks that have cheap valuations and some recent positive catalysts that could move the stock. The logic being once an equity achieves a $5 handle, more institutions can come in and be buyers. This strategy has turned up some of my biggest winners over the years. Here are this week's $5 stocks that I think can move higher.
Entropic Communications (NASDAQ:ENTR) is a fabless semiconductor company that designs, develops, and markets system solutions to enable connected home entertainment in the United States and internationally.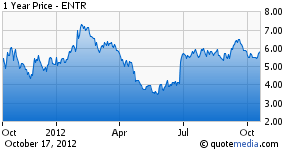 4 reasons ENTR is a good play between $5 and $6 a share:
DA Davidson just upgraded the shares to a "Buy" and raised its price target to $7 based on the company's being a core supplier for boxes that Time Warner Cable (TWC) intends to use to support a planned roll-out of its all-digital service.
The stock is tracking to over 30% revenue growth in FY2012 and analysts expect more than 20% sales increases in FY2013. The stock sells for a five year projected PEG of under 1 (.85).
The company has a solid balance sheet with over $100mm in net cash on the books (more than 20% of the current market capitalization).
ENTR sells for 10 times operating cash flow and less than 14 times forward earnings, a discount to its five year average (22.9).
TriQuint Semiconductor (TQNT) provides radio frequency solutions and technology for communications, defense, and aerospace companies worldwide.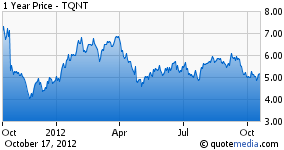 4 reasons TQNT is a solid pick at $5 a share:
Demand for the iPhone5 continues to be strong. Jefferies believes Apple (NASDAQ:AAPL) just increased its build rate to 60mm to 65mm for the quarter. Given Triquent is a supplier for the iPhone5, this is a positive for the earnings and margins for the company.
The company has a robust balance sheet with over $160mm in net cash on the books (around 20% of market capitalization).
The stock sells for just 91% of book value and analysts expect the company to book over 10% revenue growth in FY2013.
TQNT is selling near the bottom of its five year valuation range based on P/S, P/CF, and P/B. Insiders have also been consistent net buyers of the stock for the last year.
Disclosure: I am long AAPL. I wrote this article myself, and it expresses my own opinions. I am not receiving compensation for it (other than from Seeking Alpha). I have no business relationship with any company whose stock is mentioned in this article. May also initiate long positions in TQNT and ENTR over next 72 hours