By Christopher Diodato
Between all of the Fed's policy initiatives, including the most recent "QE-Infinity," it is a wonder that the US dollar is not worthless. But in the world's safe haven, America, massive increases in money supply have actually not led to lower values of the currency vs. other currencies. In fact, since the 2009 bottom, the US Dollar Index has actually gained over 10%. This strength, relative to other currencies, looks about ready to change into weakness.
Business cycle theory states that economies move in many different cycles. The cycle I want to mention here is the "Kitchkin cycle", which demonstrates that both an economic expansion and contraction generally occur roughly every four years. The other name for this cycle, especially in the United States, is called the "presidential cycle.
Under this lens of this method of analysis, it should be noted that the last economic contraction was in 2008-2009, and that we are quickly approaching the next "peak point" where a contraction is expected to begin.
While approaching this peak, inflation starts to become an issue. In a previous article, written in September, I mentioned the dangers of initiating QE at this relatively high level of "expected inflation."
Here's what happened after the announcement to expected inflation. Moves up in expected inflation are often bellwethers of real future inflation. I also indicated when ECB's Mario Draghi made his announcement of potential unlimited bond buying of troubled debtor nations.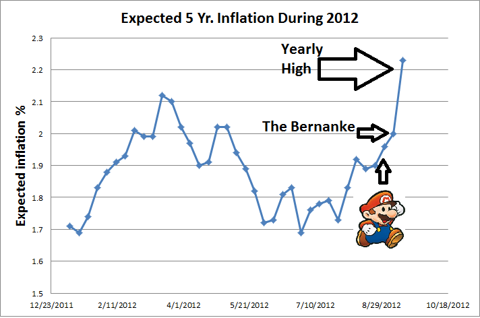 Concluding from this methodology, the world stage is set for an inflationary period to begin in the United States. Commodities should increase, while the value of the US Dollar should fall. In this article, let us take a look at the position of the US Dollar.
The following includes a through technical analysis of the US Dollar Index in both daily and weekly charts.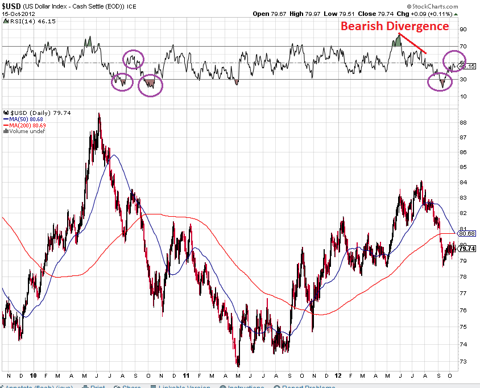 Look at the Relative Strength Index (RSI, upper subgraph) from a non-traditional standpoint, and consider this. The mere ability of a security to become so oversold that it breaks below the 25 level is a clear indication that there is weakness in the underlying bull trend. Note what happened in 2010 after the initial spring decline. One anemic rally, in which the RSI could only climb to 60, and then a large decline. It looks like history is repeating itself. And to add further bearish evidence to our collection, the 200-day moving average is crossing below the 50-day moving average (also known as the "death cross").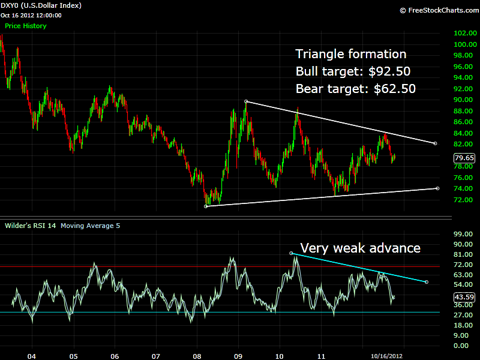 The weekly timeframe is equally as troubling. Once again, the RSI is failing to become overbought, which means that any existing uptrend is becoming severely weak. This chart also offers price targets for future breakouts. The pattern outlined in the price chart is a "triangle" which gives a buy signal when the upper trendline is penetrated and a sell signal when the lower trendline is broken. Notice that the bearish target for the pattern is at $62.50, nearly 20% lower than the current price.
So, if this scenario comes to fruition, and the business cycle theorists and market technicians are correct, where to invest? Inflationary sectors, such as energy (NYSEARCA:XLE) and materials (NYSEARCA:XLB), and precious metals (NYSEARCA:GLD) (NYSEARCA:SLV). For those interested in direct currency exposure, use the inverse US Dollar ETF (NYSEARCA:UDN).
Places not to invest would be in fixed bonds (NYSEARCA:BND), (NYSEARCA:JNK), (NYSEARCA:LQD), and inflation-sensitive sectors, such as technology (NYSEARCA:XLK) and utilities (NYSEARCA:XLU).
Disclosure: I am long XLE. I wrote this article myself, and it expresses my own opinions. I am not receiving compensation for it (other than from Seeking Alpha). I have no business relationship with any company whose stock is mentioned in this article.