Shares of Lockheed Martin (NYSE:LMT) have returned 24.96% over the past 12 months and reached the 52-week high of $94.90 just recently. The strong 1-year performance is mostly attributable to the stock's lofty dividend yield which attracts income investors in the current low-yield world. However, as the stock's valuation continues to shoot up, which gradually erodes the investment margin of safety, investors should be cautious for a potential pullback. My view on the stock is supported by the following analysis:
According to the chart shown below, following a dividend yield hike in late 2011, the stock price had gone up significantly due to a high demand from the yield-hungry investors. The buying spree drove the dividend yield down from over 5.5% to below 4.5%, and the stock price dropped subsequently, as the lower dividend yield were deemed less attractive. The dividend yield then reversed the downward course in May 2012 and had gradually gone up amid the declining the stock price, and once again lured a flock of income investors. The buying power again pushed down the yield to below 4.5% in September 2012. On September 27, the company raised its quarterly dividend per share by 15% from $1.00 in last quarter to $1.15 at present. The latest dividend hike helped lift the dividend yield from below 4.5% to almost 5.0%. Now, many investors may think the history will likely repeat itself as demand could go up following the yield hike and once again drive up the stock price. However, I believe the current stretched valuation would likely be a major impediment to that scenario.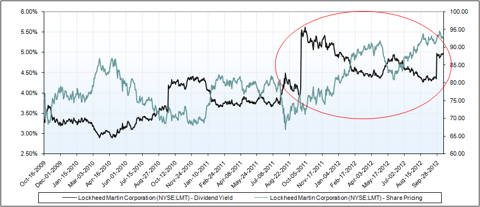 Click to enlarge
LMT's valuations appear to be somewhat expensive relative to the company's financial performance (see table below). Comparing to a peer group consisting of LMT's competitors such as General Dynamics (NYSE:GD) and Northrop Grumman (NYSE:NOC), LMT's has a mediocre overall financial performance. Analysts in average predict the 2-year growth rates for LMT's revenue, EBITDA, and EPS to be -1.5%, 2.6%, and 3.4% over the current and next fiscal years, fairly in line with the peer averages at -1.2%, -0.5%, and 3.6%. The firm's EBITDA margin is forecasted to expand by 0.9%, above the peer average of only 0.1%. On the profit side, LMT has a below-average profitability. All of the firm's margin metrics are substantially below the peer averages, but its capital return ratios such as ROE and ROIC are largely above the par. In terms of leverage and liquidity, LMT assumes a higher debt level as reflected by the company's higher debt to capitalization and debt to EBITDA ratios. However, LMT's free cash flow margin is weak relative to the peer group, and the firm's interest coverage rate, current ratio, and quick ratio are all below the par, reflecting a lackluster liquidity position and a mediocre balance sheet.

Click to enlarge
Despite some of the financial weaknesses, the current stock valuations at 6.1x trailing EV/EBITDA, 15.2x trailing EV/FCF, and 10.9x trailing P/E actually represent a sizable average valuation premium of 27% over the peer-average trading multiples (see table above), suggesting the stock is likely overvalued.
Accounting for the earnings growth potential, LMT trades at a forward PEG of 1.73x, which is 28% higher than the peer average at 1.35x (see table above). Both the stock's trailing EV/EBITDA and P/E multiples are currently trading 8% and 6%, respectively, above their 3-year historical averages (see charts below), despite the fact that the company's revenue growth has slowed down significantly in recent years and the growth is estimated to be remain in the negative territory over the next few years (see chart below).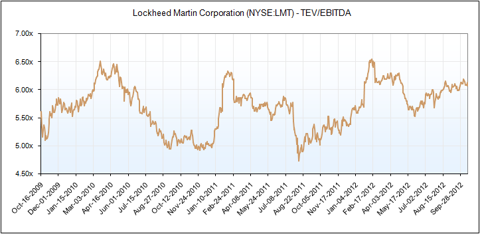 Click to enlarge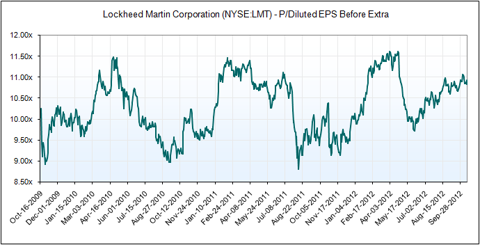 Click to enlarge

Click to enlarge
Moreover, comparing LMT's current financials to the figures in exactly a year ago, it would be obvious to see that the stock has become more expensive (see table below). Over the past 12 months, both LMT's revenue and EPS growth estimates have dropped significantly, however, the EBITDA and EBITDA margin have better estimates. The profitability measures are almost unchanged. In terms of liquidity, the company's free cash flow margin has compressed largely. In summary, there has been basically no major improvement in LMT's financials over the past 12 months. Nevertheless, the stock's valuation multiples (including the PEG ratio) have expanded by an average of 45% over the period - a firm evidence suggesting a pricier valuation.

Click to enlarge
Bottom line, it is still possible for the stock to go higher due to the tempting 5% dividend yield. However, I believe the possibility and the upside potential is likely pared by the heightened valuations. It is noted that prior to the dividend hike in late 2011, LMT's trailing P/E multiple was trending fairly in line with its peers, except for Rockwell Collins (NYSE:COL) (see chart below). Therefore, based on analysts' average FY2013 EPS estimate at $8.41 and assuming a generous 15% valuation premium over the peer-average trailing P/E multiple at 9.8x (see comparable analysis table) to account for LMT's attractive dividend yield and any potential valuation improvement in the overall market, we can conclude a 1-year target price to be $95, which is only 2% above the current market price at $93. As such, I do not recommend acquiring the shares at the current price.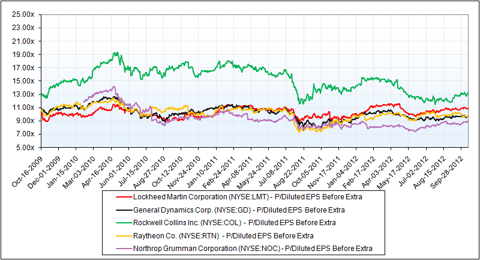 Click to enlarge
Comparable analysis table is created by author, all other charts are sourced from Capital IQ, and all financial data is sourced from Morningstar, Thomson One, and Capital IQ.
Disclosure: I have no positions in any stocks mentioned, and no plans to initiate any positions within the next 72 hours. I wrote this article myself, and it expresses my own opinions. I am not receiving compensation for it (other than from Seeking Alpha). I have no business relationship with any company whose stock is mentioned in this article.