We are going to look at Energy transfer partners (NYSE:ETP) today. We will examine it from a fundamental and technical perspective. In general, investors should select a company based on its quarterly earnings growth rates, profitability margins, payout ratio, quarterly revenue growth rates, current ratio, etc. in contrast to focusing only on the yield. Before taking a look at Energy transfer partners, we put it through the following selection process and it meets and exceeded all the listed requirements.
The selection process
A profit margin of 20% or highe

r

Sales should be trending upwards for the past five years
3-5 year Projected growth rate of

10%

or higher
A five year expected PEG ratio that is below the industry average of 2.76. Energy transfer has five year expected PEG of 1.43
Interest coverage ratio of 3.00 or higher
A trailing P/E that is significantly below the industry average of 22.44. Energy transfer partners has a trailing P/E of 9.07
Points of interest
The company has a splendid yield of 8.4%, a decent profit margin of 24.6% and the stock has a projected growth rate of 90% according to dailyfinance.com. Fastgraphs.us has an estimated earnings growth rate of 17.9%. Zacks.com has an EPS estimate of $1.77 for 2013, which represents an increase of 84% over its current EPS estimate of $0.96 for 2012.
Charts of value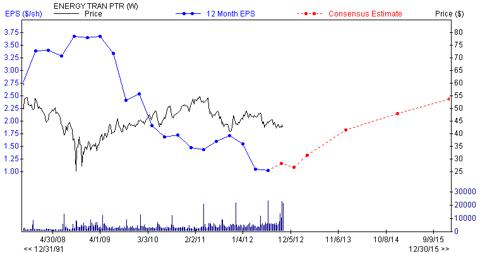 In general, the performance of a stock improves when its trading above the EPS and consensus EPS estimate line. The stock completed a double bottom formation on the 4th of October, and as it is trading above the EPS line it should be ready to trend higher in the coming months.
Technical outlook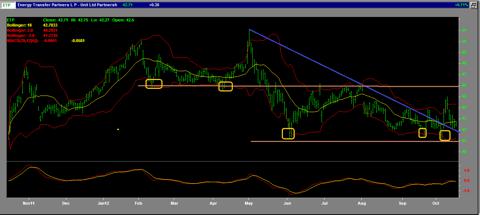 The stock has been correcting since it topped at out in May at $51, and it is now trading in the oversold ranges. It just completed a nice double bottom formation on the 4th of October, and it promptly rallied on the following day. In general, double bottom formations lead to higher prices. Additionally, for the first time since May it has managed to stay above the main downtrend line (blue line above chart) for over seven days in a row, suggesting that the worst news could already be priced in and that the stock is ready to change direction and trend higher.
It could test the $41.50-$42.00 ranges one more time before attempting to break out past $45. A weekly close above $46 should be viewed as another bullish development and will most likely result in a test of the $49-$50 ranges. One could open up new position at the current price. Ideally, it would be best to wait for a retest of the $41.50-42.00 ranges.
If you are bullish on the stock and looking for a lower entry price, you could put the following strategy into play. You sell a put that is in the money. For example, you can sell the March 2013, 45 put. The put is currently trading in the $4.60-$5.10 ranges. If the stock pulls back to $42, you should be able to sell it for $4.80 or higher. If the shares are assigned to your account, your final price would be $40.20 per share, which would be a lot lower than the current price or even the suggested entry price of $41.50-$42.00. You have a higher chance of having the shares put to your account if you sell a put that is in the money. In the event, the shares are not put to your account you still walk away with a very nice gain of roughly 11% in roughly five months.
The competition
Energy transfer versus DCP Midstream Partners LP (DPM), Enbridge Inc. (NYSE:ENB) and Kinder Morgan Energy Partners, L.P. (NYSE:KMP). Several important key ratios will be used to pit Energy Transfer Partners against the competition.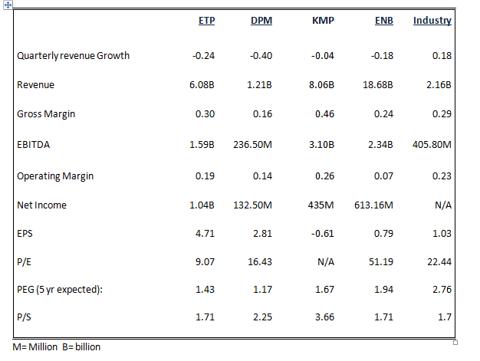 Fundamental Outlook
We have provided an extensive amount of data below that should easily enable you to decide if this stock fulfils your investment criteria. Some of the key areas to pay attention to are sales, net income, Interest coverage ratio, current ratios, profit margins, cash flow and 3-5 year projected EPS growth rates. For those who are not familiar with the interest coverage ratio and current ratio, we have provided a brief explanation of both below. The current ratio is below 1.0, but given that the five-year average stands at 1.15, there is a good chance that this ratio will inch above 1.00 in the future.
The Interest coverage ratio informs you of a company's ability to make its interest payments on its outstanding debt. Lower interest coverage ratios indicate that there is a larger debt burden on the company and vice versa. For example if a company has an interest ratio of 11.8, this means that it covers interest expenses 11.8 times with operating profits. Investors looking for other ideas might find this article to be of interest.
The Current Ratio allows you to see if the company can pay its current debts without potentially jeopardizing future earnings. Ideally the company should have a ratio of 1 or higher.
Company: Energy Transfer Partners
Key Ratios
Profit Margin = 24.6%
Quarterly Revenue Growth = -23.8%
Quarterly Earnings Growth = -24%
Operating Cash Flow = 1.3B
Five year net profit margins average = 10.6%
Sales versus 1 year ago = 16%
Growth
Net Income ($mil) 12/2011 = 669
Net Income ($mil) 12/2010 = 617
Net Income ($mil) 12/2009 = 792
EBITDA ($mil) 12/2011 = 1631
EBITDA ($mil) 12/2010 = 1398
EBITDA ($mil) 12/2009 = 1520
Cash Flow ($/share) 12/2011 = 5.67
Cash Flow ($/share) 12/2010 = 5.34
Cash Flow ($/share) 12/2009 = 6.32
Sales ($mil) 12/2011 = 6850
Sales ($mil) 12/2010 = 5885
Sales ($mil) 12/2009 = 5417
Annual EPS before NRI 12/2007 = 3.31
Annual EPS before NRI 12/2008 = 4.09
Annual EPS before NRI 12/2009 = 2.51
Annual EPS before NRI 12/2010 = 1.47
Annual EPS before NRI 12/2011 = 1.48
Dividend history
Dividend Yield = 8.4
Dividend Yield 5 Year Average = 7.9
Dividend 5 year Growth = 2.1
Payout Ratio = 0.78
Payout Ratio 5 Year Average = 1.68

Performance
Next 3-5 Year Estimate EPS Growth rate = 12.05
ROE 5 Year Average = 19.14
Current Ratio = 0.90
Current Ratio 5 Year Average = 1.15
Interest Coverage = 3.9
Growth of 1K if it was invested 10 years ago in Energy Transfer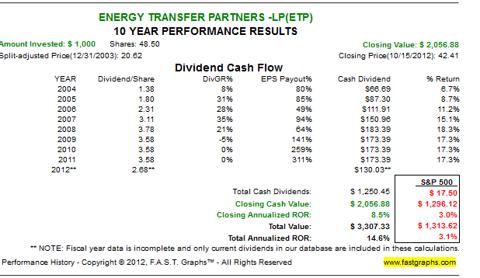 If we replace the 1k with $100K, the sum would have grown to a $330K.
Conclusion
The worst news appears to be priced in the stock as the stock traded higher after completing a double bottom formation on the 4th of October. A weekly close above $46 should be viewed as a bullish development and this could lead to a test of the $49-$50 ranges. We also like the fact that it disposed of its propane business. This move now helps it focus on developing and growing its pipeline business.
It has a significant presence in the natural-gas midstream, transportation and storage businesses. It is well positioned to compete in this field as its assets are located in major natural gas producing regions in the U.S. The net income for the year so far has already surpassed the net income for fiscal 2011 ($1.15 billion in the 1st quarter and $111.4 million in the second quarter), which came in at $669 million. If it maintains the current rate, net income could surpass the $2.00 billion mark. The planned acquisition of Sunoco Inc (NYSE:SUN) provides the company with a chance to diversify its asset mix by adding a crude and refined products pipeline to its existing natural-gas infrastructure. It will receive 4,900 retail and fueling stations in the U.S from Sunoco and a 32.4% share in Sunoco logistics partners LP's 7900 miles of oil pipelines.
EPS chart and a large portion of the historical data used in this article was obtained from zacks.com. Dividend history sourced from dividata.com. Competitors data sourced from yahoofinance.com
Disclaimer
It is imperative that you do your due diligence and then determine if the above play meets with your risk tolerance levels. The Latin maxim caveat emptor applies-let the buyer beware
Disclosure: I have no positions in any stocks mentioned, and no plans to initiate any positions within the next 72 hours.
Business relationship disclosure: This article was prepared for Tactical Investor by one of our analysts. We have not received any compensation for expressing the recommendations in this article. We have no business relationships with any of the companies mentioned in this article.