Quick, over the last 24 hours have you done any of the following?
follow twitter updates on Intel Corporation's (NASDAQ:INTC) conference call?
hit the refresh button every 30 seconds to see how the company's shares did in after hours trading?
monitor Yahoo, Seeking Alpha, and Motley Fool discussion boards for any snippets that might help you decide whether to buy, sell, or hold?
Yes? All of the above and more? I thought so. You have come down with Wall Street's newest illness: IUDS. Intel Unhedged Derangement Syndrome. These cold and flu like symptoms are caused by watching the share price melt down from over $29 in May to under $22 today, in the face of a raging bull market, a PE in the single digits, and a dividend yield greater than 30 year treasury bonds.
In two previous articles on INTC, I suggested that the company's anemic PE ratio would not expand (the only real source of long term capital gains) unless higher sales growth and profit margins became manifest through faster growth in EPS: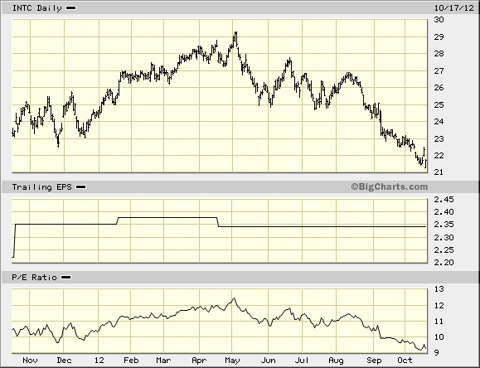 source: www.bigcharts.com
The decline in price since May is worrisome enough: that it is due to a decline in the PE ratio means that investors are skeptical Intel's attempts to expand into mobile and tablet are bearing fruit.
The company's earnings report and conference call suggests investor skepticism was well deserved. Top and bottom line erosion, narrowing margins, and poor visibility for the next two quarters were the order of the day.
Fortunately. in my August article I suggested a hedge strategy: buying INTC shares at what appeared to be support at the time but protecting yourself against runaway losses by buying put options which expire this Friday. What are the results?
You bought the shares

at $24.78

and they are now just below $22. Lets say you have a $3 dollar loss, roughly.
You bought the October 23 puts for $0.36 and they are now selling for about $1.11, so you have reduced your above loss by around $.75, or roughly 25%
I use estimates since the price will probably have changed by the time you read this article. One important point has not changed: your hedge has bought you a few days to digest the Intel report and monitor how the market is responding to it, without having to watch every tick up (or down). The option will minimize your losses if prices really fall off from these levels, so you can watch developments with a clear head.
Where might we go from here, and what should the hedged investor do? We cannot look at Intel in a vacuum...we must see how its competitors and rivals are doing. Lets look at how Advanced Micro Devices (NYSE:AMD), Nvidia (NASDAQ:NVDA), Arm Holdings (NASDAQ:ARMH) and Texas Instruments (NYSE:TXN) have been doing since early May: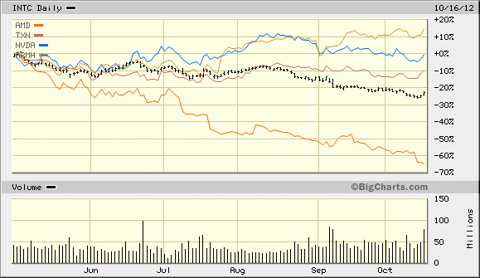 With the exception of AMD, which has serious financial problems, Intel has performed more poorly than any of its competitors, and the underperformance is getting worse. (I drew attention to this in my August article, as well). This hardly suggests that smart money, or in-the-know tech-savvy investors, are accumulating the shares.
Since the earnings report and conference call provided very little reason for optimism between now and next spring (when margins might begin to recover), what should the investor do?
I recommend you unwind the entire position:
sell the October 23 puts for a modest profit;
sell the INTC shares for a modest loss.
the net result is about an 8% loss, the traditional cut-off point recommended by CANSLIM and other systems.
You have the luxury of watching for a day or so, since the put option will protect you almost tick-for-tick if the shares sell off. But expiration is Friday, so you do not have forever.
Where do we go from here? A look at a 1 year chart is helpful: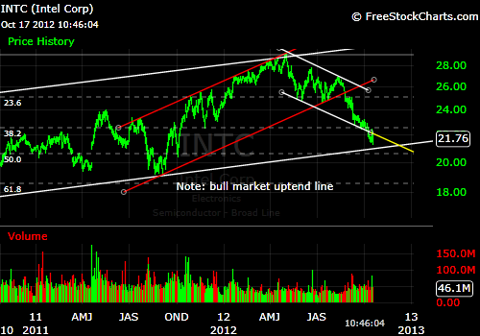 When the red channel broke downside, this suggested to me the 'new growth' scenario for Intel was in peril. I was willing to let the company have the benefit of the doubt, but hedged the position with the put for protection. Now, even the short term downtrend channel has failed.
We are, however, very near the "bull market uptrend line" which has defined the stock's price gains since the bull market began in 2009. Investors wishing to give Intel a third chance should watch this lower trendline closely. If Mr. Otellini's shares don't find support at this trendline, the future is truly grim.
Disclosure: I am long INTC. I wrote this article myself, and it expresses my own opinions. I am not receiving compensation for it (other than from Seeking Alpha). I have no business relationship with any company whose stock is mentioned in this article.
Additional disclosure: I am long Intel both through ETFs and share holdings. I se the shares to write covered calls and spreads to enhance income and reduce risk.