Monster Beverage (NASDAQ:MNST), formerly Hansen Natural Corporation, has successfully emerged as the world's second largest energy drink company behind privately held Red Bull. The company operates in two segments: Direct Store Delivery (DSD), whose main products consist of energy drinks, and Warehouse with primary products of juice-based and soda beverages. The energy drinks make up the majority of the company's business with 92% of revenue, led by Monster Energy Drink, the second largest energy drink in the U.S. behind Red Bull. With MNST's successful marketing, the revenue from the company's energy drink products surged to $1.7 billion in 2011, as compared to $50 million in 2003. We believe MNST still has massive growth potential and we will look into its fundamentals and short-term technicals in the following.
Fundamental Overview
Here, we will look into MNST's key stats as compared to the industry average for the soft drink beverages industry.
| | | |
| --- | --- | --- |
| Key Stats | Monster Beverage Corp | Industry Average |
| Price/Earning ttm | 32.7 | 19.7 |
| Price/Book | 8.7 | 4.9 |
| Price/Sales ttm | 5.6 | 2.2 |
| Revenue Growth (3 Yr Avg) | 18.1 | 6.2 |
| EPS Growth (3 Yr Avg) | 40.2 | 16.6 |
| Operating Margin % ttm | 27.5 | 16.6 |
| Net Margin ttm | 17.2 | 11.4 |
| ROE ttm | 31.1 | 24.3 |
| Debt/Equity | 0.0 | 3.4 |
Source: MorningStar.
As seen from the table above, although MNST has a higher P/E of 32.7 and P/B of 8.7 as compared to the industry average of 19.7 and 4.9, it can be justified by MNST's strong revenue growth of 18.1 and EPS growth of 40.2, comparing to the industry average of 6.2 and 16.6, respectively. Along with 27.5% operating margin and 17.2% net margin, as well as zero debt/equity and fast increasing of its free cash flow, the fundamentals for MNST look solid and should allow it to weather any market downturn. Also, MNST has sufficient resources to expand globally.
Short-Term Technical
On Tuesday, MNST closed at $58.42 with 0.19% gain. The trading volume of 1.83 million is 24.7% less than the 30-day average volume of 2.43 million. From the June 18, 2012, high of $78.72, MNST had declined 25.79%. However, MNST had been going bullish lately and on Oct. 15, 2012, broke through its 50-day moving average of $57.07, while MACD (12, 26, 9) maintained its bullish sign and RSI (14) is picking up and is currently at 57.73. If it can stay above the 50-day moving average and subsequently break the 200-day moving average of $61.79, this Monster can run really wild.
Click to enlarge image.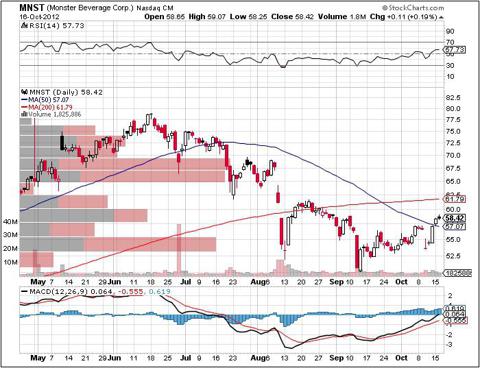 Source: StockCharts.com.
Option Play Reviewed
Here we will review a bull credit put spread. This is for traders and investors who are bullish on MNST and are considering purchasing stock at a discount price if MNST does not perform as expected in the trading period.
Short 1x January 2013 put at the strike price of $52.50 for the credit of $2.65
Buy 1x January 2013 put at the strike price of $47.50 for the cost of $1.45
The maximum profit potential is $1.20 and the maximum risk/margin requirement is $3.80 ($5.00 - $1.20 credit received). The profit/risk ratio is 31.58%. All the prices are based on Tuesday's closing and all calculations are before fees and expenses. While MNST's option volume for January 2013 is still small, this option play needs to be set up gradually with limited orders.
Disclosure: I have no positions in any stocks mentioned, but may initiate a long position in MNST over the next 72 hours. I wrote this article myself, and it expresses my own opinions. I am not receiving compensation for it (other than from Seeking Alpha). I have no business relationship with any company whose stock is mentioned in this article.