By Brendan Gilmartin
Microsoft (MSFT) is scheduled to report 1Q 2013 earnings after the close of trading on Thursday, October 18. Results are typically reported between 4:05 p.m. and 4:15 p.m. EST with a conference call to follow at 5:30 p.m. Aside from the underlying shares, the technology related ETFs (PowerShares (QQQ)/SPDR Technology ETF (XLK)) may also move off the Microsoft report, along with the index futures, provided the announcement precedes the CME scheduled maintenance shutdown at 4:15 p.m. EST.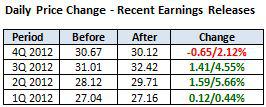 For 1Q 2013, the estimate is $0.57 (Source: Zacks Investment Research) with revenue reaching $16.486 bln.
Microsoft has not provided earnings or revenue guidance since its 1Q 2009 earnings release.
Selerity recently added a new measure for Microsoft - Effective Tax Rate used to gauge the quality of an earnings release. Therefore, if the company reports a strong EPS figure relative to consensus, but the tax rate has declined Q/Q, Microsoft shares may still sell-off on weak "earnings quality."
A recent earnings warning from PC maker Hewlett Packard (NYSE:HPQ) and weak industry reports have weighed on Microsoft shares in recent weeks. On October 10, Gartner reported that worldwide PC shipments declined 8.3% in the 3Q period, due in part to the transitional period ahead of the Windows 8 rollout. Similarly, IDC reported an 8.6% drop in PC shipments.
Recent News
10/17: MKM Partners lowered its 1Q 2013 forecasts for Microsoft ahead of earnings, according to a post on Barron's. The firm believes 1Q revenues could miss estimates and is targeting $16.209 bln, citing a muted adoption for Windows 8, weaker PC sales, and slower growth in the Windows and Office brands.
10/11: Morgan Stanley reiterated an Overweight rating and a $37 price target on Microsoft, according to a report on Barron's. Despite the softness in the PC sector, the firm sees Microsoft benefiting from a more diversified revenue stream, including a push into the tablet space and growth in the Server

&

Tools segment, along with the introduction of Windows 8.
09/18: Microsoft raised its quarterly dividend 15% to $0.23 per share, and now yields 3.12%.
Technical Review
Microsoft shares have been slipping ahead of the 1Q 2013 earnings release, dropping more than 6% from the September highs. Despite the weakness, the shares held support at $29.00, while the RSI and MACD are stabilizing from oversold conditions. From here, there is formidable resistance at the 200-Day SMA near $30, followed by the recent high near $31.50 should earnings surprise to the upside. Should earnings disappoint, there is downside risk to $29.00 (chart courtesy of StockCharts.com).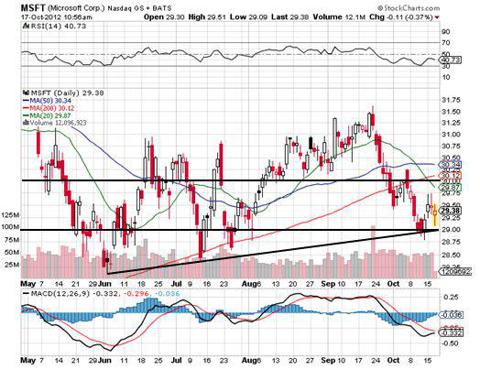 Click to enlarge
Summary
Microsoft shares are retreating in advance of the 1Q 2013 earnings release, following a series of unwelcome reports on the fate of the PC segment, a weak outlook from Hewlett Packard, and the transition period ahead of the Windows 8 unveiling later this month. But with the shares off more than 6% from the late September highs and the softness in the PC sector a widely-publicized theme, much of the weakness may be priced in. The shares are now yielding a healthy 3.12%, while benefiting from a more diversified revenue stream, including growth in the Server and Tools segment, leaving it less susceptible to shocks in the PC market.
DISCLAIMER: By using this report, you acknowledge that Selerity, Inc. is in no way liable for losses or gains arising out of commentary, analysis and or data in this report. Your investment decisions and recommendations are made entirely at your discretion. Selerity does not own securities in companies that they write about, is not an investment adviser, and the content contained herein is not an endorsement to buy or sell any securities. No content published as part of this report constitutes a recommendation that any particular investment, security, portfolio of securities, transaction or investment strategy is suitable for any specific person.
Disclosure: I have no positions in any stocks mentioned, and no plans to initiate any positions within the next 72 hours. I wrote this article myself, and it expresses my own opinions. I am not receiving compensation for it (other than from Seeking Alpha). I have no business relationship with any company whose stock is mentioned in this article.