Steel Dynamics (NASDAQ:STLD) reports Q3-2012 earnings after close today. The stock is trading around $12.62 versus its 52-week range of $10.11-$16.66, up 20% in the last 1 year. It is trading at a P/E multiple of 18 times, and a forward multiple of 10 times. The stock yields 3%. Percentage of shares held by insiders is 0.24% versus 76.5% held by institutions. Short percent of float as of September 28, 2012 is 2.2%. One of its peers Nucor (NYSE:NUE) is trading with a P/E multiple of 23 times, and a forward multiple of 13 times. The stock yields 3.6%. Overall, valuation seems rich in the industry.
On earnings: In September, the company announced that it expects Q3-2012 to be in the range of $0.09-$0.14 versus the consensus of $0.19. We want to hear more about the challenges attributed by the global political uncertainty, and its impact on the company's earnings power. Also, we need to get details on the expectations of inventory destocking among its special-bar-quality (SQB) customers.
On dividend protection: Although the company's credit is not a risk, the balance sheet consists of $2 billion in long-term debt and $421 million in cash and cash equivalents. To be comfortable with the company's dividend, we would want to get more details on additional debt refinancing going forward. A strong balance sheet will also help create a floor for the stock, which is already trading close to its 52-week low.
Metals recycling business is expected to show some improvement in Q3-2012 as metal spreads improved mid-quarter Q3-2012.
Steel Dynamics is a favorite in the steel sector due to its lean cost structure. That being said, it would be helpful to get more information on the company's outlook on steel prices going forward, and the impact on margins.
We will conclude saying that although the dividend payout is not at risk, the sector is directly co-related to the health of the economy, and any color on steel pricing, improvement of the balance sheet and margins, gives investors comfort with the company's fundamentals.
The chart below compares share performance over the past year. "D"s mark dividends paid.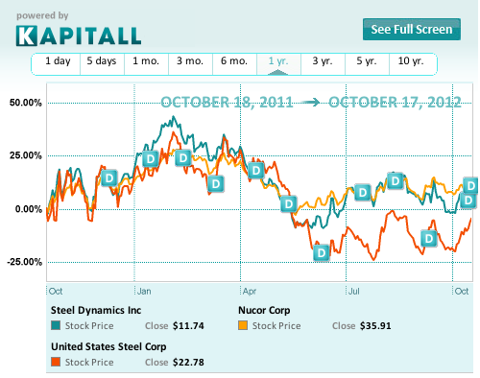 To learn more about dividend stocks reporting earnings this week with short covering, read here.
Written by Kapitall's Sabina Bhatia. Tool provided by Kapitall.
Disclosure: I have no positions in any stocks mentioned, and no plans to initiate any positions within the next 72 hours.
Business relationship disclosure: Business relationship disclosure: Kapitall is a team of analysts. This article was written by Sabina Bhatia, one of our writers. We did not receive compensation for this article (other than from Seeking Alpha), and we have no business relationship with any company whose stock is mentioned in this article.