The EUR/USD is a cross. As such, finding a relevant driver is quite difficult. However, the chart below shows that there is a strong correlation between the pair and the Gold-to-Oil ratio. The one-month log change of the EUR/CAD is closely related to that of GOR. When gold outperforms oil (risk-off), EUR/CAD rises.The chart below suggests that there is a modest mispricing, with GOR's recent trend calling for a lower EUR/CAD.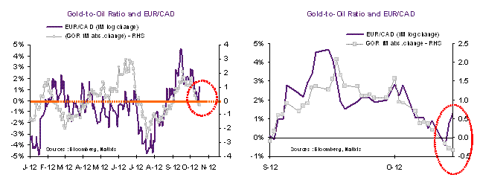 Click to enlarge
(Click to enlarge)
Interestingly enough, the EUR/CAD is inversely correlated to the TSX/Stoxx 600 ratio: any over(under)performance of the European stock market is offset by an equivalent decline(increase) in EUR/USD. The recent trends in EUR/CAD would call for an outperformance of the TSX (or, depending on where your strongest views are, the Stoxx 600 outperformance would call for a weaker EUR/CAD).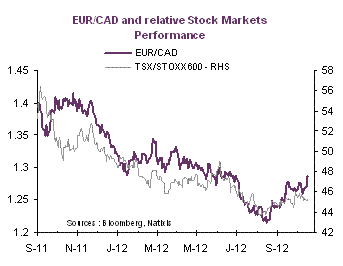 Both signals suggests some cautiousness on the recent strength of the EUR/CAD. On the technical analysis side, the EUR/CAD has sharply bounced in the recent weeks and should test an important barrier at 1.2990-1.3012 (retracement of 38% of the downtrend between 2011 & 2012 and medium term bearish channel). A break above this barrier would signal an extension of the recovery toward 1.3255 then 1.34 (long term retracement). Short term supports stand at 1.28 and 1.2650.
If there is a breakout it will have to be justified. We tried to model the cross with traditional FX drivers. Our model is based on the interest rate spread (2-year sovereign spread - Schatz for the EUR side), the gold/Brent ratio, the VIX and the relative news flow (surprise indices).
According to this metric, the EUR/CAD is close to fair value, with the residual (orange line) close to zero.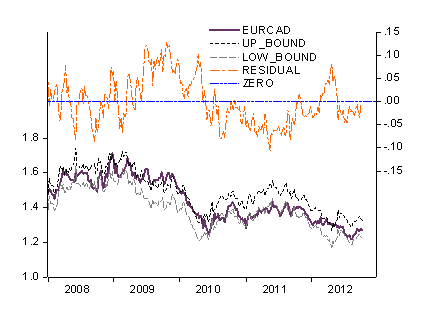 The EUR/CAD may have temporarily benefited from dovish comments by the BoC Governor Carney, but most of the charts and analysis are clearly not supportive enough to justify a much higher EUR/CAD.
Disclosure: I have no positions in any stocks mentioned, and no plans to initiate any positions within the next 72 hours. I wrote this article myself, and it expresses my own opinions. I am not receiving compensation for it (other than from Seeking Alpha). I have no business relationship with any company whose stock is mentioned in this article.